Baylor Bears
Big 12 Football Week 11: The Good, the Bad, and the Ugly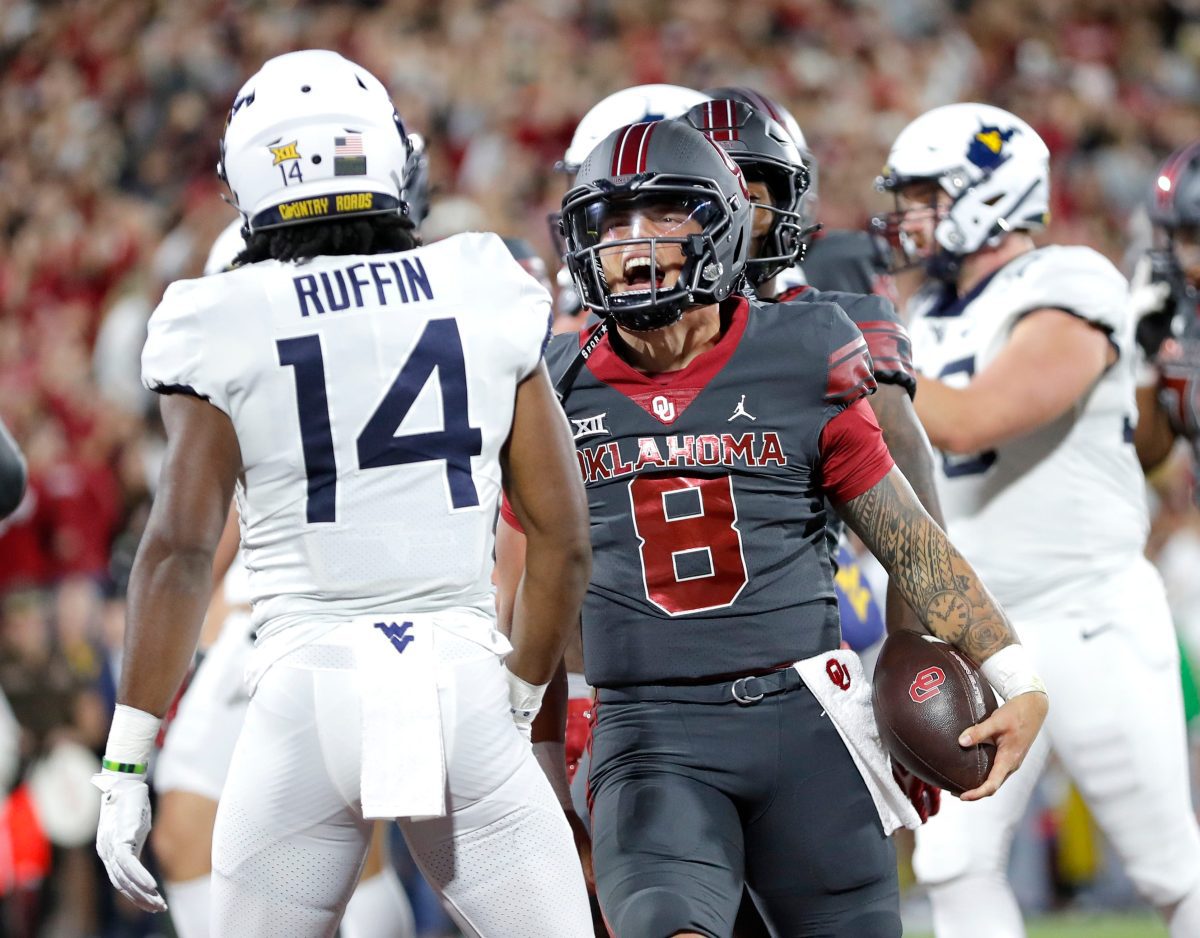 Week 11 is officially in the books as the Big 12 Conference had yet another exciting weekend. The action started on early Saturday morning In Lawrence and ended Saturday night in Provo. Here are the good, bad, and ugly from Week 11 in the Big 12.
THE GOOD
Texas Tech's Final Drive (Beat Kansas 16-13)
The Red Raiders played great for three quarters before falling apart a bit in the fourth. Their offense didn't do a whole lot, but when they needed a big drive at the end of the game, they were able to make it happen. The game was tied at 13 with just 26 seconds left and Tech had the ball at their own 25-yard line. It took just three plays and a timeout for the Red Raiders to make it all the way down to the Kansas 12-yard line. Then with just a couple of seconds left in the game, Gino Garcia drilled a 30-yarder to give Texas Tech the lead.
It was quite the drive, and I must give credit to Behren Morton and Joey McGuire for keeping some time on the clock for his team by using a couple of timeouts when Kansas had the ball.
UCF Dominated (Beat Oklahoma State 45-3)
From start to finish of this game, UCF dominated the first-place Oklahoma State Cowboys. The defense completely shut down Heisman hopeful Ollie Gordon and kept Oklahoma State out of the end zone. They also allowed the Cowboys to convert just two of their 12 third down attempts.
Offensively, it was all about the run game as they racked up nearly 300 yards on the ground. RJ Harvey went off for 206 yards and three touchdowns and his 92-yard touchdown run in the third quarter was the second-longest in school history.
UCF played their best game on Saturday and maybe they should wear those Space U jerseys more often.
Kansas State's Fast Start (Beat Baylor 59-25)
I felt like I blinked, and Kansas State was up 21-7 in this one. Will Howard threw three touchdown passes and set the school record for career touchdown passes. The offense moved the ball well and the defense did an excellent job. In fact, the defense scored two touchdowns which is not something you see often in one game.
It was a big win for Kansas State and don't count them out of the Big 12 title race just yet.
Oklahoma's Offense (Beat West Virginia 59-20)
While the defense deserves some praise, how about this Oklahoma offense? After struggling in Stillwater last weekend, they came out and put on a show against West Virginia. Dillon Gabriel set a school record with eight total touchdowns (5 passing and 3 rushing) as Oklahoma's offense was firing on all cylinders.
Also, Gavin Sawchuk was incredible as he rushed for 135 yards. If Oklahoma can play like this then they are going to be tough for anyone to beat.
Cincinnati Won a Big 12 Game (Beat Houston 24-14)
This was probably the cleanest game Cincinnati has played all season long. They only had one turnover and controlled the game on the ground as they rushed for 204 yards led by Corey Kiner.
The Bearcats were excellent on third downs going 7/13 and I thought their defense did a great job shutting down Houston's offense. It was a big win for Cincinnati as they finally got their first Big 12 win of the season.
Texas Held On (Beat TCU 29-26)
The Longhorns had a 20-point lead in this game going into halftime. The offense was rolling with Quinn Ewers, Jonathan Brooks, Xavier Worthy, and Adonai Mitchell, however, the second half was a different story. Texas could only put up three points and the defense collapsed. With just a little over three minutes to go, Texas was up by just three and needed to run out the clock. Luckily, they did on this throw from Ewers.
Also, I hope Jonathan Brooks is ok. Texas will need him badly.
Iowa State (Beat BYU 45-13)
Much like what UCF did to Oklahoma State, Iowa State completely dominated BYU on Saturday night in Provo. Rocco Becht played a clean game, and the rushing attack was going strong as they ran for 234 yards on the evening. At times, Abu Sama looked like Barry Sanders out there juking people out of their shoes.
As good as the offense was, the defense played great too. They held BYU to just 13 points and only allowed them to convert just one of their 11 third-down attempts. It may sound crazy, but this team can still get to Arlington.
THE BAD
Jason Bean's Injury (Kansas lost 16-13 to Texas Tech)
I don't want to be too harsh on Kansas here. They are already without Jalon Daniels and then they lost Jason Bean in this game. The Jayhawks had to use third-string true freshman quarterback Cole Ballard for a good portion of this game. While the offense struggled for most of the game, they were finally able to figure it out in the fourth quarter as they ran the football with success. Unfortunately, they left too much time on the clock for Texas Tech in the end. Despite the loss, I was impressed with the way this team battled back.
TCU's Failed Comeback (Lost 29-26 to Texas)
The Horned Frogs were down by 20 going into halftime yet they didn't quit at all. In fact, they played some of their best football all season in the second half of this game. Josh Hoover got into a rhythm and Savion Williams came up big as well. Meanwhile, the defense completely shut down the Texas offense. Unfortunately, it was just a little too late for this team.
THE UGLY
Oklahoma State (Lost 45-3 to UCF)
This was by far the worst game Oklahoma State has played since the South Alabama game. After watching this live, I felt like Oklahoma State looked exhausted out there and that the Bedlam game took everything out of them. The offense was pathetic because they couldn't run the football due to the score and the defense couldn't stop UCF's offense at all. Oklahoma State got outcoached and outplayed in Orlando and there is no other way to put it. Now it's time for this team to regroup and finish strong because they still have PLENTY to play for.
Baylor (Lost 59-25 to Kansas State)
It seems like almost every week Baylor finds itself in my ugly column. The scoreboard doesn't tell the story of this game because it felt like it should have been 60-0. Baylor was down 35-7 early in the second quarter and they never had a chance. The offense turned the ball over four times and the defense struggled to get stops. But forget about this game. Look at the big picture in Waco. Dave Aranda is now 2-8 in his last Big 12 games and with this loss, Baylor will not make a bowl game this season. I think it's time to have a serious conversation about his future in Waco.
West Virginia (Lost 59-20 to Oklahoma)
Did West Virginia get off the plane? Because I didn't see them in Norman on Saturday. The offense couldn't get anything going as both Garrett Greene and Nicco Marchiol struggled. The problem was that West Virginia's offense isn't built to throw their way back into a game. If they don't control the game, then they will struggle and that is what happened here. The offense had a tough time, and the defense couldn't do anything right. They gave up 644 yards of offense and had no answer for Oklahoma's offense. Much like a few other games, this one was never close as Oklahoma had a 31-7 lead at halftime.
Houston (Lost 24-14 to Cincinnati)
I may be being a bit mean here but there is no reason for Houston to lose to Cincinnati at home. Houston turned the ball over three times and couldn't get anything going offensively. And their defense had trouble stopping the rushing attack of Cincinnati as well. It seems like when this team takes one step forward, they take three steps back. Also, I am getting really tired of seeing the stands empty in Houston.
BYU (Lost 45-13 to Iowa State)
This may set the record for most ugly performances in one week but don't blame me. BYU looked terrible on Saturday night. Whether it was on offense, defense, or special teams, the Cougars were outmatched. The offense couldn't do much of anything and the defense had no answer for Iowa State's offense. With two games left against Oklahoma and Oklahoma State, I don't think this team is going to make a bowl game.