Football
Ranking Big 12 Coaching Replacements for Jimbo Fisher at Texas A&M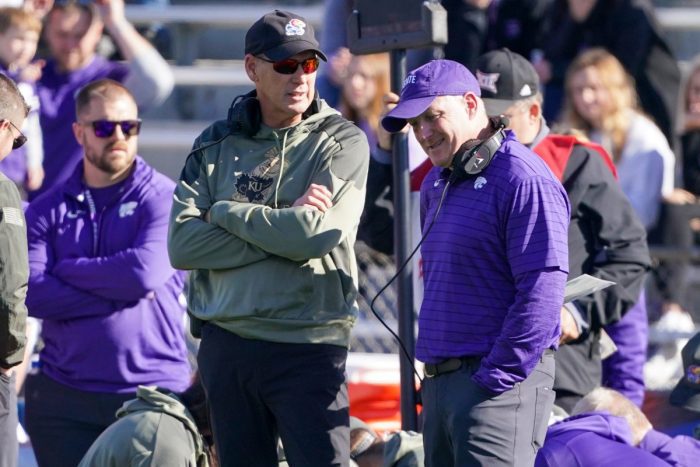 Jimbo Fisher was fired as head coach at Texas A&M on Sunday ending his six years of, well, let's just be honest about it — mediocrity with the Aggies.
Despite that, this job is one of the best-resourced jobs in college football and should draw an incredible amount of attention on the coaching carousel. Expect the Aggies to have particular targets within the family (think Duke's Mike Elko), but to also cast a wide net, as they want to finally reach the top of the SEC and beyond after more than a decade in the SEC.
So, would that search involve a Big 12 coach? Potentially. There are some great coaches in this league. While I find the odds of A&M actually poaching a Big 12 coach to be low — because I don't think that's where there focus will be — one can't rule it out.
So, below, I've ranked, from least likely to most likely, the Big 12 coaches that A&M should consider for the job. Just for fun, we'll include the four incoming Big 12 programs, too. So 18 coaches.
Aside: I don't think a single one of these coaches are actually looking to get on this train. If you think expectations at Texas and Oklahoma are unrealistic, well, you've never seen Aggie expectations.
Kenny Dillingham, Arizona State
He's one year in and he's won three games as I write this. Nah, that isn't it.
Kalani Sitake, BYU
Few coaches and schools are such a secure fit as Sitake and BYU. I saw it up close in September. He's not the least bit interested. Frankly, I don't think A&M would be, either.
Neal Brown, West Virginia
I mean, he may not have a job in a couple of weeks, you know? As conflicted as WVU fans are about the man who wants them to "Trust the Climb," I don't think Aggie fans could get on board with Neal Brown.
Dana Holgorsen, Houston
The Red Bull rider in his contract would require a big-pocketed booster to tote the note. Plus, have you seen the Cougars lately? Like Brown, he has some potential employment issues. Now, A&M offensive coordinator? Now that sounds like fun.
Scott Satterfield, Cincinnati
At this point, Cincinnati might be interested in paying A&M to take Satterfield off their hands.
Dave Aranda, Baylor
Tired: Dave Aranda, Texas A&M head coach. Wired: Dave Aranda, Texas A&M defensive coordinator.
Mike Gundy, Oklahoma State
As great theater as it would be to watch Gundy and TexAgs founder Billy Liucci spar on a weekly basis, Mike Gundy is way too content in Stillwater. Though, we've seen what Gundy likes to do with big-time open jobs. He flirts, he gets more money and then he stays.
Joey McGuire, Texas Tech
Hasn't done enough at Tech to inspire 100 percent confidence in their fan base, much less another school's athletic department.
Jedd Fisch, Arizona
If you haven't been paying attention, Fisch finally as the Wildcats in turnaround mode and headed for a bowl game. You know that means? Leveraging A&M's opening for a big contract extension. It's how college football coaches — and their agents — roll.
Brent Venables, Oklahoma
At this point, it's not clear if the Sooner faithful are totally sold on Venables as we close in on the end of season two. Still has a lot to prove from a head-coaching perspective.
Sonny Dykes, TCU
He bolted SMU for TCU because he wanted more resources and wanted to stay in the DFW area. He got everything he wanted and the Horned Frogs won't spare any expense to get him whatever he needs. Plus, sooooo much less stress dealing with Hypnotoad then Yell Leaders.
Steve Sarkisian, Texas
It's intriguing. Sark finally has Texas turned around and stealing from your rival is the sincerest form of trolling. If Sark were at a different school right now I think he would actually be a legitimate candidate here. But, Texas? I think boosters' wallets would shrivel. Plus, his contract demands could be just as onerous as Fisher's.
Deion Sanders, Colorado
I mean, it would be a splashy hire for sure. So was Fisher's and look how that turned out? I personally believe Sanders wants to coach in the state of Texas at some point (he still has a home in North Texas and interviewed at TCU DURING THE SEASON while at Jackson State). If this had happened in September, this would be all that we would talking about. But now, after it appears Colorado won't be bowl-eligible? I think some boosters might bring it up but it will largely be dismissed.
Matt Campbell, Iowa State
Now we start getting into what I would consider realistic candidates for this job. Campbell has emerged as the blue plate special for coaching searches. For Iowa State, he's been a dream come true. Five straight bowl games, a Big 12 Championship Game appearance and this season has been one of his better coaching jobs. He would bring those skills to College Station, but I think they would be lost on a fan base that will look at how ISU runs the ball with two and three tight ends and go, 'Nah.'
Lance Leipold, Kansas
Right now, Lance Leipold has that "new successful coach" smell, sort of like Campbell had a few years ago. What he's done at Kansas is flat out impressive. He's about to take Kansas to its second straight bowl game. He's building something special in Lawrence. For his career, he's won six national championships at Division III Wisconsin-Whitewater and has proven he can be successful with limited resources (from a football standpoint). Imagine what he could do with what A&M could leverage for him?
Gus Malzahn, UCF
This might seem odd, given the Knights are under .500 this season. But they've won two straight and just handed Oklahoma State a complete butt-whipping on Saturday. Bigger picture, Malzahn has won 100 games as a head coach, has led an SEC program, has coordinated a national championship offense and he's never failed to get his team to a bowl game as a head coach. He can be gotten for less than Fisher's buyout and his style of offense plays well with recruits.
Kyle Whittingham, Utah
Hey, Kyle, don't wanna be in the Big 12 next season? I have a great opportunity for you to get out now. Now, the reality — Texas A&M would be wise to look at Whittingham. He's won 161 games at Utah, taken the Utes to 16 bowl games and won three conference titles, including a pair of Pac-12 crowns. This guy can coach. The problem is he's a BYU alum and he's never had a coaching home outside the Mountain Time Zone. You'd have to throw money at him. And that didn't work out with the last guy.
Chris Klieman, Kansas State
If I'm A&M, he's the guy I would target. Like Leipold, he's won national championships. He has experience replacing legends (I'm not calling Fisher a legend, but Chris Klieman knows how to navigate massive expectations in the wake of coaching changes). His teams are well-coached and rarely fail to show up to play. He's flexing his muscles on the recruiting trail and keeping kids home that usually go elsewhere (see Johnson, Avery). His offensive and defensive schemes are fundamentally sound and allow for roster depth to help when players get hurt. There's a lot to like.
iframe src="https://app.e2ma.net/app2/audience/signup/1986400/1964875/" width="510″ height="500″ frameborder="0″>
You can find Matthew Postins on Twitter @PostinsPostcard.