Big 12 News
Arizona State Athletic Director Ray Anderson Resigns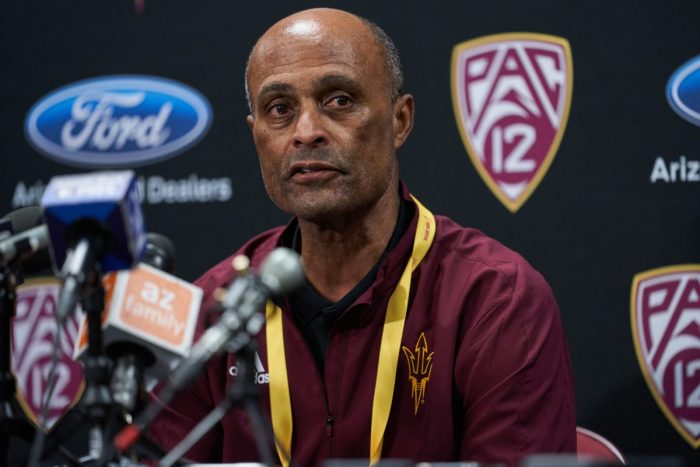 As it turns out, Ray Anderson won't be making that dreaded trip to Morgantown afterall.
According to a release from Arizona State athletics, Sun Devils' athletic director Ray Anderson is stepping down from his position, effective immediately.
Anderson, who is one year shy of 70, says that now is the right time for him to make the move and will remain on staff at ASU as a professor of practice and senior advisor to help expand the well-respected sports law and business program.
"It has been a privilege to serve as ASU's athletic director for nearly a decade," Anderson said. "We have entered an unprecedented era where the number and magnitude of changes in the college sports landscape are astounding. As I approach my seventh decade of life, these are not matters that my leadership would be able to corral during my tenure. Continuity of leadership will be needed, and I am choosing to step aside to let the university find that leader."
Jim Rund, ASU Senior Vice President for Educational Outreach and Student Services, will serve as interim athletic director. Coincidentally, Rund served as the interim athletic director at the University of Texas in 2013 following the departure of Steve Patterson.
The Sun Devils will now begin the search for a full-time replacement, and the next AD will step into a unique situation, as the man or woman responsible for not only navigating the waters of name, image, and likeness, and the transfer portal, but also leading Arizona State into its first year of the Big 12.
Overall, this is fantastic news for Arizona State, who has been stuck in the mud under Anderson's leadership according to the vast majority of those who follow the Sun Devils. Still, Anderson's impact at ASU is something that won't soon be forgotten, as university president Michael Crow pointed out.
"By prioritizing student success, raising unprecedented levels of resources and evolving the Sun Devil brand, Ray Anderson has been one of the most impactful and longest serving athletic directors in the history of Arizona State," Crow said. "We respect his decision, and we appreciate his service to the university."