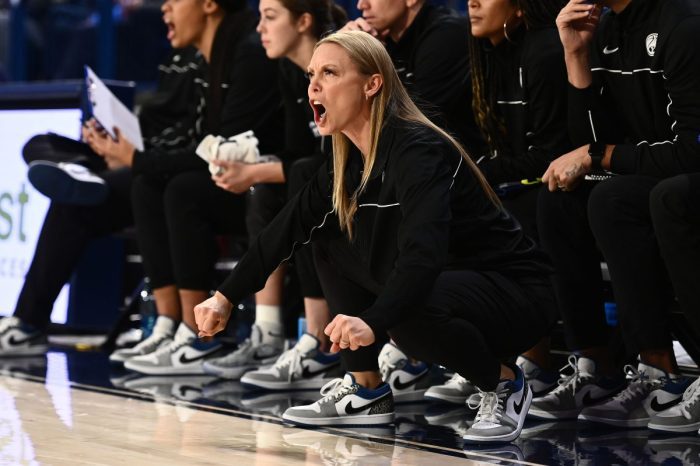 The BYU Cougars women's basketball team announced the signing of four players during the early signing period for the Class of 2024.
BYU's class is the first since it joined the Big 12 Conference in July. They joined UCF, Cincinnati and Houston in joining the league in July.
BYU announced the signings via Twitter.
It's also one of the largest classes in the Big 12 for this cycle and the second class during the tenure of coach Amber Whiting.
The four players signed are guard-forward Kambree Barber, center Sarah Bartholomew, guard Brinley Cannon and guard Delaney Gibb.
Gibb is the big prize in the class. The 5-foot-10 guard from Raymond, Alberta, is a four-star player and ranked No. 78 in ESPN's Top 100 for 2024. She also reportedly considered Utah.
Whiting dipped back into Idaho for two of the recruits. Barber, a 6-foot swing player, is from Rigsby, while Cannon, a 6-foot guard, is from Shelley.
Bartholomew, who is a 6-foot-3, is the lone Utah-based recruit, as she goes to Lone Peak high School in Highland, Utah.
BYU started the season with a pair of victories over Montana State and Weber State at home in the first week of the season. This weekend, the Cougars will be in Laie, Hawaii, for the North Shore Showcase, where they will play Wake Forest and Saint Louis.
Next season four more schools will join the Big 12 — Arizona, Arizona State, Colorado and Utah. They'll help augment the losses of Oklahoma and Texas, which will join the SEC next season.
With those additions, the Big 12 will have 16 teams.