featured
HCS Mailbag: Who Makes the Big 12 Championship?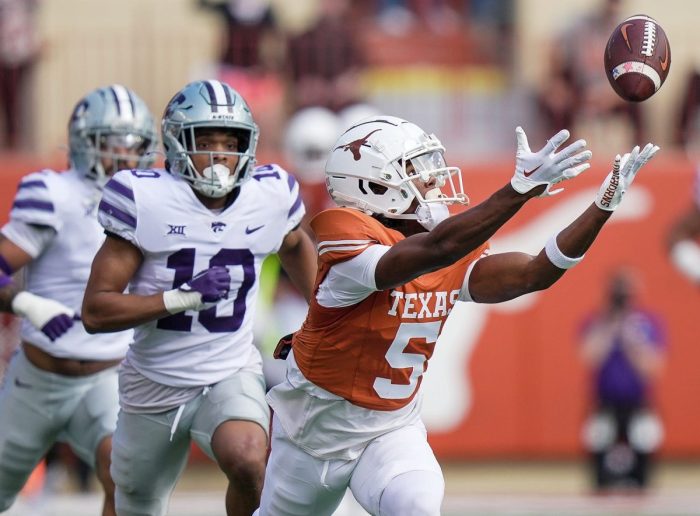 Welcome to the HCS Big 12 Football mailbag. This mailbag is for all you football junkies out there who root for a Big 12 school, and not only have questions about your team but other teams in the conference as well. So, join me, grab a cold brew or your favorite drink, and relax as I answer all your Big 12 questions. I want to thank each one of you who submitted a question this week and for tonight's drink of choice? You'll just have to see for yourself. Cheers!
@mat_with2ts_ asks: Who do you think is actually going to make it to the Big 12 CCG? I don't think anyone in the conference wants a UT v OU rematch.
Duke: Well, you are right about people within the conference not wanting that. But as much as I hate to say it, I believe we are going to get a Red River Rivalry rematch. After looking through all the scenarios, the Longhorns and Sooners have the easiest path to get to Arlington. Don't blame me, blame the conference for the weird tiebreaker rules.
@JosiahSneath asks: Why did they take away the value of head-to-head matchups for the championship? Is ISU a top 3 Big 12 team next year?
Duke: I have no idea why they made that rule. Out of all the schools getting the short end of the stick, Oklahoma State may have gotten the shortest. They not only beat Kansas State but Oklahoma as well. So even if Iowa State loses this weekend (who they lost to earlier in the season), and they win out, they still don't control their own destiny which makes zero sense to me. All I know is that this whole thing is a cluster you know what and I hope it changes.
@troyboy8ball asks: Going forward, which is the greatest Big 12 rivalry? I think it's either the Holy War or the Bluebonnet Battle. What say you?
Duke: It's 100% the Holy War. The BYU/Utah rivalry is one of the best in all of college football and the Big 12 should be extremely happy to have that game in their conference. I hope to make it out to Provo or Salt Lake City for that game because I feel like it would be one heck of an atmosphere. Also, let's not talk about the Bluebonnet Battle and please keep Farmageddon alive Brett Yormark.
@Vectoze_: You tweeted that you're not sold on Jimbo at WVU, but do you believe that Neal Brown is STILL the right person for the job? Do you think that WVU might take a look at Jimbo in the "offseason?"
Duke: Do I think Neal Brown is the long-term answer at West Virginia? No, but I don't see how they can fire a man after winning eight games when he was picked to finish dead last at Big 12 media days. Also, I know Jimbo was born in West Virginia, but does he have any ties there still? And would he even be interested in that job if it were open? I am not too sure. Either way, Neal Brown has earned himself at least one more year in Morgantown.
@JosiahSneath asks: Is ISU or KSU more set up for the next few years?
Duke: That is a really tough question, but I would probably lean towards Kansas State. They are fresh off a Big 12 title and are in contention for another one this season. With that said, Iowa State isn't too far behind because they have some great young talent. I just think that Avery Johnson is going to be a star in this conference when his time comes.
@D3vJaVu asks: Thought on the possibilities of an 8-way tie for 1st / tech still having a chance at Arlington
Duke: I don't even want to think about that nightmare scenario. Honestly, all these tie-breaker rules make my head hurt because a lot of it makes no sense to me and is confusing. At this point, I wouldn't be opposed to creating divisions to make things a little simpler for everyone.
@soundthemsirens asks: Does Jonathon Brooks' injury change the outcome/trajectory for this week's game?
Duke: It certainly makes this game a lot more interesting. Texas runs their offense through Jonathan Brooks as they should. He is one of the best running backs in college football and has rushed for over 1,100 yards this season. It truly is a shame that he got injured. I know the Longhorns still have plenty of weapons offensively, but I am going to be interested to see them try and run the football against a good Iowa State defense.
@aaronlwenger asks: Would the big 12 reconsider bringing in OSU and WSU considering how well they have done this year record-wise?!
Duke: I don't think the Big 12 is going to drool over Oregon State and Washington State just because they had a good season. Well yes, it does help that they are relevant this season, I just don't see that making them so much more desirable than they were a year ago. Those two schools will find a home just not in the Big 12.