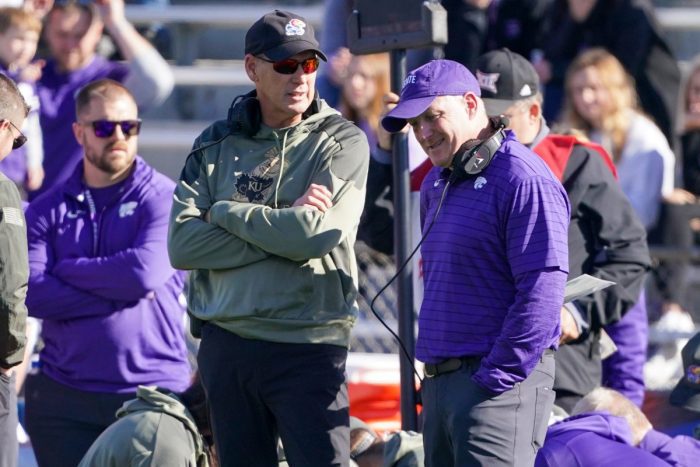 Here is everything you need to know about the upcoming matchup between the Kansas Jayhawks and the Kansas State Wildcats.
GAME INFO
Saturday, November 18th, 2023 6:00 p.m. CT; David Booth Kansas Memorial Stadium; Lawrence, Kansas
TV: FS1
Radio: Jayhawk Radio Network (Brian Hanni, David Lawrence, Brandon McAnderson); K-State Sports Network (Wyatt Thompson, Stan Webber)
Records: Kansas (8-1, 5-1); Kansas State (3-5, 2-3)
Last Week: Texas Tech 16, Kansas; Kansas State 59, Baylor 25
Rankings: Kansas State No. 23 (AP); Kansas not ranked
Series History: Kansas leads 65-50-5
Last Meeting: Kansas State 47, Kansas 27 (2022)
Line: Kansas State (-9.5)
Fun Fact: While Kansas still has a commanding lead over Kansas State in the series history, The Wildcats have owned the previous 14 matches with head coach Chris Klieman being 4-0 all-time against Kansas.
KEY PLAYERS
KANSAS JAYHAWKS
QB COLE BALLARD/JASON BEAN
While the answer to who is going to take the field under center for Kansas will more than likely be a game-time decision, the combination of Cole Ballard and Jason Bean will be the main player to watch on Saturday. Kansas is incredible in their rushing attack with the combination of Devin Neal and Daniel Hishaw but with a team like Kansas State heading to town, the Jayhawks could use a veteran passer. Ballard took his first snaps of college football last week against Texas Tech and had some highlights, but when your first career start is against the defending league champs, things get a little trickier.
DE AUSTIN BOOKER
Austin Booker has been the best player for Kansas' defense this season as he continues to affect the game as a pass rusher. The Minnesota transfer currently ranks third in the league with seven sacks on the season trailing only UCF's Tre'Mon Morris-Brash and Houston's Nelson Ceaser. Booker has also recorded 42 stops this season in addition to two forced fumbles in 2023. If Kansas looks to pull off the upset, Booker will need to be a game-wrecker when the Wildcats come to town.
KANSAS STATE WILDCATS
QB WILL HOWARD
Kansas State's senior quarterback Will Howard broke the record for most passing touchdowns in a career at K-State in the Wildcats Week 11 matchup against Baylor bringing his career total to 45. Howard responded to some early adversity this season in big fashion with 2,190 passing yards, 21 touchdowns, eight interceptions, and seven more scores on the ground. While Howard struggled with turnovers early in the season (seven INTs in five games), that issue seems to be behind him as the Pennsylvania native has thrown for a touchdown to interception ratio of 12-1 in his last five outings.
CB KEENAN GARBER
Senior cornerback Keenan Garber might be one of the Big 12's most interesting players. Garber started off his career at Kansas State as a wide receiver and remained on offense until a week prior to the 2022 Big 12 Championship where Garber and the staff elected to change his position to cornerback. The move paid off as Garber has quietly grown into one of the Wildcats' top defensive backs in 2023. The Kansas native made an outstanding play against Baylor and jumped an errant throw from Blake Shapen, intercepting the ball and taking it back 45 yards for a score. Oh, and he's from Lawrence.
KEY STORYLINES
KANSAS JAYHAWKS
Is there still hope for a Big 12 title or can this team play spoiler? The immediate takeaway from the 2023 season for the Jayhawks is that despite injuries at the quarterback position, the team complied the most wins of any team in Lawrence since 2008. While the Big 12 tiebreaker scenarios do not make a ton of sense to folks in the media (myself included), Kansas is still not technically eliminated until it is painfully obvious from the league which teams will clash in Arlington. Every week matters in the Big 12, can Kansas end the Wildcats' 14-year streak?
KANSAS STATE WILDCATS
Despite losing key games to Oklahoma State and Texas, the Wildcats have the second-best odds of anyone in the league outside of Texas to make it to Arlington. While the Wildcats do still need some slight help from others to secure a spot in their second-straight title game, K-State has done enough to get to this point on its own. The Wildcats will not only face the weight of expectation in Week 12 attempting to continue a streak of 14-straight wins over their conference rival, but they will have to travel to Lawrence and play in hostile territory en route to Arlington.
PREDICTION: KANSAS STATE 38, KANSAS 17
This prediction could age horribly depending on who suits up for Kansas under center. As of right now in my prediction, I'm led to believe that fans will not see Jason Bean in this matchup. If Bean is able to go and operate at somewhere close to 100%, I like the game to be much closer with Kansas State taking it by a touchdown late. The Wildcats have had some luck this season facing backup quarterbacks and injured starters with games against UCF's Timmy McClain, Texas Tech's Behren Morton/Jake Strong, TCU's Josh Hoover, and Texas' Maalik Murphy. Kansas State rolls past Kansas with their third-string quarterback under center in Lawrence.