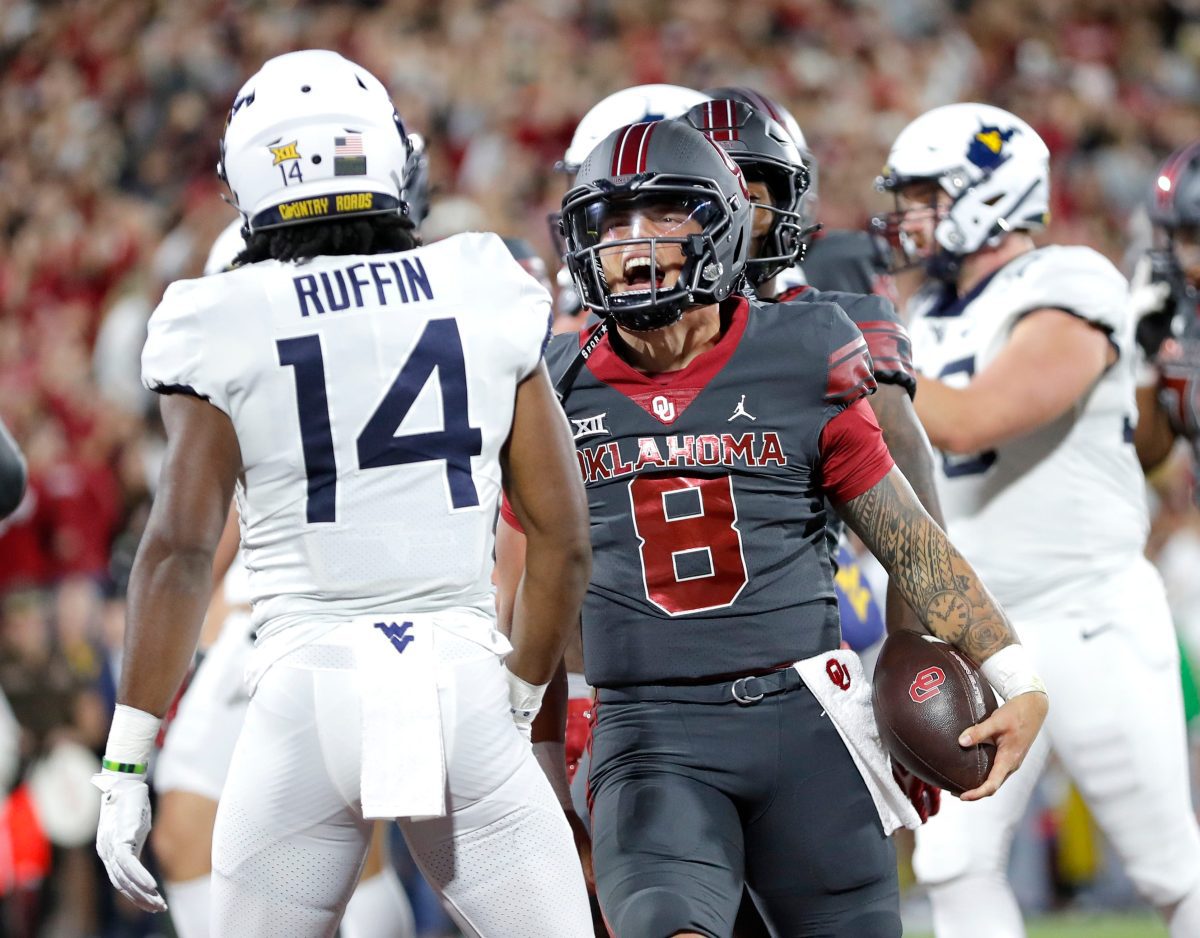 Here is everything you need to know ahead of the matchup between the Oklahoma Sooners and the BYU Cougars.
GAME INFO
Saturday, November 18; 11:00 a.m. CT; LaVell Edwards Stadium; Provo, Utah
TV: ESPN
Radio: Sooner Sports Radio (Toby Rowland, Teddy Lehman, Gabe Ikard); BYU Radio (Greg Wrubell, Hans Olsen, Mitchell Juergens)
Records: Oklahoma 8-2 (5-2 Big 12); BYU 5-5 (2-5 Big 12)
Last Week: Oklahoma 59, West Virginia 20; Iowa State 45, BYU 13
Rankings: Oklahoma ranked No. 14 (AP); BYU not ranked
Series History: BYU leads 2-0-0
Last Meeting: BYU 14, Oklahoma 13 (2009)
Line: Oklahoma (-24.5)
Fun Fact: Saturday's game against BYU will be the earliest start time for a game in Oklahoma football history, with the Sooners and Cougars set to kick off at 10:07 a.m. MT, just narrowly edging out the 10:10 a.m. kick in the 2002 Cotton Bowl vs. Arkansas. (per @mhouckOU)
KEY PLAYERS
Oklahoma Sooners
QB DILLON GABRIEL
Oklahoma quarterback Dillon Gabriel might not be in the Heisman conversation after back-to-back losses in Week 9 and Week 10, but he's still playing as one of the best quarterbacks in college football. In fact, Gabriel is coming off a school-record eight-touchdown game against West Virginia. On the year, Gabriel ranks third nationally in points responsible for (216) with 36 total TDs, seventh nationally with 306.9 passing yards per game, and his completion percentage of 70.5% is ninth nationally, all of which lead the Big 12.
LB KIP LEWIS
Oklahoma linebacker Danny Stutsman made his return to the field agaisnt West Virginia this week and it made a major difference in how the defense performed, but another difference was where he played. Stutsman took the majority of his reps at MIKE rather than his traditional spot at WILL linebacker, enabling freshman Kip Lewis to get on the field. Lewis' inclusion into the front seven is a revolution for this defense, as his instincts, decisiveness, and lateral quickness give OU one of the best LB duos in the Big 12.
BYU Cougars
QB KEDON SLOVIS
While he was available to play against Iowa State last week in an emergency situation, BYU quarterback Kedon Slovis has missed each of the last two games. Instead, it has been Jake Retzlaff, and the offense has managed just 20 points in that time. The Cougars have been outscored 82-20 in each of their last two games and 117-26 in their last three. The lack of a running game has killed BYU's offense this season, with 90.5 yards per game on the ground (124th nationally). If Slovis can go this week, it'll give the Cougs a boost, but will it be enough to take down OU?
LB MAX TOOLEY
BYU senior linebacker Max Tooley has been a consistent part of the Cougars' defense that has improved from last year, but still has several areas that they need to improve in. Tooley's 74 tackles rank ninth in the Big 12 and first on the team. Against an Oklahoma offense that has found its footing in the run game over the last couple of weeks, Tooley and company will be busy on Saturday as OU's RPO game puts a lot of pressure on opposing linebackers.
KEY STORYLINES
Oklahoma Sooners
Can Oklahoma go on the road and take care of business? The Sooners have lost each of their last two road games in hostile environments, and while this isn't a night game in the mountains of Utah, LaVell Edwards Stadium is still a tough place to play. BYU isn't a good football team right now. They rank last in the Big 12 in scoring offense (21.9 ppg), and total offense (300.0 ypg), 12th in scoring defense (28.7 ppg), and 13th in total defense (414.1 yapg). The only team that beats Oklahoma this weekend, is Oklahoma.
BYU Cougars
Can BYU stick around long enough for Oklahoma to make some mistakes and keep them in the game? Last week, we saw the Sooners jump out to a 31-14 lead over West Virginia, who trounced BYU just two weeks ago. If OU walks into this game and jumps out front early, there's a chance that this could be the ugliest game BYU's been in all season. However, the Sooners have shown that they aren't as potent on the road this season, and if given some belief, BYU can stick around until the final frame. At that point, who knows what happens, especially when it's the home team playing with house money.
PREDICTION: Oklahoma 48, BYU 6
The Oklahoma team that we saw last weekend looked to have taken some serious steps after losing back-to-back games. The Sooners played with an edge that we haven't seen since they took down Texas in the Cotton Bowl, and that team is capable of playing with anyone in the country. The funny part is, Dillon Gabriel wasn't all that sharp against WVU, but the offense took some major strides to help him out and he had a career day as a result. Meanwhile, BYU is playing some of the worst football in the conference right now, and whether or not Kedon Slovis comes back, I don't have confidence that the Cougars can put anything together on offense. I like Oklahoma to win big and cover on the road, putting them at 9-2 and still in position to be a factor in the Big 12 race heading into Week 13.