Baylor Bears
TCU vs. Baylor: Preview, Prediction, and Game Odds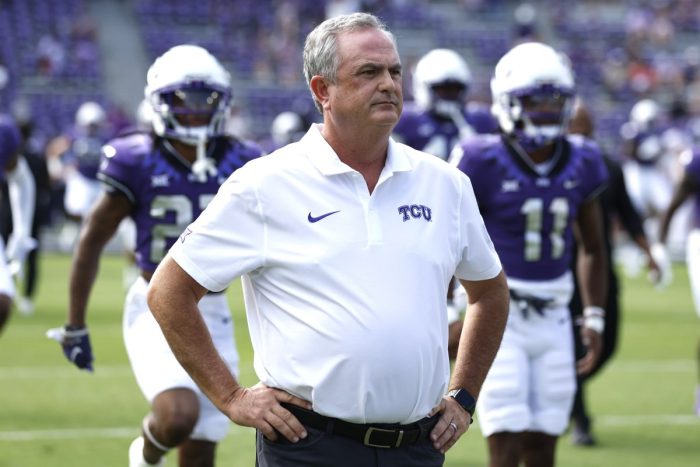 Here is everything you need to know about the upcoming matchup between the TCU Horned Frogs and the Baylor Bears.
GAME INFO
Saturday, November 18th, 2023 2:30 p.m. CT; Amon G. Carter Stadium; Ft. Worth, Texas
TV: ESPN+
Radio: Horned Frogs Sports Network (Brian Estridge, Landry Burdine, Chris Blake); Sports Network (John Morris, J.J. Joe, Ricky Thompson
Records: TCU (4-6, 2-5); Baylor (3-7, 2-5)
Last Week: Texas 29, TCU 26; Kansas State 59, Baylor 25
Rankings: N/A
Series History: TCU leads 58-53-7
Last Meeting: TCU 29, Baylor 28 (2022)
Line: TCU (-13.0)
Fun Fact: While previous games between TCU and Baylor have been played under different names for the rivalry, Saturday's matchup between Baylor and TCU will be known as the Bluebonnet Battle.
KEY PLAYERS
TCU HORNED FROGS
WR SAVION WILLIAMS
Despite winding up with a loss in Week 10, junior wide receiver Savion Williams absolutely torched Texas' secondary. The Texas native caught 11 passes for 164 yards in a score in the outing and now has a chance to face Baylor's middle-of-the-pack secondary. Williams has been a big playmaker on the outside for TCU but with some questionable play at the quarterback position, his numbers have suffered a bit lately. Williams has recorded 36 grabs for 474 yards and four scores in 2023 and looks to continue the production against Baylor.
NAMDI OBIAZOR
Namdi Obiazor has been the heart and soul of the Horned Frogs' defense this season and is the player to watch in Week 11. Obiazor leads his team in total tackles with 76 on the year and also adds four sacks and two pass breakups in 2023. Obiazor will have to step up with the loss of TCU linebacker Johnny Hodges for the remainder of the season, and while the loss is a major setback for Joe Gillespie's defense, Obiazor should have some more room to work.
BAYLOR BEARS
QB BLAKE SHAPEN
Blake Shapen is one of the most confusing quarterbacks in the Big 12 Conference. The junior quarterback has had some All-Big 12-level days but has also had some outings where he just plain never gets going. In last week's matchup against Kansas State, Shapen fought until the end going 22-45 for 253 yards, four touchdowns, and an interception. While the four touchdowns were a positive sign for Shapen, the majority of his production came after the game was out of hand. He will have to get hot early in order to avoid another slow start for Baylor.
CB CADEN JENKINS
When a true freshman steps up and can comfortably fill a spot on a Big 12 defense, that is certainly always a good sign of development. Baylor's freshman cornerback Caden Jenkins has flashed a ton this season with three interceptions and some key pass breakups in multiple games in conference play. Jenkins and Savion Williams will be an awesome match to look for in this game and despite Jenkins' lack of experience as a freshman, the Texas native will be ready for the moment against a talented TCU wideout.
KEY STORYLINES
TCU HORNED FROGS
Is a bowl game for Sonny Dykes still on the table despite dealing with the injury bug? Has TCU been good this season? No. But have they dealt with a ton of setbacks in the regular season? Yes. I don't want to make excuses for the team but there is still a path to a bowl game on the table, it is just going to take some leg work. The team would have to go 2-0 down the stretch against Baylor and Oklahoma, and while it is possible, taking down Oklahoma to close out the year looks like a big task.
BAYLOR BEARS
Is it time to make a coaching change? I know the immediate response is that Dave Aranda won a Big 12 title less than two seasons ago but the stats do not work in his favor after that. Aranda is a combined 2-8 in his last 10 conference games in the Big 12 and continues to show the opposite of what the athletic department should be looking for in terms of the on-the-field product. More than likely the Aranda conversation will be looked at in the offseason but it may be time to start looking for replacements if you lose to TCU.
PREDICTION: TCU 27, BAYLOR 21
The Week 11 matchup between TCU and Baylor is going to be one ugly football game. I fully expect multiple turnovers, sloppy play, and a ton of penalties. Do I expect either team to earn a convincing victory? No. I expect TCU to win the turnover battle, albeit slightly, which helped propel them to a win in a gritty Big 12 Conference match. Baylor may not have fully leaned into rock bottom yet, but after fans see the outcome I expect on Saturday, rock bottom could be closer than anticipated.