featured
Understanding the Big 12 Football Tiebreakers with Two Weeks Left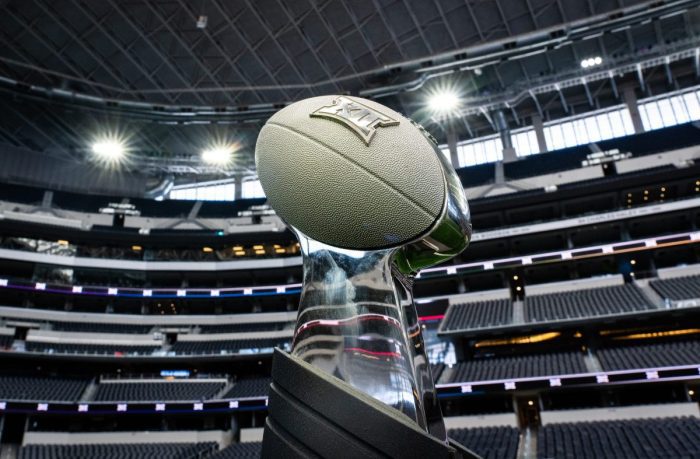 With just two weeks of action remaining, the Big 12 race is as tight (and confusing) as it's ever been after the events of Week 11.
The Texas Longhorns are the one team that controls their own destiny, as winning out would get them to 8-1 in conference play and secure their spot in the Big 12 Championship game. After that though, the word "log jam" doesn't quite do it justice.
The curfuffle that is the tie for second place in the Big 12 standings is nearly impossible to understand, given the nearly impossible puzzle that is the Big 12 tiebreakers for 2023. If you'd like to read them yourself, check out this link, but I'll give you the long and short of what you need to know.
Big 12 Championship Scenarios
Head-to-head matchups are going to be the top way for teams to determine who would advance to the Big 12 Championship in the event of a tie. In a multi-team tie, all teams would need to have played one another for a round-robin schedule to matter, unless one of the teams in the group of tied teams has swept the remaining teams it is tied with.
This isn't an exact science, as the number of variables that are possible over the last two weeks are almost impossible to break down.
For example, if Oklahoma State, Oklahoma, and Kansas State, were all to win out but Texas loses to Iowa State this week, the Big 12 Championship would be K-State vs. Oklahoma State. However, if the Longhorns beat Iowa State, but turn around and lose to Texas Tech, the matchup would be Texas vs. Oklahoma State.
So, instead of breaking down every single potential matchup, I came up with the most likely scenarios for each contender over the next two weeks. Here's how things look.
Texas Longhorns 9-1 (6-1)
Remaining Schedule:
at Iowa State (Nov. 18)
vs. Texas Tech (Nov. 24)
Path(s): Win Out, Or …
Beat Iowa State
Beat Texas Tech + OU L + OSU L
Conclusion:
Texas can secure a spot in the Big 12 Championship with a win over Iowa State on Saturday, and would obviously be there if they were to win out and go 11-1 on the year. However, if the Cyclones can pull off an upset over Texas and drop them to 6-2 in conference play, the Longhorns would need to beat Texas Tech and have quite a bit of help from the other teams tied for first place to get in
---
Kansas State Wildcats 7-3 (5-2)
Remaining Schedule:
at Kansas (Nov. 18)
vs. Iowa State (Nov. 25)
Path(s): Win Out + …
OU L + OSU L
Texas Loss to ISU
Conclusion:
Kansas State's chances are heavily affected by the "clarification" as they'll need a lot of help to make it to Arlington now. With a three-way tie between OU, OSU, and K-State now sending the Pokes to the title game, K-State would also fall under OU in the standings thanks to the Sooners' win over Texas. So, to make it to Arlington, K-State needs Texas to drop a game to Iowa State, or would need a loss from both OU and OSU.
---
Oklahoma Sooners 8-2 (5-2)
Remaining Schedule:
at BYU (Nov. 18)
vs. TCU (Nov. 24)
Path(s): Win Out + ...
OSU Loss
Iowa State Wins Out
Texas L + K-State L
Conclusion:
After the tiebreaker "clarification," Oklahoma's path to the Big 12 title got much tougher. Before, it was believed that the Sooners could get to Arlington by winning out and a Texas loss, but that's not the case. An Oklahoma State loss is the simplest way for OU to get in, but a Texas loss would still help. If Iowa State can win out, knocking off Texas and K-State in the process, OU would directly benefit by making the title game. There other paths as well, but we are talking about three or four specific outcomes. We'll wait it out until next week before jumping into that.
---
Oklahoma State Cowboys 7-3 (5-2)
Remaining Schedule:
at Houston (Nov. 18)
vs. BYU (Nov. 25)
Path(s): Win Out, or 1-1 + …
Conclusion:
Heading into Week 12, Oklahoma State still controls its own destiny, despite a 45-3 loss at the hands of UCF. Winning out is the most viable way for them to navigate their way to Arlington, but they could still sneak in if they dropped a game and had Oklahoma and Kansas State lose a game. After the clarification of the rules, Oklahoma State is in as good a spot as anyone to make it to the Big 12 Championship Game.
---
Iowa State Cyclones 6-4 (5-2)
Remaining Schedule:
vs. Texas (Nov. 18)
at Kansas State (Nov. 25)
Path(s): Win Out + …
Conclusion:
Iowa State's game against Texas this weekend is one of the most important games of the season in the Big 12, both for the Cyclones and the rest of the contenders. If they can pull off the upset at home, they'll need a loss from Oklahoma or Oklahoma State to get in. If Oklahoma drops a game, the Cyclones would get in based off their head-to-head win over Texas and the Sooners falling below them in the standings. If Oklahoma State drops a game, the Cyclones would advance over them and Texas by way of their 2-0 record in a round-robin tiebreaker for three teams.