Big 12 News
Big 12 Partners With WWE to Produce "Championship Belt" for Title Game MVP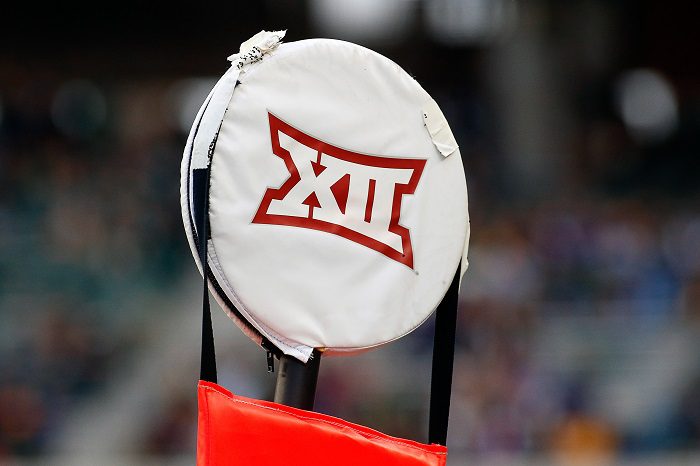 The Big 12 has partnered with WWE to produce a custom-made championship title belt that will be awarded to the Most Valuable Player at the 2023 Big 12 Championship Game on Saturday, December 2.
The belt will be presented on-field at the conclusion of the game by a WWE Superstar and additionally, a co-branded WWE x Big 12 logo will be featured throughout the venue and on the field.
Brett Yormark has been lauded for being the most forward-thinking commissioner in college football, and this is just the latest example of why that is certainly the case.
According to a Big 12 press release, Throughout the week leading up to the 2023 Dr Pepper Big 12 Football Championship and the game itself, WWE Superstars will be prominently featured and integrated. In addition to the championship title belt presentation, select WWE Superstars will participate in a Big 12 Conference community event, pre-game hospitality events, and the game's official coin toss.
"WWE is a global brand that connects with a wide array of audiences," said Commissioner Brett Yormark. "With this partnership, we will integrate WWE and its brand power into one of the Conference's biggest moments, further strengthening the bridge between sports and entertainment throughout the Big 12."
"Brett and his team at the Big 12 have turbocharged the conference through innovative media rights deals and commercial partnerships, constantly exploring new ways to grow the conference's reach and influence," said WWE President Nick Khan. "We're excited to partner with them and help amplify the Big 12 Championship."
The Big 12 Championship is set for an 11:00 a.m. CT kickoff from AT&T Stadium on Saturday, December 2. This weekend will go a long way in determining who will play for the Big 12 Trophy, and now, a custom-made WWE Championship belt.