featured
Five Big 12 Football Storylines to Follow in Week 12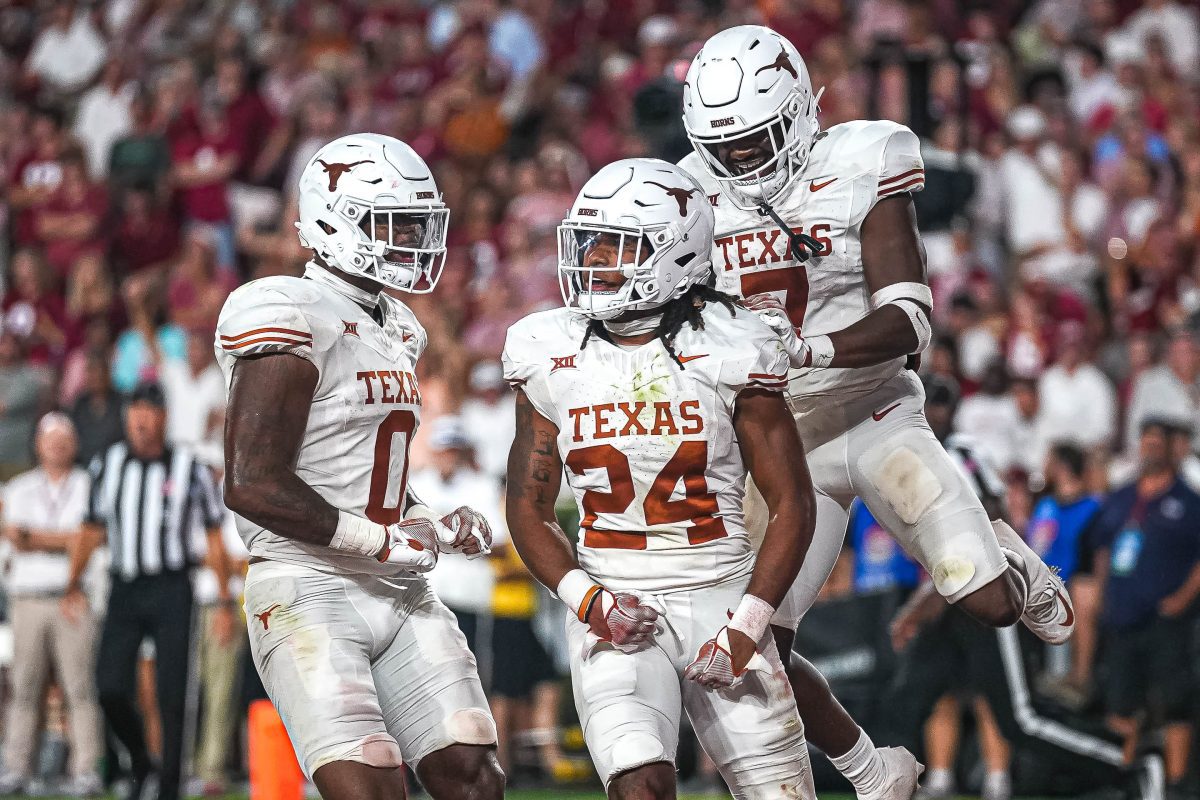 The Big 12 race has reached the pinnacle of its excitement as we have five teams vying for a spot in the title game with just two weeks of action remaining.
The Texas Longhorns are in sole possession of first place with a 6-1 record in conference play, while four teams are right on their tail at 5-2 and are in must-win games the rest of the way to even keep their hopes alive.
With a win this weekend, UT can clinch a spot in the title game, and eliminate Iowa State from contention, leaving Oklahoma, Oklahoma State, and Kansas State alive and in the fight.
There's a lot to follow this week at the top of the conference, and so much to keep up with as the season draws near to a close. Here are the top five storylines that you should be keeping up with heading into Week 12.
Jonathan Brooks' Absence for Texas
Texas will roll into Ames with a 9-1 record and its College Football Playoff aspirations still intact, but the 6-4 Iowa State team that awaits them is not the squad that its record might indicate. The Cyclones are in the thick of the Big 12 race, and with a win this weekend, Iowa State would throw the conference into a total state of disarray, with as many as five teams tied for first place heading into the final week of the regular season.
While Texas will be favored in that game, by 7.0 points at the time that this story was published, the absence of All-Big 12 caliber running back Jonathan Brooks will be a major storyline to follow for the Longhorns. On the year, Brooks leads Texas with 1,139 yards and 10 touchdowns on the ground, averaging 6.1 yards per carry. However, with him out for the season with a torn ACL, Texas will need freshman CJ Baxter to step up and fill the void.
A five-star freshman out of Orlando (FL), Baxter has been slowed by injury this season but has been effective in the action that he has seen, with 390 yards and three touchdowns on 87 carries.
However, Brooks had had 100 more carries to this point in the year and was averaging just around 20 touches per ball game. Will Baxter be able to keep the ground game going against an Iowa State defense that has, once again, rounded into form?
The answer to that question might determine the outcome of this game, and to a greater extent, the Big 12 and College Football Playoff race.
Does Oklahoma State Rebound?
Heading into Week 11, Oklahoma State was riding on a cloud of emotion-fueled bliss. The Cowboys finally had something they could hold over their in-state rivals. While the Sooners had dominated the Bedlam series, the Cowboys had won the last matchup, and that's all that mattered.
Unfortunately, things came crashing back to Earth for the Pokes last week, and in the "Space Game" against UCF, Oklahoma State experienced a failure to launch. The Knights blistered OSU 45-3, and in doing so, ended the Cowboys' five-game winning streak and Ollie Gordon's historic run of games with over 120 yards rushing.
The Pokes were forced to go away from the running game early, as a 24-0 halftime deficit forced Alan Bowman to try and win the game with his arm for a second straight week. Managing just three points on the road, it's safe to suffice that he didn't live up to the challenge.
Now, with their Big 12 hopes still hanging in the balance, Oklahoma State must throw away the tape from last week and go to Houston and find success. The Cougars aren't exactly a daunting opponent, and at just 4-6 on the season, are one loss away from being eliminated from bowl contention.
So, the question remains: can Oklahoma State rebound? Last week's loss was so shocking that it's hard to understand just what happened. Sure, the game got away from them, but was UCF able to write the book on what it takes to slow down the Cowboys' offense? If so, can Houston replicate that success and use its own collection of skill talent to take advantage of OSU's secondary?
This game will either eliminate Oklahoma State from Big 12 title contention, or Houston from bowl contention, so there's plenty on the line for this one.
Can OU Show Up on the Road?
After back-to-back losses against Kansas and Oklahoma State, the team that showed up in Dallas and whooped Texas for three quarters finally found its way back into Norman. In the final Big 12 night game on Owen Field, Oklahoma trounced a good West Virginia team, 59-20, and saw QB Dillon Gabriel score a school-record eight touchdowns in the victory.
Brent Venables' group must now show that they can do it on the road though, as OU has struggled significantly in away games this season. On top of their losses in Lawrence and Stillwater, the Sooners also looked sluggish in Cincinnati against a bad Bearcats team, and ended up winning 20-6.
Outside of their trip to the Cotton Bowl, which is technically only half a road game, Oklahoma hasn't been good, and now they'll head to Provo for a venue that has provided many opponents issues over the years. Sure, BYU (5-5, 2-5) isn't the same team that it was a few years ago and the Sooners will enter the game as 24.5-point favorites, but a sluggish start riddled with turnovers could lead to the exact kind of game that OU has struggled with as of late.
Admittedly, BYU isn't the same level of team that Oklahoma has seen over the last few weeks. The Cougars' last two opponents, Iowa State and West Virginia, are actually common opponents for OU. BYU lost those games 37-7 (West Virginia) and 45-13 (Iowa State). Comparatively, Oklahoma beat West Virginia 59-20 and beat Iowa State 50-20 back in September.
So, while an upset might be unlikely, seeing the Sooners come out slow against BYU would be incredibly disappointing for OU fans after looking like they'd finally taken a step forward last week. If they can build off of that performance and look impressive yet again this week, there's no telling where Oklahoma might end up when the postseason arrives.
Jason Bean's Availability
In a truly full slate of Big 12 action this weekend, one of the premiere Big 12 games of the year is set in Lawrence, Kansas. The No. 25 Kansas Jayhawks (7-3, 4-3) are set to host No. 21 Kansas State (7-3, 5-2) in the first ranked vs. ranked edition of the Sunflower Showdown in the College Football Playoff era.
Kansas State has won each of the last 14 meetings in this series and enters this game as just over a touchdown favorite despite being on the road. Much of that has to do with Kansas' questions at quarterback entering this game, as Jason Bean was forced to exit last week's game against Texas Tech with a head injury.
With Bean out, and Jalon Daniels seemingly shut down for the season, it was up to freshman Cole Ballard to step in as QB1. Unfortunately, things went about as you would expect for a youngster thrust into action in a pivotal game, as Ballard went just 9-20 for 124 yards and two interceptions on the day. He did finish the day with what looked like a game-saving drive to set up a tying field goal with 25 seconds left, but after some masterful clock management from Joey McGuire, Texas Tech drove down the field in four plays for a 22-yard chip shot to win it, 16-13.
Now, in the final home game of Kansas' 2023 season, the biggest question will be who draws the start. If Jason Bean is able to go this week, Kansas has a legitimate shot to end their drought against their in-state rival. However, if Ballard is forced to make the first start of his career against K-State, I'm not sure that I like KU's chances of keeping this game close.
This is a must-win game for Kansas State, who still has a chance to make the Big 12 title game granted they get some help, but Kansas would love nothing more than to end their losing streak against Kansas State and collect their first eight-win season since 2008. Will we see the second goalpost casualty in Lawrence in 2023 this weekend, or are they safe for at least another season? As soon as we know more about Bean, the answer will become more clear.
The Tiebreaker Situation
Love it, or hate it, the Big 12 made a clarification of the tiebreaker procedures on Wednesday that significantly changes the way the Big 12 race looks heading into the weekend.
In an email sent by the league office, the Big 12 stated that "in the event of a multiple-team tie, head-to-head wins take precedence. If all the tied teams are not common opponents, the tied team that defeated each of the other tied teams earns the Championship berth." The league also doubled down, saying that there have been, "no changes to any rules regarding Big 12 Football tiebreaker procedures, which were agreed upon prior to the season and went into effect August of 2023."
So, what does the situation look like heading into Week 12?
Barring unprecedented chaos, the Big 12 race is down to five teams:
Texas 9-1 (6-1)
Oklahoma State 7-3 (5-2)
Oklahoma 8-2 (5-2)
Kansas State 7-3 (5-2)
Iowa State 6-4 (5-2)
We took the time to explain each of the situations earlier this week, but there is one game this week that can throw a wrench into everything. If Iowa State beats Texas on Saturday, it could force as many as five teams to be tied for first place heading into Week 13. It almost brings tears of joy to my eyes just imagining the pandemonium that would ensue.