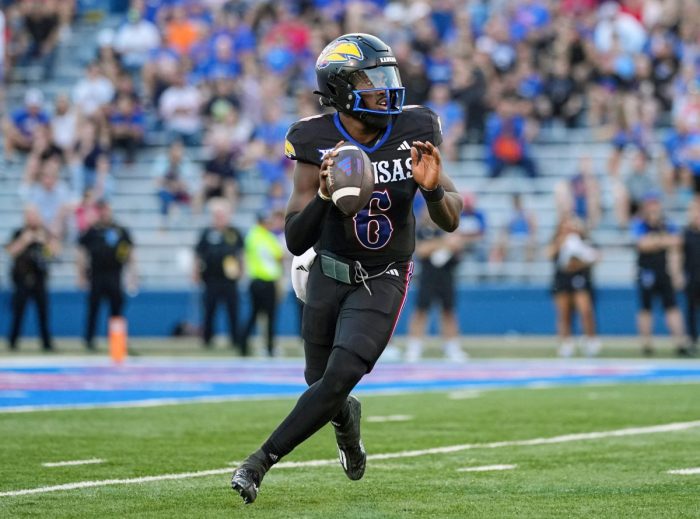 It's not often that Christmas comes early for a football team that was eliminated from the Big 12 Championship a matter of days ago, but that's exactly what happened for the Kansas Jayhawks on Thursday.
After appearing in just three games for Kansas in 2023, rumors of all sorts were starting to circle around quarterback Jalon Daniels and his reason for not returning to action at some point this season.
Well, Jayhawk Nation doesn't have to worry about the rumors anymore, because their beloved quarterback made his message loud and clear on Thursday afternoon: he's not done yet, and he's not going anywhere.
"I'mma be blunt, this season didn't go as planned," Daniels said. "But life comes at you fast, and sometimes, your story is out of your control. But I guess that means I have unfinished business. My dreams haven't changed, my goals are still there and my vision for my future is clear. So you want something to talk about? Talk about this: I'm not done yet and I'm not going anywhere."
The announcement sent KU Twitter into a frenzy, as it's not every day that you learn the 2023 Preseason Big 12 Player of the Year is coming back for another season.
In addition to his personal announcement, Kansas Football also tweeted an announcement and quote from Daniels.
The announcement puts a ton of speculation about Daniels transferring to bed, as the mystery around his back injury ahead of the Texas game has had people befuddled for weeks now. But, with him coming back in 2024, and the Jayhawks' trajectory clearly pointing skyward, it's an exciting to be a Jayhawk fan.