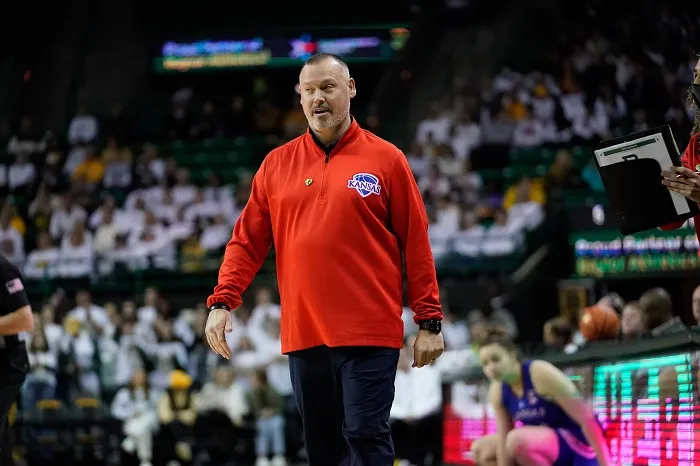 We're into the second week of the college basketball season and we have more Big 12 winners and some losers to talk about.
We had a big win on the women's side, and impressive performance on the men's side and one Big 12 school got one of the most significant transfer portal signings we're likely to see in this conference.
Every Thursday I'll break down the biggest winners and the biggest losers for the first half of the week. Every weekend, we'll hit the Good, the Bad and the Ugly in Big 12 basketball.
Here we go.
Winner: Baylor Women
Look, Baylor hasn't quite recaptured the Kim Mulkey era yet. But coach Nicki Collen has taken them to back-to-back NCAA Tournaments and, honestly, this COULD be her best team (and her first had NaLyssa Smith). It has balance, it has size, it has Sarah Andrews and it has two other things it didn't have a year ago — Aijha Blackwell and Dre'Una Edwards. Blackwell was hurt and Edwards was unable to play due to transfer rules.
All three had great games against Top 5 Utah on Tuesday, and that's the biggest win for the Big 12 women this early in the season. The Bears are always tough, but this team is quickly shaping up into one of the top challengers to the team I believe is the best in the league — the Texas Longhorns.
Loser: Kansas Women
The upside here is that Kansas scored 85 points on the road. The downside here is that they lost to a team that went 14-17 a year ago and won just four Big Ten games. Improvement can happen fast in college basketball these days. The Nittany Lions have turned an early corner.
But, for Kansas, this was its first big non-conference test and it didn't pass. For a team coming off winning the Women's NIT and hoping to make more hay in the Big 12 Conference, it wasn't what the Jayhawks were hoping for.
Plus, the road doesn't get much easier. When they head to their Thanksgiving tournament, they have to play two Top 10 teams in Virginia Tech and UConn. Naturally, coach Brandon Schneider wants the challenge. But this is a lot in a month.
Kansas could come back home with an 0-3 record against Power 6 teams before November is even done.
Winner: Kevin McCullar Jr.
I made this point in my three thoughts piece on Tuesday — McCullar is going to be a 10-year NBA vet when it's all said and done. It's just a matter of an NBA team not getting hung up on the fact that he likely won't be an elite scorer but understands that he can do everything else at an elite level.
But I didn't get this little nugget until Wednesday morning. McCullar is just the third Kansas player in history to have a triple double in a game, which he had on Tuesday night. Just. The. Third.
Impressive.
Winner: TCU Women
The TCU Horned Frogs are 4-0 but they haven't signed a prep recruit that I've been able to find. That's OK, because earlier this week they got a commitment and a signature from the player likely to be their starting point guard next season — Haley Cavinder.
Cavinder and her twin sister, Hanna, had retired after last basketball season. But Haley still had some eligibility. So she popped into the transfer portal and ended up with TCU, where she'll sit this year before playing out her final season in 2024-25.
That's a big get for the Horned Frogs on a couple of fronts. First, naturally, there is the Cavinder sisters' presence on social media as one of the driving forces of Name, Image and Likeness (NIL) for college athletes. No one made that space their own immediately like the two of them.
Second, Cavinder is coming off a 2022-23 at Miami where she averaged more than 11 points and nearly five assists per game. Her game should be a soldi fit for what first-year coach Matt Campbell is trying to build in Fort Worth.
Losers: Kentucky
Not only did the Wildcats lose to the Jayhawks, but this happened.
Kansas' Mascot really just flipped off Kentucky's basketball team. Savage. @BarstoolKU pic.twitter.com/gWHxn0tcm6

— Barstool Big12 (@BarstoolBig12) November 15, 2023
I'm not entirely sure if the Jayhawks actually flipped them off, but let's just say he did. Imagine having to be the basketball team that has to back up your mascot when he flips off the opponent. Don't they have enough to deal with?
iframe src="https://app.e2ma.net/app2/audience/signup/1986400/1964875/" width="510″ height="500″ frameborder="0″>
You can find Matthew Postins on Twitter @PostinsPostcard.