featured
Fact or Fiction Friday: Big 12 Got Tiebreakers Right, Neal Brown Coming Back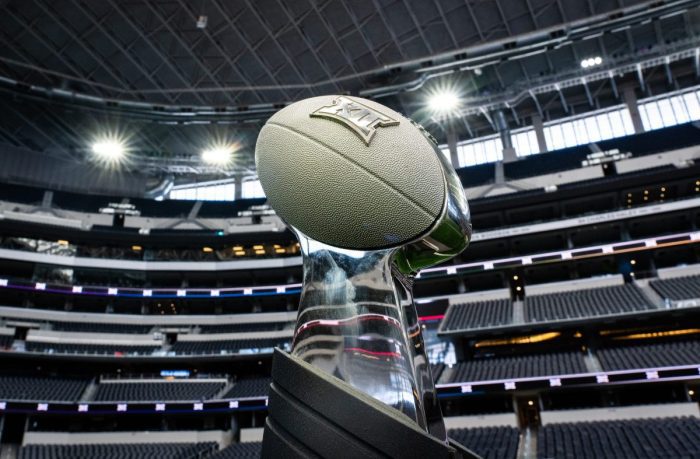 Welcome to Fact or Fiction Friday. Each Friday, I give our Facebook fans an opportunity to ask the most intriguing questions in the Big 12 Conference, and I will tell you whether they come true or if they are set to fail. crack it open and see what we have in store this week.
The Big 12 Got the Tiebreaker Rule Right
Fact: Look, I understand the timing of the Big 12 tiebreaker clarification wasn't great when it came to changing things, but at the end of the day they got it right. Think about how silly it would be to possibly leave Oklahoma State out if they had the same conference record as Oklahoma and Kansas State. That would mean that a head-to-head win meant nothing. If two teams are tied in the standings and one of them beat the other, then the team that won should be ahead. Again, not the best timing but they got it right.
The Bluebonnet Battle is the Worst Named Rivalry Game in the Nation
Fiction: While it is a terrible name, I am not sure if I would call it the worst. As a Texan, I must admit that bluebonnets in the springtime are beautiful, but it doesn't make for a great rivalry name between two schools that hate each other. This game already had a nickname in the Revivalry and why the student governments at both schools felt the need to change the name is crazy to me. Have you seen the ugly trophy they have for this game? It looks like a middle school art project gone wrong. I say bring back the Revivalry and suspend the students who did this. Ok, I am joking. Or wait, am I?
Neal Brown Will Come Back Next Season
Fact: There's a good chance that West Virginia finishes the regular season with an 8-4 record. If that happens this season would be Neal Brown's best season in Morgantown and after being picked to finish dead last at media days, that should be more than enough to keep him around for at least another year. Do I think he's the long-term answer at West Virginia? No, but he deserves to get one more year after a good season. Who knows, maybe he will prove us all wrong.
UCF and Texas Tech Will Make a Bowl Game
Fact: Texas Tech will beat UCF at home this weekend to get to six wins and become bowl-eligible. Next Week UCF will beat Houston in Orlando to get their sixth win as well. I will say that this is a must-win for Texas Tech because if they lose then they will have to beat Texas in Austin to get win number six.
Derek is a Kansas Homer Disguised Behind A Big 12 Site
Fiction: Even if I was a Kansas homer, do you really think I would say that? Come on now. I have been working here for seven years now and I think I have been called everything imaginable. You should see some of the emails I get calling me things I can't repeat on this site. With you calling me a Kansas homer, I now believe that I have been accused of being a homer for every single Big 12 team outside of the four new schools. But I am sure that I will be called a homer for one of those schools down the road.