featured
Kansas State AD Gene Taylor Get Contract Extension Through 2030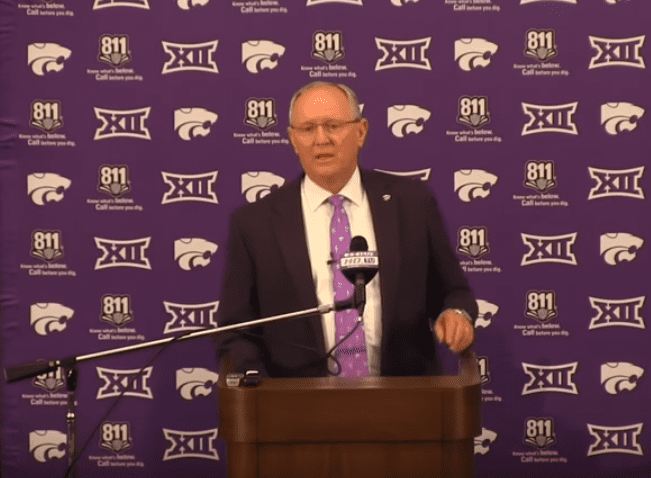 Kansas State Athletic Director Gene Taylor has proven to be one of the best names in the business during his time in Manhattan, and under his leadership, the Wildcats have been very successful on the field and court.
In 2022, K-State won the Big 12 Championship in football and followed that up with an Elite Eight run in the NCAA Tournament this past March.
The importance of hiring Chris Kleiman and Jerome Tang cannot be overstated, as two of the hottest coaching names in their respective sports have things rolling in the Sunflower State.
On Friday, K-State made sure that the man responsible for those hires is going to be around for as long as they can keep him, by extending Taylor's contract through 2030.
"K-State is fortunate to have one of the nation's premier athletic directors in Gene Taylor," said Kansas State University President Richard Linton. "Gene leads with a quiet confidence and steadfast belief in our student-athletes and the coaching staffs who support them — and he has been instrumental in growing our facilities and programs into what they are today. I am thrilled that Gene will continue to lead our athletics program through the end of the Next-Gen K-State strategic plan in 2030."
In a press release from the University, K-State spelled out the details of Taylor's new-look contract.
"The agreement extends Taylor's contract through June 30, 2030, with an annual salary of $925,000 beginning in the 2023-2024 academic year. The contract also includes retention incentives in each contract year. Taylor will receive $250,000 at the end of each of the next four years, and that number will increase to $500,000 annually for the final three years of the contract."
Taylor, who has been with Kansas State since with 2017, says there's no place he'd rather be in a statement released alongside the news.
"There is no other place our family would rather be than Manhattan and K-State," Taylor said. "I appreciate President Linton, the KSA Board and the Kansas Board of Regents for their continued trust in me leading such a phenomenal athletics program. We have the best fans and donors in the country and a group of coaches, staff and student-athletes who are committed to competing for championships, and I am looking forward to the years ahead as we continue to elevate our program."