featured
Tillery's Trends: Big 12 Tiebreaker, Uncle T, and More!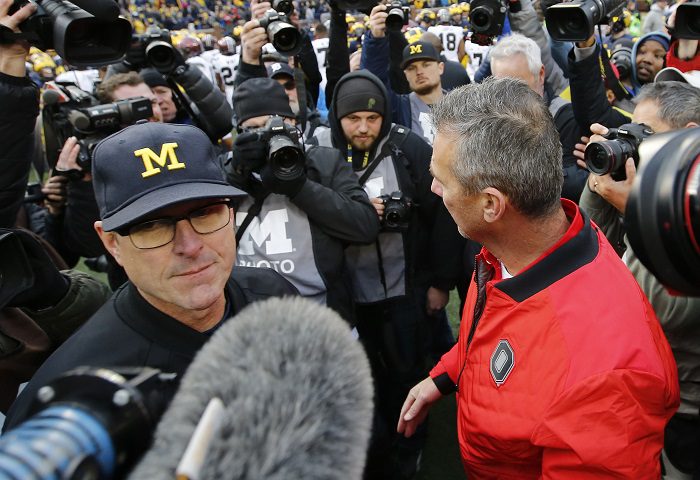 Everyone loves a good trend, and while I may not speak for everyone in the wide world of college sports, I do have the opportunity on Heartland College Sports to discuss some interesting trends revolving around the Big 12 Conference and what's coming up in the near future.
With this being the seventh iteration of Tillery's Trends, I plan to discuss players, coaches, teams, betting lines, top stories, and anything else that stands out about the world of college sports.
On the menu for today, we take a look at the Big 12's new tiebreaker rules, targeting penalties, and take a stab at guessing Michigan's secret donor. Enjoy!
WHAT IN THE BIG 12?
Let me be the first to CLARIFY something.
If thousands and thousands of Big 12 fans are confused and demanding answers on a specific rule set to determine tiebreakers, maybe you wrote some awful rules.
This column is in no way intended to throw shade at Oklahoma State because it is a pretty logical conclusion that beating both teams involved in a tiebreaker would earn you a nod to the title game.
That being said, my issue with the situation is that the league's bylaws did not state that.
This rule should not be a spot where fans can theorize different ways to get their team into the title game. What it should be is clearly written and easy to understand. I know Oklahoma fans and Kansas State fans are unhappy with the "clarification" but when the league comes out and gaslights fans into thinking this is how it has always been, that's where I draw the line.
At the end of the day, if the rules do not make sense, maybe, just maybe, re-write them until they do. Do not enter the football season with vague language in a rule that requires anything but that.
No hard feelings here Big 12, this is just a fun quirky suggestion so that we can avoid a blatant rule change with two weeks left in the regular season in the future.
When people say all press is good press, they clearly didn't have to deal with a college athletics conference changing their rules midseason and gaslighting fans into thinking they are the problem.
TEXTBOOK TARGETING
Fans of college football love to argue against the rule of targeting each and every time a player of their favorite team is called for it, but that argument ends today.
In Thursday night's game between Boston College and Pittsburgh, Boston College's senior defensive back Khari Johnson was ejected for the most blatant targeting call in the history of college football. While Johnson's dirty hit resulted in him getting tossed from the contest, deservedly so, it also provided me an opportunity to show Big 12 fans specific evidence of what to look for before arguing about targeting calls.
Leading with your helmet is one thing, spearing someone with it is a whole new ordeal.
While targeting seems to be confirmed in the Big 12 on a seemingly weekly basis, this trend was included to show a point-blank example of what to look for before ruining friendships with fans of rival teams over discussions related to whether a hit is considered "targeting" or not.
WHO IS UNCLE T?
While most good journalists would give you multiple options to consider regarding identity of Michigan's secret donor Uncle T, who allegedly funded the sign-stealing scandal, I am not a good journalist. Uncle T is Tom Brady.
In a recent report from Yahoo Sports' Ross Dellenger and Dan Wetzel, the NCAA presented Michigan with evidence that an unknown booster named "Uncle T" allegedly funded part of Connor Stalions' scouting operation, which eventually led to an assistant coach attempting to destroy evidence from the scandal.
While the likes of Tony Soprano, Taylor Lewan, and many more outlandish takes have been considered in regard to the mystery donor, my guess is that the donor has seven Super Bowl rings to show off when he's not donating to Michigan.
It should be noted that this is all speculation and is all an alleged theory (don't sue me for defamation lol), but the concept of a Michigan alumni tied to the program with free time and loads of money to spend helping out makes a little too much sense for me to avoid.
While Uncle T could be just about anyone, if news breaks that Tom Brady is the alleged donor, I deserve a Pulitzer Prize for this prestigious investigative journalism shown on Tillery's Trends.