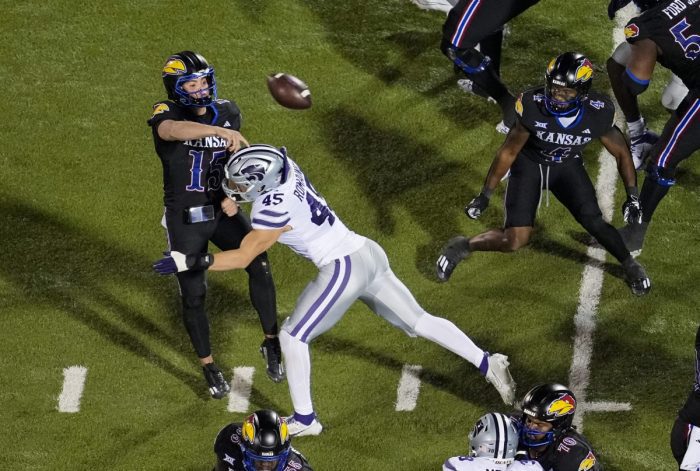 Kansas and Kansas State met on Saturday in the 121st edition of the Sunflower Showdown on Senior Night in Lawrence. Kansas was looking to beat Kansas State for the first time since 2008, but it was unclear who they were going to have at quarterback heading into this match up.
On Saturday, it was a back-and-forth game between these two teams, but it was the Wildcats who erased a double-digit deficit in the second half and walked away with their 15th-straight victory against the Jayhawks in a 31-27 victory. Here are three thoughts on the game.
Kansas State's Defense Locks Down
Kansas was rolling on offense jumping out to a 27-16 lead early in the third quarter and looked in complete control of the game. But then, K-State's defense completely locked down the Jayhawks.
After that touchdown drive, KU went three-and-out, interception, a five-play, 11-yard drive, and then another interception after the Jayhawks had finally gotten the ball down to the K-State red zone and Cole Ballard was picked off in the end zone on a 4th-and-5 attempt.
Kansas was on third-string QB Cole Ballard, despite a pre-game announcement saying Jason Bean was going to get the start. Ballard did show improvement from Texas Tech last week, finishing 11/16 for 162 yards and one touchdown with two interceptions. He also rushed for 55 yards. But when KSU locked down late, Ballard was thrown off his game and looked like a freshman.
Jayhawks Special Teams Miscues
Kansas had some notable special teams miscues that cost them mightily. Early in the first half after their second touchdown of the game, the Jayhawks had their PAT blocked and returned by the Wildcats for two points. Instead of leading 14-7, it was a 13-9 lead. Then, with Kansas State trailing 27-24, the Wildcats had to punt it with 13 minutes left in the game. Kansas muffed a punt, which was recovered by Kansas State.
Six plays and 55 yards later, the Wildcats scored the go-ahead touchdown on a Will Howard 15-yard touchdown run. These two special teams mistakes led to nine points for Kansas State, which proved, in part, to be enough for the Cats to overcome the Jayhawks. Self-inflicted wounds.
The Wildcats Stay in the Big 12 Title Hunt
Kansas State remains in the Big 12 Championship hunt with the win, improving to 6-2 in league play. The Wildcats still need help to get back to Arlington to defend their title. The Cats need to beat Iowa State next week and then their best bet is to have Oklahoma State lose to BYU. But even that doesn't guarantee the Cats a spot in the game.
There are scenarios for a four-way tie atop the Big 12 if Texas losses to Texas Tech, Oklahoma beats TCU, Kansas State beats Iowa State and Oklahoma State beats BYU. All four teams would then be 7-2 in conference play.
As for how the tiebreaker situation plays out? We won't even speculate given the utter chaos and confusion from the conference last week. Let's let them make a statement, since no one seems to understand the tiebreaker situations, including, possibly, the league itself.