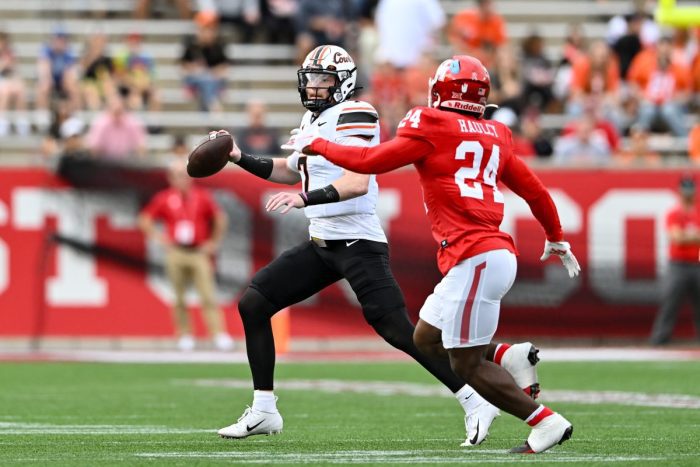 There are just two weeks left in the regular season and the Big 12 title race is still in full swing. Going into Saturday, there was a four-way tie for second place in the conference. While the Texas Longhorns remain in the driver's seat in the Big 12, the number two spot is still wide open.
The Oklahoma State Cowboys are one of those teams looking for a way to Arlington. They made the trip down to Houston to take on the Cougars. And speaking of the Cougars they are trying to win out to become bowl eligible. It was quite the battle down in Houston as Oklahoma State came out on top 43-30. Here are my three thoughts on the game.
Oklahoma State Woke Up Late
Even thought it was a 4 p.m. kickoff time down in Houston, I felt like it took Oklahoma State a full half to finally get out of bed and wake up. The Cowboys were outplayed for the first 28 minutes of the game and found themselves down by 14 with a little over two minutes left in the first half. The momentum swing came from an interception by Trey Rucker that gave Oklahoma State's offense great field position. Then just two plays later, Alan Bowman hit Leon Johnson for a 21-yard score to cut into Houston's lead. The Cowboys were also able to squeeze in another score as time expired in the first half due to an Alex Hale 21-yard field goal. In just a blink of an eye, Oklahoma State went from being down 23-9 to 23-19 at halftime.
The final two quarters is where Oklahoma State played their best football. They started feeding running back Ollie Gordon who had another monster performance as he rushed for 164 yards and three touchdowns. All three of his rushing touchdowns came in the second half. When in doubt, Oklahoma State gave the ball to their best player and let him do his thing. It was quite the turnaround for the Cowboys and a much-needed bounce back win after getting blown out against UCF last week.
Houston Blew Their Chance
The Cougars got off to a hot start in this game. On the third possession of the game, Isaiah Hamilton picked off Alan Bowman and took it 57-yards to the house to give Houston an early lead. The offense followed that big play up by scoring on back-to-back drives and found themselves with a 21-9 lead in the second quarter. But the defense didn't stop scoring either. The Cougars defense got a safety and with a little over two minutes left in the first half to go up by 14.
After that, it was all downhill for Houston. Donovan Smith threw a bad interception to give Oklahoma State great field position and they ended up scoring twice before the first half ended. But as usual for Houston, things went from bad to worse in the second half. The Cougars were outscored 24 to 7 in the final two quarters as the offense struggled and the defense had no answer for Oklahoma State running back Ollie Gordon. Between the two turnovers and ten penalties in this game, Houston played sloppy after the big lead. They had a chance to stay in bowl contention to get to six wins and they blew it.
Oklahoma State is One Win Away
After a confusing tiebreaker rule debacle earlier in the week, Oklahoma State still has a good path to get to Arlington in December. They have head-to-head wins over Kansas State and Oklahoma which put them ahead of those two schools. However, their loss to Iowa State makes things a little bit tricky. The Cyclones will host the Longhorns on Saturday night and if Texas wins, then Oklahoma State won't have anyone standing in their way outside of BYU. If the Cowboys can take care of business next weekend at home against the Cougars, then they will punch their ticket to Jerry World to play for a Big 12 championship. That seems pretty wild considering the fact that they lost 45-3 last week against UCF.