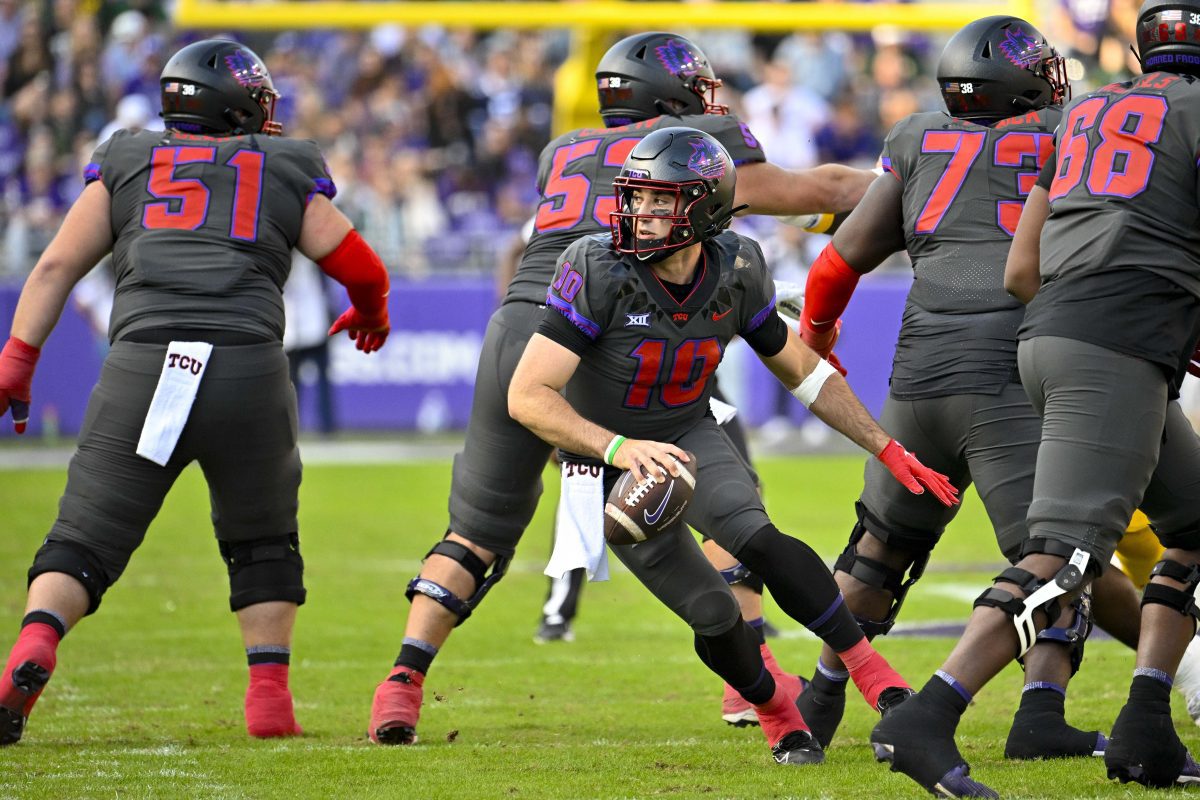 While fans may not love the concept behind the newly named Bluebonnet Battle rivalry game, the Week 12 matchup between Baylor and TCU was exciting for roughly three-and-a-half quarters. TCU and Baylor both entered the week looking to get back in the saddle following tough losses, but when push came to shove, TCU took care of business and handled the Bears. Sonny Dykes' squad was the better team on Saturday afternoon and rolled past Baylor to a 42-17 win.
Here are three thoughts on the game.
BAYLOR OUTMATCHED AGAIN
While the game was competitive for the first three quarters, eventually TCU came to its senses. The Horned Frogs made life hard for Dave Aranda's offense only surrendering 17 points on the afternoon.
While TCU did enter the game as 13.5-point favorites, many believed that the Bluebonnet Battle could go in the Bears' favor. That was not the case as Dave Aranda's squad lost their eighth game of the season, and their fourth game in a row.
Following the loss to TCU, Baylor has now been outscored by a total of 246-366 this season. The Bears are closer to spiraling out of control than they are to remaining afloat in the Big 12 Conference, and as the team continues to struggle, Dave Aranda's seat continues to heat up.
THE JARED WILEY GAME
TCU's senior tight end Jared Wiley was borderline unstoppable against Baylor and the stat sheet reflected that. Wiley finished his day with seven grabs for 178 yards and also added a pair of touchdowns on the afternoon including an 81-yard score to the house.
Wiley has been a solid playmaker for the Horned Frogs over the past few seasons but had not yet put it all together until today. The 6-foot-7, 260-pound pass catcher surpassed his previous season best as a Horned Frog in Week 11 against Texas, bringing his season total to 32 grabs for 303 yards and four scores through 11 games. Wiley's massive day against Baylor brought his season total to 39 grabs for 481 yards and six scores.
HOOVER DAY
Josh Hoover had one of the best days of his young career against Baylor going 24-29 for 412 passing yards and three total touchdowns. The freshman quarterback constantly found ways to extend drives for TCU and moved the ball down the field effectively when needed. Hoover passed the 400-yard mark for the second time this season en route to Saturday's 42-17 win.
Hoover cleaned up his turnover problems against Baylor with zero turnovers after throwing six interceptions in his last four outings. TCU's signal caller took home Big 12 Offensive Player of the Week honors back in Week 8 for his initial 400-yard performance against BYU. In that game, Hoover completed 37 passes for 439 yards, with four touchdowns and two interceptions. On Saturday against Baylor however, Hoover cleaned things up sporting a perfect touchdown to interception ratio of 2-0.
While TCU's season may not have gotten off to the start that Horned Frogs fans initially hoped for, the emergence of Josh Hoover is big for the future of Sonny Dykes' squad.