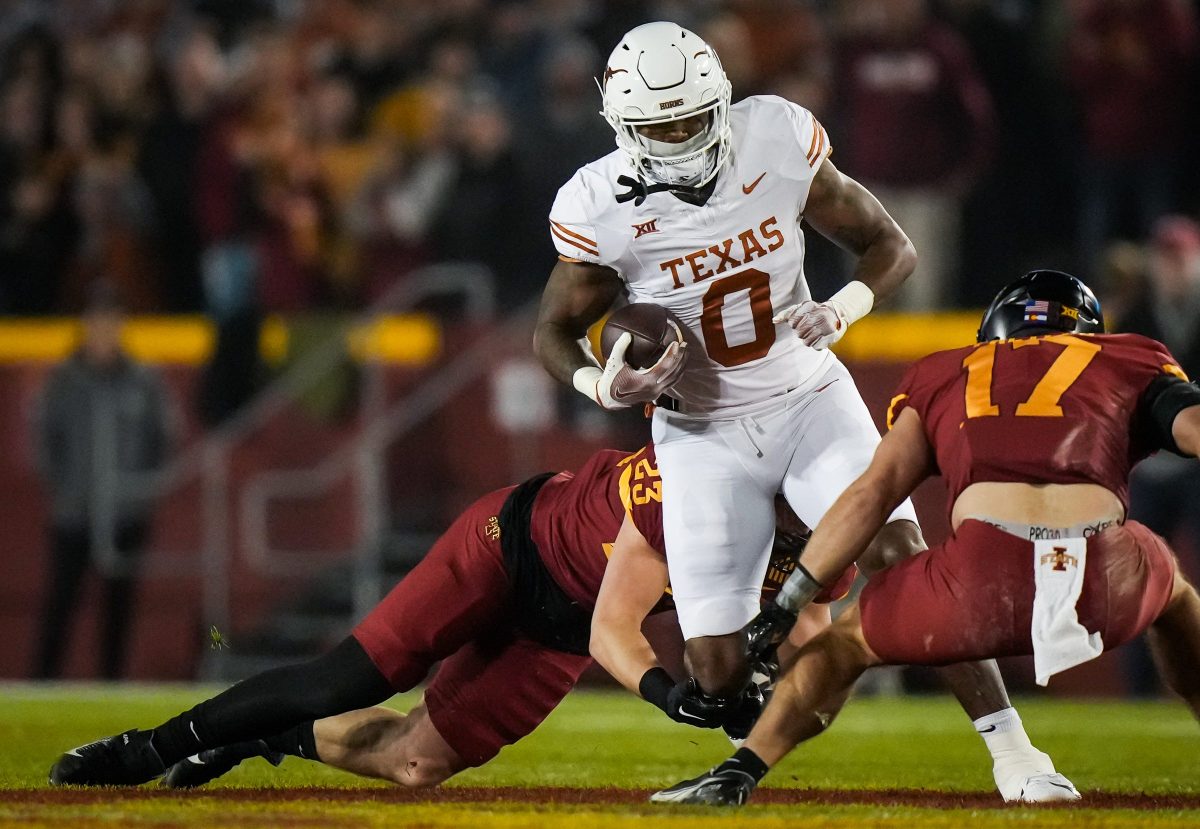 There are just two weeks left in the regular season and the Big 12 title race is still in full swing. Going into Saturday, there was a four-way tie for second place in the conference. While the Texas Longhorns remain in the driver's seat in the Big 12, the number two spot is still wide open.
The Iowa State Cyclones were one of those teams looking for a way to get to Arlington. On Saturday night, they hosted the Texas Longhorns. Between conference title hopes and college football playoff hopes on the line, this may have been the most important game of the season. It was quite the battle up in Ames as Texas came out on top 26-16. Here are my three thoughts on the game.
Texas Had a Big Second Half
While the Longhorns defense was dominate in the first half, the offense struggled to find the end zone. Texas went scoreless in the first quarter before getting two Bert Auburn field goals in the second. This was a 6-3 game going into halftime before the Texas offense woke up. Quarterback Quinn Ewers went 10/13 for 118 yards and two touchdowns in the second half while the offense ran for almost 100 more yards as well. CJ Baxter filled in nicely for the injured Jonathan Brooks while Xavier Worthy and Jordan Whittington had solid performances as well.
Defensively, Texas did a great job outside of two plays. While they did allow a couple of touchdowns in the second half, they also came up big in key moments. They returned a blocked extra point for a score and also had some big stops late in the game.
What really impressed me on Saturday night was the way Texas handled themselves. They had two touchdowns taken away by penalties in the first half and that didn't seem to faze them. While previous Texas teams may have folded under pressure, this team didn't do that. They adjusted at halftime and played good football to close the game out.
Iowa State Was One Dimensional Offensively
Iowa State has played well offensively over the last few weeks. What has made them so good is because they have been balanced. While they aren't afraid to let freshman quarterback Rocco Becht sling it all over the yard, he also has gotten some help from the running game. Coming into the Texas matchup, Iowa State rushed for over 150 yards in four out of their last five games. Against a good Texas front, Iowa State rushed for just 9 yards on 21 carries. It put a ton of pressure on Rocco, and he already had enough on his plate dealing with the Texas defense coming at him. He was definitely a little rattled and Iowa State's offensive line didn't hold up well against the Longhorns excellent defensive line.
Texas is One Win Away
Saturday's win was big for many reasons. First off, Texas has just won their tenth game of the season. The last time Texas won ten or more games in the regular season? You would have to go all the way back to 2009. That is a huge accomplishment by head coach Steve Sarkisian in Year 3. Secondly, with the win against Iowa State, the Texas Longhorns move to 10-1 overall and 7-1 in conference play. They are in sole possession of first place in the Big 12 Conference and are in full control of their own destiny. All they have to do next weekend is beat Texas Tech at home and they will be playing in Jerry World for a Big 12 championship on December 2nd. Lastly, this was a must-win for Texas if they want a shot to get into the College Football Playoff as well.