Baylor Bears
Five Biggest Takeaways From Week 12 of the Big 12 Football Season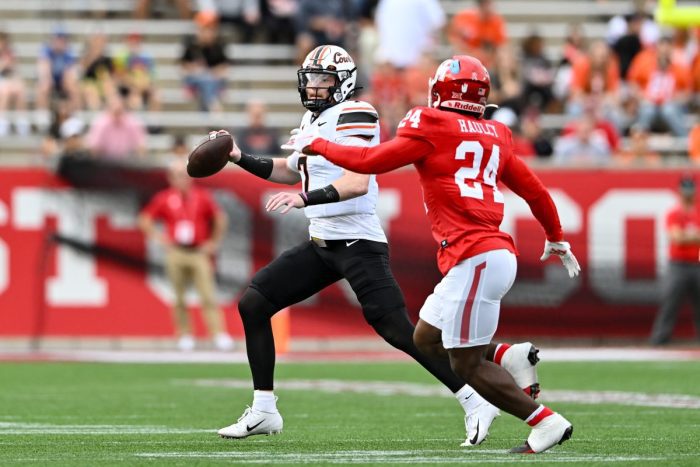 Week 12 of the Big 12 football season is in the books in what had Big 12 Championship implications all over the place. The games started at 11:00 a.m. CST in Provo, Utah and ended around 10:15pm CST in Ames, Iowa. The teams who were in the Big 12 title race coming into the week remain in the hunt, sans Iowa State, who lost to Texas on Saturday night.
So with another great week in the books, here are the five biggest takeaways from Week 12 in the Big 12 Conference.
Big 12 Title Race Implications
So Texas beat Iowa State, moving the Longhorns to 7-1 in league play heading into their final game of the regular season against Texas Tech. Are they in the Big 12 Championship, regardless of a loss? That's not clear. As I understand it, Texas is all but guaranteed a spot to Arlington, barring some insane chaos.
But this brings me to the broader point: With the way last week went for the Big 12, the league should put out a statement on Sunday, or Monday the latest, clarifying all the play-in scenarios for each Big 12 team in the mix: Texas, Oklahoma State, Oklahoma and Kansas State.
We know that Texas and Oklahoma State are going to meet in the Big 12 title game if they both win this week. But, if they don't, especially OSU, what is OU's and Kansas State's path? These fan bases have been invested in their respective teams for months and based on the confusion from last week, the league should make this as simple as possible for all involved. Publicly put out the exact pathway for each of these teams to end up playing for the conference championship. Done.
SPECIAL TEAMS MISCUES
As the cliché goes, no one thinks about special teams until they screw up. And there were examples of that on Saturday across the league.
The most notable ones included Kansas, when early in the first half after their second touchdown of the game, the Jayhawks had their PAT blocked and returned by the Wildcats for two points. Instead of leading 14-7, it was a 13-9 lead. Then, with Kansas State trailing 27-24, the Wildcats had to punt it with 13 minutes left in the game. Kansas muffed a punt, which was recovered by Kansas State. Six plays and 55 yards later, the Wildcats scored the go-ahead touchdown on a Will Howard 15-yard touchdown run.
Iowa State also gave up a PAT returned by Texas for two points. UCF had a missed extra point for the first time in 85 tries by Colton Boomer.
These miscues all played a role, some bigger than others, in these three teams losing their games on Saturday.
Neal Brown's Job Security
Brown is now 7-4 on the season and 5-3 in the Big 12. Any West Virginia fan would've signed up for this before the season, but the reality is there is still a portion of WVU fans who are wondering if Brown is the guy. That's somewhat understandable, as Brown has won the games he was supposed to win, but has struggled in the more competitive games.
But heck, there were still WVU fans showing up to College GameDay at James Madison with signs looking for Jimbo Fisher.
What do #WVU fans think of this?? pic.twitter.com/peQPPLHAcv

— Heartland College Sports (@Heartland_CS) November 18, 2023
WVU wraps up its season at Baylor next week. The Mountaineers will be big favorites against the Bears and are looking at an 8-4 season. Heck, WVU could be a Hail Mary loss to Houston away from finishing 9-3. There's no way Brown would lose his job at 9-3, and I don't see much changing if he finishes 8-4.
Big 12 Coaching Rumblings
Speaking of job security, there are other Big 12 coaches being talked about for different reasons. First off, is Dave Aranda's seat going to start warming up if he finishes 3-9 this season with a loss to WVU next week?
The Bears have gone from 12-2 to 6-7 to now potentially 3-9 the last three years, which was highlighted by the 2021 Big 12 Championship. But now, the Bears are really struggling and don't appear to do anything well. They're at, or near, the bottom of the Big 12 in almost every major offensive and defensive category.
Meantime, two of the coaches having plenty of success this season are part of different conversations. On Saturday, ESPN's Pete Thamel reported on College GameDay that Texas A&M could target Kansas' Lance Leipold or Kansas State's Chris Klieman. I don't see either making this move, but don't discount the truckload of money the Aggies can throw around that can sway anyone's decision-making process.
And then last, but not least, ESPN also reported that some Arkansas boosters have long been interested in Gus Malzahn. While Arkansas does not have an opening since Sam Pittman is still the head coach, it's at least a potential opening to watch that might eventually include some Big 12 names.
Welcome to Bowl Eligibility
While it's been a disappointing season for the Red Raiders, they did reach bowl eligibility with a sixth win on Saturday against UCF. That now means eight Big 12 teams are bowl eligible this season, with Texas, Oklahoma State, Oklahoma, Kansas State, Kansas, Iowa State, West Virginia and now Texas Tech.
There are still opportunities going into Week 13 for UCF, BYU and TCU, as all three teams are 5-6. UCF has the best chance to get there as they get to play Houston. The other two, BYU and TCU, have to play Oklahoma State and Oklahoma, respectively, and will likely be double-digit underdogs going into the game.
But it's not impossible for the league to find itself with nine or ten teams bowl eligible when the regular season comes to an end next Saturday.