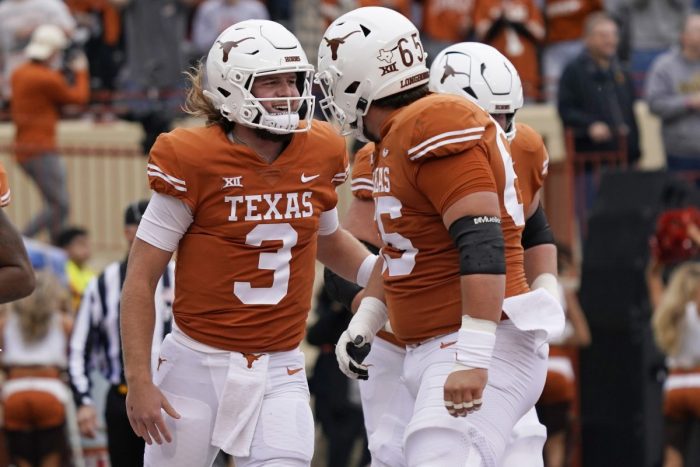 While the college football playoff committee should have of of the toughest tasks of the previous few seasons on their hands deciding which teams get the chance to play for a national championship, On3's Andy Staples is giving the nod to the Texas Longhorns.
Staples believes that the Longhorns will square off against top-ranked Georgia as the No. 4 seed while Michigan and Washington duke it out as the two and three seeds.
Staples discussed his pick for the Sugar Bowl participants saying, "On Saturday, Georgia showed a moment of weakness, the long Jaylen Wright TD run, and then suffocated Tennessee while also scoring at will. The Bulldogs have Georgia Tech next before the highly-anticipated showdown with Alabama in the SEC Championship Game. Texas must beat Texas Tech on Friday, and then they would head to the Big 12 title game. There, against Oklahoma State, Kansas State, or Oklahoma, Texas will need to make fewer mistakes than it did against Iowa State on Saturday, because those teams can capitalize."
On3's senior writer also mentioned his picks for the list of NY6 bowls with Louisville and Ohio State playing in the Orange Bowl, Tulane and Oklahoma playing in the Peach Bowl, Oregon and Penn State playing in the Fiesta Bowl, and Alabama clashing with Florida State in the Cotton Bowl.
While the final week of college football should answer a considerable amount of open questions regarding the playoff participants, Texas will have to be nearly perfect down the stretch if they hope to find themselves competing for a national title.