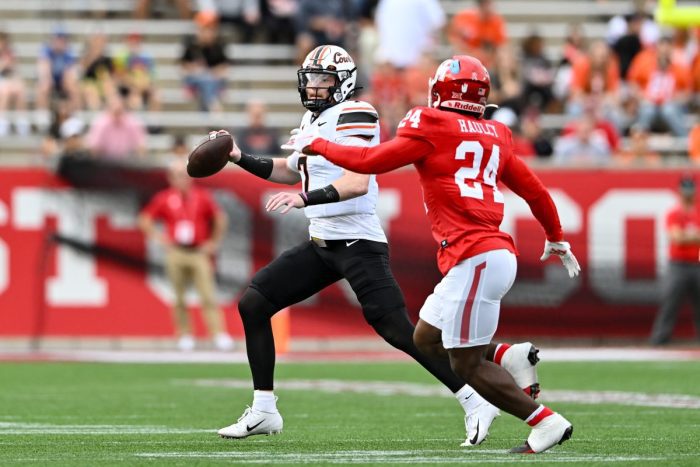 Somehow, some way, we've reached the final week of the 2023 regular season, and four schools are still in the hunt for a Big 12 Championship.
After Week 12, the Texas Longhorns sit alone atop the Big 12 standings at 7-1 in conference play with Oklahoma, Oklahoma State, and Kansas State all sitting at 6-2. With wins, Texas and Oklahoma State will send themselves to Arlington, but with losses, they'll open the door for chaos.
With that being said, the Heartland College Sports staff will take each week to name the week's biggest winner and loser. Here's a look at their answers for Week 12.
Pete Mundo
Biggest Winner: The Big 12
The Big 12 did itself a solid, which I recommended in my Week 12 Big 12 reaction video and podcast on Saturday night. The league put out a statement on Sunday explaining all the tiebreaker scenarios ahead of the Week 13 games. Now fans of each team in the hunt know what needs to happen to get their team into the Big 12 Championship game on December 2nd. After a week of confusion and chaos, the league got this right and learned from its mistakes. Credit where it's due and now we are in for the most exciting final week of the regular season in any conference in college football.
Biggest Loser: Special Teams
As the cliché goes, no one thinks about special teams until they screw up. And there were examples of that on Saturday across the league.
The most notable ones included Kansas, when early in the first half after their second touchdown of the game, the Jayhawks had their PAT blocked and returned by the Wildcats for two points. Instead of leading 14-7, it was a 13-9 lead. Then, with Kansas State trailing 27-24, the Wildcats had to punt it with 13 minutes left in the game. Kansas muffed a punt, which was recovered by Kansas State. Six plays and 55 yards later, the Wildcats scored the go-ahead touchdown on a Will Howard 15-yard touchdown run.
Iowa State also gave up a PAT returned by Texas for two points. UCF had a missed extra point for the first time in 85 tries by Colton Boomer.
These miscues all played a role, some bigger than others, in these three teams losing their games on Saturday.
Bryan Clinton
Biggest Winner: Oklahoma State
As the first quarter drew to a close, it appeared that the same Oklahoma State team that failed to show up in Orlando in Week 11 had appeared in Houston on Saturday. However, after the Cougars committed an unsportsmanlike conduct penalty on 3rd-and-19, the Cowboys drove down and scored their first touchdown of the day. Then, after falling into a 23-9 hole, OSU outscored UH 34-7 the rest of the way and earned a vital victory on the road. Now, a win over BYU in Week 13 would send the Pokes to Arlington for a chance at a Big 12 title despite their no-show a week ago.
Biggest Loser: Oklahoma
Oklahoma might've won in their lone trip to Provo, but this was a costly Saturday for the Sooners. Coming into the weekend, OU needed a win and a loss from either Texas or Oklahoma State to put them in position to make the Big 12 Championship in a couple of weeks, and it looked like the stars might align at times. However, when the final seconds came in Ames and Houston, both the Longhorns and Cowboys found a way to win by double digits on the road. Now, heading into Week 13, the odds are really stacked against the Sooners. Additionally, Dillon Gabriel went down with a head injury and could leave OU in a tricky spot against TCU on a short week.
Joe Tillery
Biggest Winner: Mike Gundy
Oklahoma State fans were seeing red in the first quarter of the Cowboys' Week 12 game against Houston due to Ollie Gordon entering the second quarter with zero touches. Oklahoma State struggled in the first half against Houston and looked to be in serious danger of an upset before Mike Gundy weathered the storm and remembered his best asset, a really, REALLY, good running back. Gordon finished his day with 25 carries for 164 yards and three scores on the afternoon which now has led the Cowboys within one win from reaching Arlington.
Biggest Loser: Kansas
It is not easy to do anything for 15 days straight let alone 15 years. The Jayhawks got out to an early lead over their rivals in the Sunflower Showdown and even entered the fourth quarter up by 11 points. Kansas had a monumental collapse against the Wildcats and will now have to deal with watching their rival celebrate the win for the 15th straight year. While things are definitely changing in Lawrence with the game going back to Manhattan in 2024, Leipold will have an uphill battle to avoid seeing the streak climb to 16.
Derek Duke
Biggest Winner: Texas
I could have gone with Oklahoma State here but beating Iowa State in Ames is a whole lot tougher than beating Houston on the road. Texas showed me something on Saturday night. Even when things didn't go their way early, they regrouped at halftime and dominated in the second half. Previous Texas teams wouldn't have done that but this Texas team is built different.
Biggest Loser: Cincinnati
I don't like to talk about this team too much because it will get my blood pressure up. To be honest, this team is just flat-out hard to watch. They don't do anything well in particular and on Saturday I watched them give up over 400 yards on the ground against West Virginia. I know the scoreboard read 42-21 but this was a 42-7 game at one point. The best part about Cincinnati right now is that I only have to watch them for one more game.
Matthew Postins
Biggest Winner: Texas Tech
The Red Raiders are going bowling for the second straight year under coach Joey McGuire after their win over UCF. Strictly from a football standpoint, I love the commitment the Red Raiders have made to the run game the last six weeks. It's proof that quality running and passing can co-exist in this modern version of the game. Tahj Brooks is a special back and I hope the Red Raiders have someone like that waiting in the wings next season. I know Red Raiders fans has higher expectations for them this season. But, McGuire has them moving in the right direction and 15 more practices won't hurt their development one bit.
Biggest Loser: Kansas
It's been 14 years since Kansas beat Kansas State in football. Check that. It's been 15 years since Kansas beat Kansas State in football after Saturday's Jayhawk loss to the Wildcats. Kansas is having another year of positive progress and it got some great news when quarterback Jalon Daniels quelled worries about him transferring last week. But the next logical step in this program's rise is to beat Kansas State. The Wildcats are going to be in their way when it comes to winning the Big 12 if that's the ultimate goal. At some point, you have to exorcise that demon.