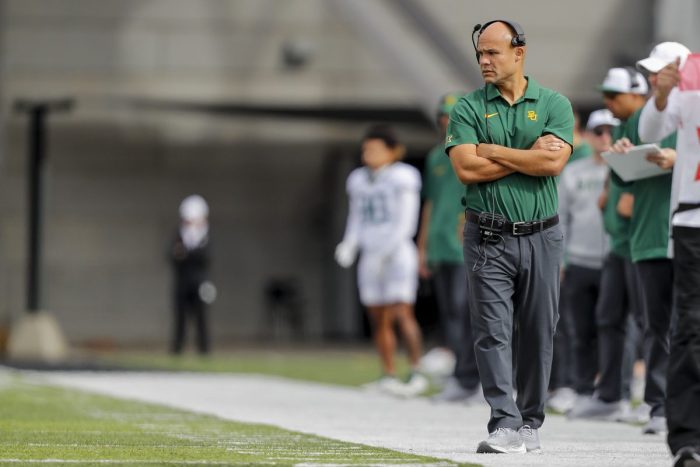 Week 12 is over and Week 13 is set up to give us a conclusion to one of the best conference races in Big 12 history.
We've got a couple of favorites heading into the last week of the regular season, but there are still more than a few teams that have a chance to make a trip to Arlington for the Big 12 title game.
With that said, we've seen a lot through the first 12 weeks of action, and that gives us plenty to go off of heading into Week 13. Here are three things that may or may not be overreactions after Week 12.
The Big 12 Championship is Set
Overreaction
While it might seem a foregone conclusion that Texas and Oklahoma State are on a collision course set for Arlington, there are still plenty of things that can happen this weekend to throw a wrench in that.
Texas (10-1, 7-1) sits atop the standings and has been the most consistent team in the league this season, while the trio of Oklahoma, Oklahoma State, and Kansas State all sit at 6-2 heading into the final weekend. Oklahoma State is the most likely of that group to face Texas in the Big 12 Championship game, but with over 120 scenarios still possible, there are as many as seven teams still in the race.
The Longhorns will host Texas Tech in a Friday tilt this weekend and will be favored by 14 in that game. This will be the final time that these two schools meet as Big 12 foes and the Red Raiders won last year's meeting. Meanwhile, Oklahoma State will host BYU for the first time in Stillwater, and the Cougars just gave Oklahoma all they could handle in Provo this past weekend. Still, OSU will be favored by more than two touchdowns on Saturday.
What happens if either Texas or Oklahoma State lose this weekend? Unfortunately, it's not as simple as Team A wins, and Team B gets in. The Big 12 tiebreakers have certainly made things much less clear than name would like, but with so many teams still in the mix, there's no telling what might come of this weekend.
Yes, the Longhorns and Cowboys are the most likely combination of teams to meet in two weeks to decide a champion, but if you believe that's already decided, you might have another thing coming.
Texas is in Perfect Position to Make First CFP Appearance
Not an Overreaction
While chaos is always just one Saturday away in the Big 12, it is worth noting that the Longhorns are in a very good spot when it comes to making their first-ever College Football Playoff appearance.
We've discussed this weekend's matchup against Texas Tech, but let's say that the Longhorns are able to get past the Red Raiders. A spot in the Big 12 title game would be locked up, and having that extra data point (i.e. a Big 12 title) would give UT one of the top resumes in the sport.
With their lone loss coming to Oklahoma, who will likely be 10-2 and a fringe top-10 team, Texas doesn't have a resume killer in the "L" column. Additionally, wins over K-State, Kansas, and presumably Oklahoma State in the title game, they'd have three ranked wins in conference play.
Their best win though, is a 34-24 victory over Alabama in Tuscaloosa. Since then, Alabama has gone undefeated and earned a spot in the SEC Championship Game. So, a win over the SEC winner or runner-up, and a 12-1 overall record with a Big 12 Championship? That's not a team getting left out of the playoff.
It's Time for Baylor to Part Ways with Dave Aranda
Not an Overreaction
Yes, two seasons ago Dave Aranda led Baylor to a Big 12 Championship and a 12-2 overall record. That Bears team also took down Ole Miss in the Sugar Bowl, holding Lane Kiffin's Rebels to just seven points in the contest.
However, as time goes by, it becomes more and more apparent that victory was more a product of what Matt Rhule built in Waco than what Dave Aranda did after Year 1.
Since the 2021 season, Aranda has gone 9-15 overall and 6-11 in Big 12 play. His overall record at Baylor now stands at 23-23 and 15-19 in Big 12 play. Plus, for the second time in four years, the Bears will miss a bowl game.
The most concerning thing about Baylor right now though, is how they've looked to close out the season. Blowout losses to K-State and TCU in the last two weeks have been awful, and for a fan base that expected a defensive juggernaut to emerge, the Bears have been one of the worst defensive units in the conference.
Baylor has allowed 30+ points in seven games, and 38+ in five of those contests. With an underwhelming offensive attack and units along the line of scrimmage that have been dominated all season, this BU team is not what Aranda had envisioned. At this point, it might be best to cut bait and look elsewhere, despite how difficult that might be.