Trending Now
Paul Finebaum: Lincoln Riley 'Ought to Pack Up' After Complete Disaster at USC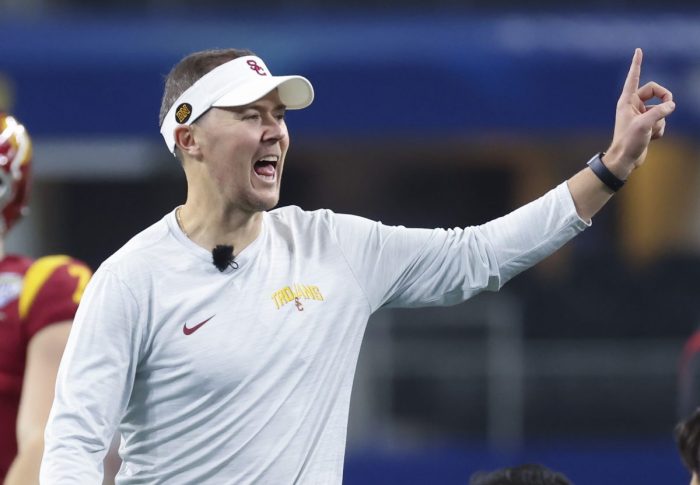 Lincoln Riley was the toast of college football this time last year. His USC Trojans were ranked fourth nationally and had just wrapped up the regular season at 11-1 and were a Pac-12 Championship Game away from making a College Football Playoff appearance.
Then, after a 47-24 whooping at the hands of Utah (their second loss of the season to the Utes), USC was sent to the Cotton Bowl, where they drew Tulane. It was a fortunate draw for the best young coach in college football and his Heisman-winning prodigy, Caleb Williams, right? Wrong. The Green Wave met the Trojans in Arlington and outlasted Riley and Co. in an offensive shootout, 46-45.
That game perfectly epitomizes the style of games that USC has suffered through this season, as the Trojans find themselves at 7-5 on the year and just 7-7 in their last 14 games.
While it might seem a bit early to pull the plug on Riley in some folks' eyes, ESPN's Paul Finebaum appears to have seen enough.
"I don't know when I've seen a worse coaching job by anyone than Lincoln Riley this year," Finebaum said during an appearance on The Matt Barrie Show. "It's a complete disaster. And, quite frankly, he 'ought to pack up. I don't really see what his path is moving forward."
That wasn't all Finebaum had to say on the USC head coach, who has seemingly had the narrative around him flipped on its head in the matter of a few months.
"(Riley) blamed everything on Alex Grinch. They haven't been any better – they've been worse. Well maybe, Lincoln, you 'ought to look in the mirror?" Finebaum suggested. "Maybe you're just a total fraud as a coach? Maybe you just lived off of a couple of Heisman winners?"
"What Oklahoma did for you? All the people in Oklahoma who were heartbroken two years ago who never thought that they'd get over that blowoff? They're over it now. Lincoln Riley is nowhere near the coach that we all collectively tried to make him out to be."
Finebaum then closed his argument by asking if anyone had ever ruined a more promising college football season than what we saw Riley do with Caleb Williams at his disposal in 2023.
"Have you ever seen a college season ruined more than what Lincoln Riley did for Caleb Williams?" asked Finebaum. "I said this a year ago right there that I thought it was really a shame that Bryce Young had such a terrible final year – he lost two games. I mean you have a generational quarterback and you finish 7-5?"