Big 12 News
Week 2 Big 12 Women's Basketball Players of the Week Announced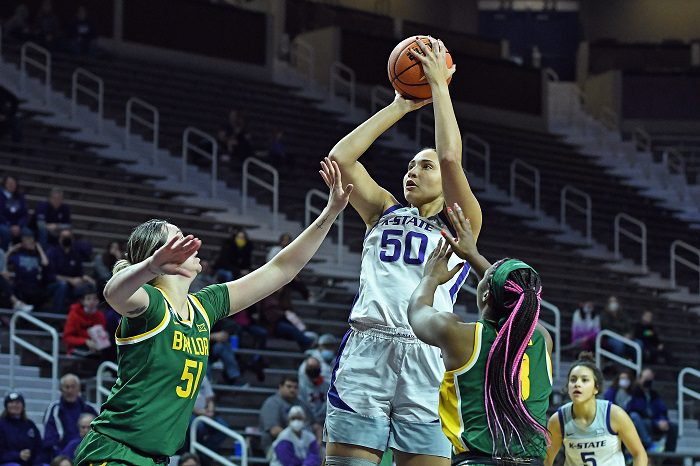 With Week 2 of the college basketball season officially in the books, the Big 12 Conference announced two players that would be taking home the second iteration of the Big 12 Women's Basketball Weekly Awards for the 2023-24 season.
Kansas State's Ayoka Lee took home the title for Big 12 Player of the Week while BYU's Kailey Woolston earned Big 12 Freshman of the Week honors.
Lee was dominant the both wins for the Wildcats in Week 2 scoring 22 points and grabbing 12 boards in the Wildcats' 65-58 win over No. 2 Iowa on the road. Lee followed up her stellar performance with a second-straight 20-point outing scoring 20 against Wisconsin in the Wildcats' dominant 75-57 win. Lee averaged 21.0 points, 8.5 rebounds, and 2.5 blocks on 60% shooting from the field en route to her fifth career Player of the Week honor as she continues to battle back from her season-ending injury that cost Lee the 2022-23 season.
Woolston took home the title of Big 12 Freshman of the Week with back-to-back dominant performances against Utah Valley and Wake Forrest. The Utah native averaged 18.5 points and eight rebounds in her two games as well as a blistering 66.7% from three. Woolston became the first BYU women's basketball player honored in the Big 12 Weekly awards with a 19-point, 10-rebound double-double against Utah Valley, alongside 18 points against Wake Forrest in a dominant 67-44 win.
Last Week's Winners:
Player: Madison Conner, TCU, G, Jr.
Newcomer: Stailee Heard, OSU, G, Fr.