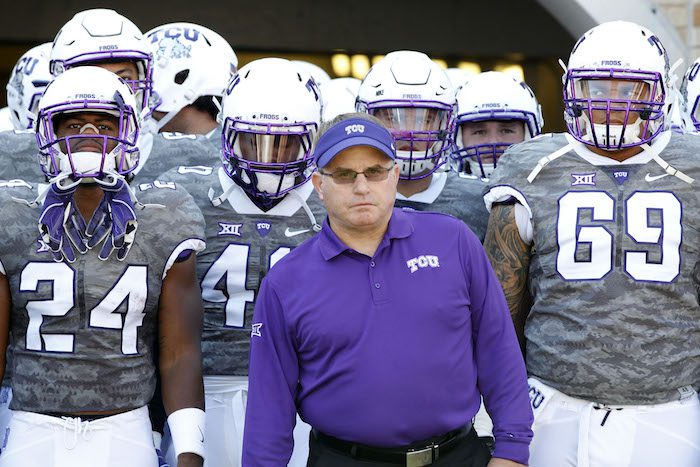 What a weekend it was in college football. Four top ten teams lost. #2 Clemson, #4 Washington, #8 Washington State and #10 Auburn. There will be plenty of time to discuss what this means for the Big 12 moving forward, but the team it matters to most at the moment is the TCU Horned Frogs.
TCU waited nearly three hours to kick off in Manhattan, Kansas on Saturday and rolled over the Wildcats 26-6 to improve to 6-0 on the season.
But considering two of those top ten teams lost on Friday night (Clemson, Washington State), TCU wide receiver John Diarse admitted an upset was on their minds, saying after the win, "It's just learning from somebody else's mistake and realizing that it can be gone just like that. You can go from top five, top six, to 23, to unranked. This team is much more mature than last year, and guys understand that hey, we're trying to get to December. October on the road? Yeah it's tough. But we want to be relevant when December comes around."
Well, the way this season is going, TCU is going to be more than simply "relevant" when December comes around. The Frogs will be in the Top 4 of the AP Poll come Sunday, have a marquee win over Oklahoma State in Stillwater, and have beaten solid opponents like West Virginia and Kansas State, who have each spent time ranked this season.
On Saturday, the Horned Frogs' front seven owned Alex Delton and the Wildcats. There were time when TCU was rushing only three or four defenders and were getting to Delton with ease.
Defensive end Matt Boesen said, "They beat us up pretty good [last season]. We came in this year, really prepared hard for them, wanted to stop that run. I think we did a good job." 
That would be an understatement.
One week after coming in in relief for Jesse Ertz and racking up 79 rushing yards on 12 carries, Delton could only muster 39 rushing yards in 19 carries. As a team, the Wildcats entered the game averaging almost 200 rushing yards per game, but had just 70 rushing yards for less than 2.5 yards per carry.
The speed and quickness of the Horned Frogs' defensive line continues to be the most impressive part of what Gary Patterson's team is doing this fall.
Now, as TCU continues through the rigors of this Big 12 schedule, they control their ability to make the College Football Playoff. The SEC, Big Ten, ACC and Big 12 are the Power 5 conferences remaining with an undefeated team. The Pac-12 blew itself up over the weekend thanks to losses by Washington and Washington State. Therefore, those teams left undefeated in the Power 5 conferences, Alabama, TCU, Penn State, Georgia, Wisconsin and Miami don't need any help to make the College Football Playoff. If they keep winning, they're in. Of course, that's not going to happen. It never does in college football.
But for Gary Patterson, who has had a chip on his shoulder since his Horned Frogs, along with the Baylor Bears, were both left out of the inaugural College Football Playoff in 2014, this can be a season of redemption.
Patterson understands the reality of how this College Football Playoff is set up, and that the committee, which will never admit it, would love to have an Ohio State in their four-team playoff instead of TCU. TCU is a great school with an outstanding football team, but they aren't a national brand. Patterson knows that and realizes the challenges in presents in today's college football landscape.
The good news for the Frogs is that as of right now, zero campaigning needs to be done for this team to have a chance at a National Championship.
As the legendary Al Davis famously said, "Just win, baby!"
If TCU keeps doing that, Patterson won't need to lobby one bit.