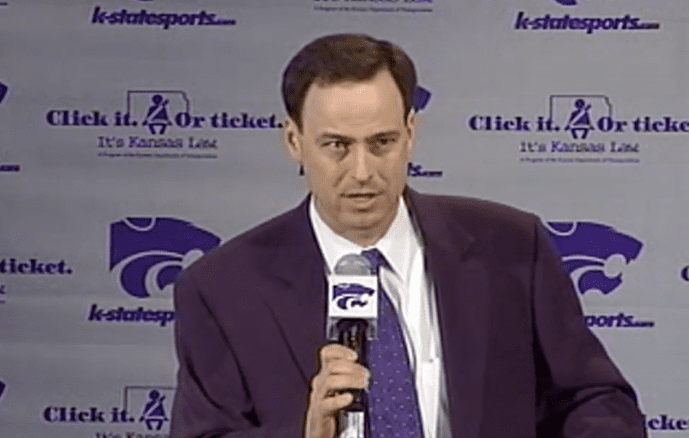 After leading arguably the worst coaching search for a head football coach in the history of college football, Tennessee has fired athletic director John Currie, according to multiple media reports.
Currie replaced Dave Hart Jr. just a eight, I repeat, eight months ago and is now out of a job.
Before his time in Manhattan, Kansas, Currie joined the University of Tennessee in 1997 as Executive Director of its Athletic Scholarship Fund. At Tennessee, his other roles included Executive Associate Athletic Director, Senior Associate Athletic Director, and Associate Athletic Director for External Operations, just to name a few of his jobs. But how about this: as Executive Associate Athletic Director, Currie was among Knoxville business' "40 under 40".
Talk about a fall from grace, huh?
Currie took over as the Kansas State athletic director in May of 2009. When he left for Tennessee earlier this year, Currie said, "Words cannot express how grateful our family is for the time and experience we have had here at K-State and in the Manhattan community. Tennessee reached out to me earlier this week and encouraged me to visit with Chancellor (Beverly) Davenport about the position. It was evident early in our discussion that she has a tremendous vision for the university, and I am excited to be a part of her leadership team."
Currie had a controversial tenure in Manhattan, as he had a rocky relationship with Frank Martin, which some blame for Martin's skipping town for South Carolina. Currie hired Bruce Weber, who got off to a solid start, but has been mediocre in recent years. The athletic director also often butted heads with Bill Snyder.
But Currie's incredible incompetency with this Tennessee coaching search led to his demise. The Greg Schiano near-hire blew up in his face this past weekend, which was followed by his chase and eventual rejection by Mike Gundy and included another reported disaster where Purdue's Jeff Brohm accepted the job offer, but then reneged, when the terms of the contract were changed.
So since Currie is out of work, hey K-State, you want him back? I kid, I kid.