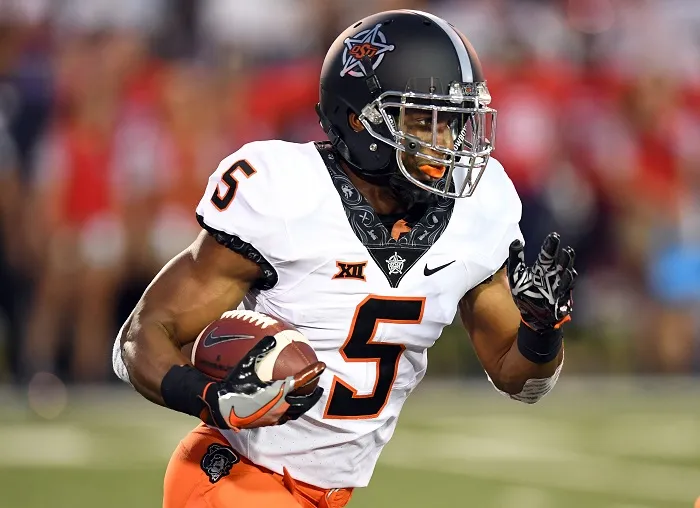 It's no secret that the Big 12 has a reputation for slinging the football all over the yard no matter the down or distance. You know, the all offense and no defense narrative that some media and other college football fans try to label the conference with. While having a high-flying offense is great, it takes a good quarterback to make that possible. With that being said, there is one position in the Big 12 that gets slept on nationally every year in this league. THE RUNNING BACKS! Ask folks about Big 12 football and I can guarantee you that "running back" won't be coming out of their mouths. Imagine a year where instead of the quarterbacks taking all the glory, the running backs are the show stoppers, the headliners, the crème de la crème (I had my pinky up when I typed that fancy phrase). In 2018, the Big 12 running backs won't be taking a backseat to anybody and here are some of stars to watch this season.
Why Now?
Look around the Big 12. What quarterback do you just say, wow he is going to steal the show? Ok, yes West Virginia quarterback Will Grier is that guy but name someone else like that. Still thinking? Let me save you the trouble and try to answer this one. It's still ways away from the season but for me, Baylor quarterback Charlie Brewer is the second-best quarterback in the conference. I have nothing against Charlie but let's face it, a good season for Baylor is making a bowl game at this point. Maybe Texas quarterback Sam Ehlinger or possibly Oklahoma's Kyler Murray? It's possible but besides Will Grier, nobody has really proven themselves to be considered a top tier quarterback just yet and most of that is due to experience or a small sample size. There is so much unknown for quite a few Big 12 teams at the quarterback position.
Over the last few years, this conference has had some big-time players come through at quarterback. For awhile it seemed like year after year you just had all these big names that created some exciting match ups that equaled to great football. Let's back track a bit and look at these quarterbacks since 2014.
2017: Baker Mayfield, Mason Rudolph and Will Grier.
2016: Baker Mayfield, Mason Rudolph and Patrick Mahomes
2015: Baker Mayfield, Mason Rudolph, Patrick Mahomes and Trevone Boykin
2014: Bryce Petty, Davis Webb, Trevone Boykin, Jake Waters and Clint Trickett
In 2014 there were three players that rushed for over one thousand yards while in 2015 there were seven and in 2016 there were eight. I am sure some of you can remember these running backs who were able to reach 1,000 yards in a season but many times especially outside this conference, people forget about those names and focus on the gun slingers tossing the pigskin around. Last season there were only four running backs to reach one thousand rushing yards but guess what everyone talked about? Baker Mayfield, Mason Rudolph and Will Grier. That's all fine and dandy but not this season. This is the year where the running backs steal the show. What I know heading into this season is that there are more proven running backs than there are quarterbacks.
Justice Hill (Oklahoma State)
2016: 206 Carries/1,142 yards/6 TDs/5.5 yards per carry
2017: 268 Carries/1,467 yards/15 TDs/5/5 yards per carry
With no Mason Rudolph or James Washington to steal the show on offense, this will be the "Justice Hill Show" for the Oklahoma State offense. With a new face at quarterback (Dru Brown or Spencer Sanders), expect Justice to get more carries, more yards, more touchdowns, you get the picture. However, you can make an argument that he may not put up quite the numbers like last season because the offense won't have as many sure handed weapons and the offensive line probably won't be as good. At the same time, I can see Mike Gundy lean heavily on Justice especially depending on the quarterback situation. It's hard to find a back as good in open space as Justice Hill and his cuts and quickness are rare. Stat wise, he is the best running back in the Big 12 and maybe in the entire country this season. Maybe even a dark horse Heisman contender if you ask me. I expect 2018 to be the third-straight year where Justice rushes for over one thousand yards.
Rodney Anderson (Oklahoma)
2017: 188 Carries/1,161 yards/13 TDs/6.2 yards per carry
Coming into the 2017 season as an unknown, Rodney Anderson busted onto the scene just a couple weeks in as one of the best backs in the Big 12. Averaging an astonishing 6.2 yards per carry is damn impressive. While he did split time earlier last season with Trey Sermon and Abdul Adams, Rodney separated himself from the group and had his best performance in the most crucial time of the season for the Sooners. He had a career high 201 rushing yards against a stout "SEC" defense in the Rose Bowl against Georgia. Overall Rodney had six one-hundred-yard rushing performances last season. He can do it all whether it's carrying the rock between the tackles, outside the tackles or catching the ball out of the backfield, he is always a threat to score. Even though he was behind a great offensive line last season, Rodney should be able to rush for one thousand yards again this season even if he must share more carries. It's no secret that the Sooner backfield is loaded with talent, but Rodney Anderson is THE MAN in Norman.
David Montgomery (Iowa State)
2017: 258 Carries/1,146 yards/11 TDs/4.4 yards per carry
Looking for a running back that the entire country is sleeping on? Look no further than right here folks. David Montgomery is that dude or as I like to call him "The Machine". Here is another guy who nobody knew heading into last season, but hopefully by now everyone knows his name. Is he going to out run a defender? Maybe not. Is he going to wow you with his pass catching abilities? Probably not. You know what this guy brings to the table? Effort and a lot of it. According to Pro Football Focus, David Montgomery broke the most tackles in the entire country last season. He's the guy you want in your fox hole who brings a lunch pail and a hard hat to work everyday and gets the job done and done well. If I had to build a Big 12 team, David Montgomery would be the back I want.
Best of the Rest
Make no mistake about these next three guys, they too can find themselves in the one-thousand-yard club this season. You may see a trend here with this next group of guys on this list. At some point and time, they had to share the carries with their teammates more than others on the list.
Darius Anderson (TCU)
2017: 128 Carries/768 yards/8 TDs/6 yards per carry
With Kyle Hicks gone, Darius Anderson will be the featured back who should get more carries than he did last season. There is something about Darius, when he runs it's just plain smooth to watch. He effortlessly makes cuts and was born to run. Don't doubt his size though, he can break some tackles. With some new offensive pieces around him, I expect the Horned Frogs to lean heavily on Darius this season.
Alex Barnes (Kansas State)
2017: 146 Carries/819 yards/7 TDs/5.6 yards per carry
We all know that Kansas State loves running the quarterback to put even more pressure on defenses. However, don't sleep on Alex Barnes. While he may not be a speedster, he can run right through tackles with authority. If the Wildcats can bump his carries up this season, there is no doubt in my mind that Alex will rush for over one thousand yards this year.
Trey Sermon (Oklahoma)
2017: 121 Carries/741 yards/5 TDs/6.1 yards per carry
Yes, I know I mentioned his teammate Rodney Anderson earlier, but Trey Sermon had an impressive true freshman season in 2017. While he shared plenty of carries last year, Trey made the most of his carries and probably will see more opportunities this season. Having two one thousand-yard rushers on the same team is something we have seen before from Oklahoma. Remember Joe Mixon and Samaje Perine from a couple of years ago? If the offensive line continues playing well, we could see it again this year.