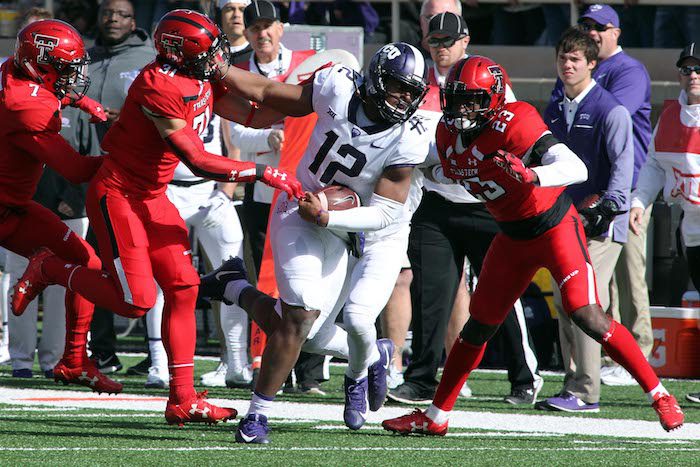 Here is everything you need to know about the Big 12 game between Texas Tech (3-2, 1-1 in Big 12) and TCU (3-2, 1-1). 
Game info
6:30 p.m. Central Time, Thursday, Oct. 11, 2018, Amon G. Carter Stadium, Fort Worth, Texas
TV: ESPN (Dave Flemming, Kirk Herbstreit, Joey Galloway, Laura Rutledge)
Radio: Texas Tech: Texas Tech Sports Network; TCU: WBAP 820 AM, KTCU 88.7 FM; Satellite Radio (Texas Tech): Sirius Channel 137/XM Channel 199; (Baylor): Sirius/XM 84
Key players
Texas Tech
Tech's QB. I need a shoulder shrug emoji here because head coach Kliff Kingsbury shed no light on who his starter might be Thursday. It could be McLane Carter, who started the season before getting a high-ankle sprain; Alan Bowman, who left the game two weeks ago with a collapsed lung; or Jett Duffey, who filled in for Bowman in that loss to West Virginia. All three of them could be available on Thursday. The good news? The Red Raiders have the nation's No. 1 offense regardless of who's been under center.  
WR Antoine Wesley. Whoever is at quarterback expect Wesley to be the star. Earlier this season he broke Texas Tech single-game receiving records against Houston. He is second in the NCAA in receiving yards per game (124.2) and seventh in overall receiving yards (621). This from a player that had just 12 catches in his first two college seasons. He's made making up for lost time his mission this season.
LB Dakota Allen. He leads the Red Raiders with 37 tackles and is one of three NFL prospects on the defensive side of the football. He's so quick and physical that teams tend to run away from Allen and he pursues anyway. He's also developing into a player with good skills in pass coverage.  
CB Adrian Frye. Don't know the name? Well let's talk about the player that leads the Red Raiders with three interceptions and eight pass breakups. The backup corner had two of those interceptions against Lamar, but he's proven to be quite a weapon in pass coverage for the Red Raiders. His ability around the ball has been a boon to the Red Raiders.
TCU
QB Shawn Robinson. The sophomore from DeSoto, Texas, has had 10 days to work on his ball possession problems, which became a real issue against Texas and Ohio State. He looked better against Iowa State, throwing just one interception. But the Horned Frogs need him to pick up the production. He has just one 300-yard passing game so far this season. He supplements that with his running ability, but hasn't scored a rushing touchdown in a month. It could be time for Robinson and the Horned Frog offense to get back to basics.  
WR Jalen Reagor. We haven't said enough about Reagor yet this season. The Horned Frogs has some significant losses at receiver after last season and Reagor has stepped in to become the unit's leading producer, with 29 receptions for 359 yards and 2 touchdowns so far. He'll face a tough test against an underrated Red Raiders secondary.  
LB Garret Wallow. After five games Wallow has put up a high-quality line in Gary Patterson's defense — a team-leading 39 tackles with 3.5 tackles for loss, 2 sacks, 1 pass break-up and 2 quarterback hurries. He can do a little bit of everything and is showing off loads of potential for down the road.
DT Corey Bethley. With some injuries inside, the Horned Frogs have had to rely on Bethley more than ever this season. With 16 tackles, 3 sacks and 6 tackles for loss, the second-year player is among the leaders in sacks and tackles for loss after five games.  
Key storylines
Texas Tech and TCU renewed their battle for the Saddle Trophy last season with the Horned Frogs prevailing 27-3 at Jones AT&T Stadium in Lubbock. The two schools previously played for the Saddle Trophy from 1961-70 before it suddenly disappeared. A replica trophy was created for the 2017 meeting following discussions between both schools.
Texas Tech
The Red Raiders will have had 10 days to think about that loss to West Virginia on Sept. 29. But despite the loss they've built another great offense out in Lubbock and a defense that can make some plays, though it still isn't consistent enough in key moments. The road has been kind to the Red Raiders of late, as they're seeking their third straight Big 12 road win, dating back to last year, and have won two of three visits to Amon G. Carter Stadium since TCU re-joined the Big 12. The big problem for Texas Tech Thursday night is what to do at quarterback. Bowman has played the most this season, and the offense has responded to the true freshman. Kingsbury could hand the job back to him, if he's ready. If not, will Kingsbury stick with Duffey, who looked good in spots against WVU, or hand the job back to the incumbent, Carter? Kingsbury isn't tipping his hand. Meanwhile the Red Raiders need more pressure on the quarterback and expect them to turn to Broderick Washington and Eli Howard to get it.
TCU
It's clear these Horned Frogs aren't quite the Horned Frogs of a year ago. But that defense is dangerous, nonetheless. In their two losses the Horned Frogs gave up 40 and 31 points. In their three wins the Horned Frogs gave up less than 20 points. Holding the Red Raiders under 20 points might seem a tall order, but the Red Raiders only scored three points in their meeting a year ago in Lubbock — and that was with Robinson at the controls of the TCU offense due to the injury to Kenny Hill. The offense is the larger issue. Perhaps the 17-14 win over Iowa State on Sept. 29 gives us the template for how the Horned Frogs will keep winning games this year — close and with a defensive lean. As Robinson grows as a player, the more open this offense will become. It wouldn't hurt if he grew a little faster.
Prediction: Texas Tech 34, TCU 28. I'm worried about the TCU offense right now. In the last three games the offense hasn't cleared more than 28 points, and the Horned Frogs have scored fewer than 20 points in each of their last two Big 12 games. I know Texas Tech's defense isn't fantastic (I watched them give up 49 points to Houston), but there is talent on that side of the ball and the Red Raiders can produce turnovers, and that's been a real problem for TCU so far this season. I'm not sure who will play QB for Tech, but whoever it is will have more weapons to work with than Robinson. Tech wins in a squeaker.
**Sign up here for our HCS weekly e-mails for a chance to win FREE Heartland College Sports and Big 12 team gear!!**