Baylor Bears
Big 12 Basketball Round up January 9th: Bears Stun Cyclones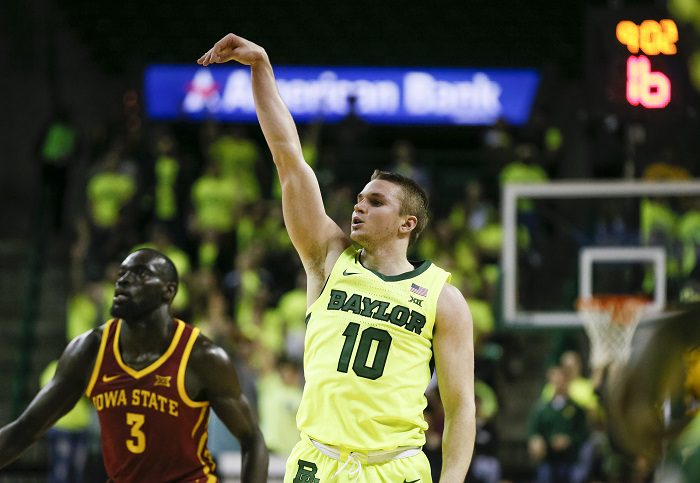 There have been periods of time in Texas Tech's first three Big 12 games where Jarrett Culver has faded into the background. I wouldn't say he flat out disappeared. But opposing teams know they have to slow Culver down and they commit valuable resources to do so.
But you can't hold him down forever.
On Tuesday night against Oklahoma (12-3, 1-2 in Big 12) Culver went without a point for the first 15 minutes of the second half of a tight game with the Sooners. Then Oklahoma's Brady Manek drained a 3-pointer with that silky-smooth jump shot to tie the game at 51-all with 4:47 left in the game.
All that seemed to do was set Culver off. From there the Red Raiders' leader in points, rebounds and assists scored nine of his game-high 23 points in the 66-59 victory. Yes, he scored nine of Texas Tech's final 15 points. He did practically the same thing against West Virginia on the road last week, leading the Red Raiders (14-1, 3-0) to a win for the first time in Morgantown.
The point is the sophomore is about as clutch as you're going to get in the Big 12, and on a night when two other undefeated teams in league action fell on the road, Culver's huge night put the Red Raiders over the top.
Jarrett Culver's game is so smooth I can't tell if this was bad defense or if he just makes it 👀 too easy. 🤷🏻‍♂️ #WreckEm #OUvsTTU #Big12MBB @Heartland_CS pic.twitter.com/7bbSYbUe4n

— Matthew Postins (@PostinsPostcard) January 9, 2019

Tuesday was Culver's first double-double of the season — 23 points and 13 rebounds. With his long 6-foot-5 frame and triple-threat ability his time in Lubbock may be growing short (as in the NBA). But, that's for another day. For now, Tech's ability to flow everything through Culver is paying dividends for him and the rest of the team.
Double teams on Culver mean opportunities for other players. Guard Davide Moretti took advantage, scoring 12 points. Brandone Francis came off the bench to score 8 points. The inside game was functional. Norense Odiase had 8 points. But I really like how Tariq Owens' game is coming together. I thought he was mainly a 6-foot-10 scorer when I saw him earlier this season. But he only scored 4 points Tuesday night and still impacted the game with 6 rebounds and 4 blocked shots. Culver is the fulcrum, but the rest of the team is moving the lever.
As for Oklahoma, this is the first time this season they've lost in a game where they outrebounded the opponent. In fact, not only did OU outrebound Texas Tech by seven, the Sooners outrebounded the Red Raiders 16-3 on the offensive glass. For the first time in Big 12 play guard Christian James didn't have a double-double. Much of that had to do with Texas Tech's defense, which is one of the best in the country. OU shot just 32.3 percent from the floor and committed 14 turnovers. Much of that offset the huge advantage on the glass, which helped OU to 13 more field goal attempts than Tech.
James ended up with 14 points and 6 rebounds. Brady Manek had 13 points and 8 rebounds. Jamuni McNeace tried to go but only had 2 points and a rebound. Kristian Doolittle, meanwhile, had an intriguing line in the defeat — 9 points, 8 rebounds and 5 steals. Give me more of that out of a 6-foot-7 forward.
But it wasn't enough to beat the Red Raiders. Oh, and let's not forget this. Tech was a perfect 17-of-17 from the free throw line.
In Waco, Texas, I guess we should have seen this Iowa State (12-3, 2-1) loss coming. The Cyclones beat Kansas by 17 points on Saturday and become a newly-minted Top 25 team on Monday. Iowa State was in Waco Tuesday night against Baylor (9-5, 1-1), which went into the game without a Big 12 win.
So, of course Baylor won in those hideous day-glo uniforms (you may like them. I hate them. I think they wear them just to distract opponents. Their colors are green and gold. Those unis looks like French's mustard. And no I'm not standing outside watching my grass grow. Why do you ask?).
This game was close throughout, though admittedly Baylor had control most of the time. At one point in the second half the Bears nearly pushed the lead to double digits, but couldn't get there. ISU didn't shoot well in the first half, but turned it around big-time in the second half. The Cyclones have the talent to win games like this on the road, and when you consider these teams' records, I felt like, even with a letdown, that Iowa State should have gotten it done. But the Cyclones never quite got over the hump because Baylor's Makai Mason got it done throughout.
Mason, the Yale transfer, played 38 minutes and scored 25 points. That's the kind of production that the Bears have been waiting for. That was a season high for Mason and he was one of three Bears in double figures. Key to all of this was Mason's 5-for-6 night at the line, some of which came late in the game. The Bears, as a team, were 17-of-20 from the line (and we'll get to Iowa State's night at the line in a minute).
Tristan Clark added 16 points for the Bears while Devonte Bandoo had 13 points. I believe Bandoo's emergence is necessary for Baylor to be competitive in the Big 12. Bandoo produced those 13 points in 11 minutes. After starting the season with games of 10, 25 and 16 points Bandoo hadn't hit double figures until Tuesday night. Bears head coach Scott Drew swears by Bandoo's ability to fill it up. He's going to get short minutes and he's going to have to learn to be a microwave off the bench for Baylor (as in, heat up fast). To this point he's been way too inconsistent.
Iowa State had its own trio in double figures — Marial Shayok with 19 points, Michael Jacobson with 11 points and Lindell Wigginton with 11 points off the bench. It's interesting that Wigginton isn't siphoning off time from the freshmen, Talen Horton-Tucker and Tyrese Halliburton, both of which played 30 minutes. But Wigginton, arguably, had a better night. What is also interesting is how little head coach Steve Prohm is using his bench to this point. I love the starting lineup, but Cameron Lard with 7 minutes? Zoran Talley Jr. with 1 minute? Solomon Young with 11? I have to imagine that changes at some point.
So why did ISU lose this game? It's actually pretty clear when you look at the box score. The Bears outrebounded them 33-26 and the Cyclones shot 12 fewer free throws as the Bears were called for just 14 fouls the entire game (officials called ISU for 17). In fact, Wigginton's free throws with ISU down three in the final 20 seconds was ISU's only free throws of the second half. And Wigginton did the right thing in drawing the foul, but had the misfortune of stepping on the 3-point line while shooting. Otherwise that would have been three foul shots and not two, which cut Baylor's lead to one, 71-70.
Then ISU had to send Bandoo to the line and he made his two free throws with 5.8 seconds left to make it 73-70 Bears. And, then, this.
Ok @Heartland_CS peeps even the analyst thought it was a foul at the end of the #ISUvsBAY game. What say you? Or does it matter? If you want to be taken seriously in #Big12MBB race don't you need to win this before this play? #CyclONEnation #SicEm pic.twitter.com/eeO2VTbUK3

— Matthew Postins (@PostinsPostcard) January 9, 2019
I get that winning on the road in the Big 12 is tough. I get the point one reader made that Kansas was the only team with a winning record on the road last year in Big 12 action. But the Cyclones were the better team going into this game and if they want to remain a Top 25 team they can't squander chances like Tuesday night. ISU is a better team than Baylor in my opinion. ISU shot 50.0-38.9-87.5 percent from the floor, 3-point line and free throw line, respectively. The Cyclones committed just 10 turnovers and had six steals. They should have won this game. The missed foul at the end of the game had nothing to do with it. ISU had plenty of chances before that.
Meanwhile, in Stillwater, Okla., how on earth does Texas (10-5, 2-1), undefeated in Big 12 play going into Tuesday's action, lose to Oklahoma State (7-8, 1-2), which was winless in Big 12 play going into Tuesday's action. Oh, I know. Or at least I think I do.
I think I have a hunch why #HookEm lost to #OKState. But what do I know? 🤷‍♂️ #ThisisTexas #Big12MBB #GoPokes @Heartland_CS pic.twitter.com/1b1KaSMhai

— Matthew Postins (@PostinsPostcard) January 9, 2019
Right now the Longhorns are only as good as what they shoot from distance. In their first two Big 12 games the Longhorns shot well from the arc. Against the Cowboys they were, well, you saw the tweet, right? Horrible might be an understatement. By the way, it was 2-of-22 shooting for Texas from the 3-point line as they fell, 61-58.
Unbelievably, Texas had a chance to overcome the Cowboys late but couldn't get over the hump. The Longhorns were down by 19 points late in the first half and surged back in the second half. But while they had the Cowboys' lead cut to one point in the final minute, the Longhorns never claimed the lead. In fact, Texas never had the lead or tied OSU in the entire game. Kerwin Roach II had 17 points and forward Jaxson Hayes had 13 points. But Texas was outrebounded by 8 on the glass and couldn't do a thing about Lindy Waters III, Oklahoma State's sharpshooter. He went 5-for-5 from the arc on his way to 19 points, along with 9 rebounds. Cameron McGriff had 12 points while Thomas Dziagwa and Michael Weathers had 10 points each.
That's the diversified offense the Cowboys need right now. They're not terribly imposing inside — nearly half of their rebounds came from McGriff and Waters. They need offensive boards and extra opportunities to score. The Cowboys had part of that equation. They had 12 offensive rebounds to the Longhorns' 7.
We move on to Wednesday's games as West Virginia hits the floor Wednesday night at 6 p.m. CST at Kansas State on ESPN. Then, Kansas tries to get back on the winning side of the ledger when it hosts TCU at 8 p.m. CST on ESPN2.
**Sign up here for our HCS weekly e-mails for a chance to win FREE Heartland College Sports and Big 12 team gear!!**