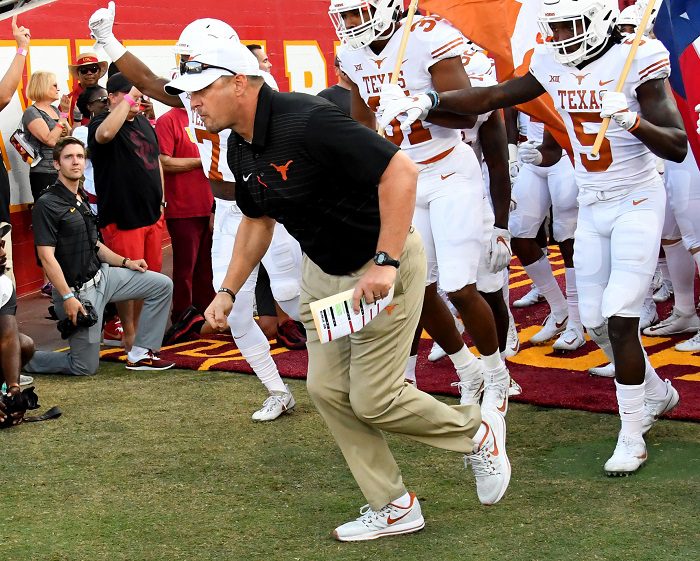 It's that time of year again when we're all sitting around excited for summer, but also trying to peek ahead to get closer to the college football season. There are only 112 days until the first full Saturday of college football, but who's counting, right? Definitely not me.
So, let's get to our best-case and worst-case scenario for each team in the Big 12 Conference. It's the time of year when fans want to look at the schedule and see everything that can go right, but let's be honest, there will be a team that will have the kind of season where everything goes wrong. So, let's go to Austin, Texas and take a look at the Texas Longhorns.
Texas Best Case Scenario: 10-2
No matter what, Texas will start off their 2019 campaign with a big win over Louisiana Tech at home before facing LSU. To me, LSU in Austin could be a toss-up game and most of us know how Tom Herman gets up for those big games dating back to his days in Houston. Following the LSU game, Texas will play Rice in NRG Stadium (Because Texas would NEVER play in Rice stadium and why would they?). Chalk that up as another win. So, after the non-conference, Texas would be looking at 3-0 or at worst, 2-1. As conference play begins, Texas will face Oklahoma State at home and WVU on the road. Both of those programs are in rebuilding mode and even though the Cowboys have had the Longhorns' number, Texas finds a way to get it done at home and in Morgantown. Then comes to Red River Showdown with the Oklahoma Sooners at the Cotton Bowl in Dallas. Even though Oklahoma is going through some changes of their own (QB, O-Line and defense), this is always a toss-up game no matter what the records are. Just like the LSU game, this one is a complete coin flip. In this scenario, Texas will have for sure won four games and with two toss ups, I'll give the Horns the split to go 5-1 in the first half of the season.
From there, Texas kicks off their second half of the season facing the mad hatter (Les Miles) at home and if Kansas is still Kansas, Texas should have no problem winning that one. The last five games get tricky. Texas goes to TCU, Iowa State and Baylor as well as facing Kansas State and Texas Tech at home. Out of all those games, I will say Texas will slip up at either TCU or Iowa State and win the rest. To me, those three road games are tough but even if Texas drops one, the Longhorns will still finish 10-2 and that should be good enough for another trip to Jerry World come December.
Texas Worst Case Scenario: 7-5
Like I said earlier, Texas will go 3-0 or at worst 2-1 in non-conference play facing off with Louisiana Tech, LSU and Rice. In fact, Texas might beat Rice with their second string in the game but let's focus one something other than a side dish. For their first three conference games of the season, Texas will play OSU, WVU and Oklahoma. Worst-case scenario Texas drops two of three there; for sure Oklahoma and the Horns would lose to a rebuilding Oklahoma State team or WVU in a tough trip to Morgantown.  Speaking of Morgantown, what does a guy like me have to do to get my hands on one of those famous pepperoni rolls? Anyways, back to football. Then comes the Kansas Jayhawks at home to start the second half of the season but it would take a miracle for Kansas to beat Texas no matter how much of the grass Les Miles eats. Following the Kansas game, Texas will travel to Fort Worth to face TCU and then Kansas State at home. I wouldn't worry too much about the Wildcats, but TCU on the road would be tough and in this worst-case nightmare, the Longhorns come away with a loss. For the final three games, the Longhorns will be on the road to take on Iowa State and Baylor before the regular season finale at home against Texas Tech. Gun to my head here, Texas loses to Iowa State in heart-breaking fashion before winning out. The Longhorns would close the 2019 season in disappointing fashion, finishing 7-5 and make some bowl game that Texas fans don't care about.
**We now have FREE Big 12 Forums here at Heartland College Sports. Go sign up here and join our conversation! **