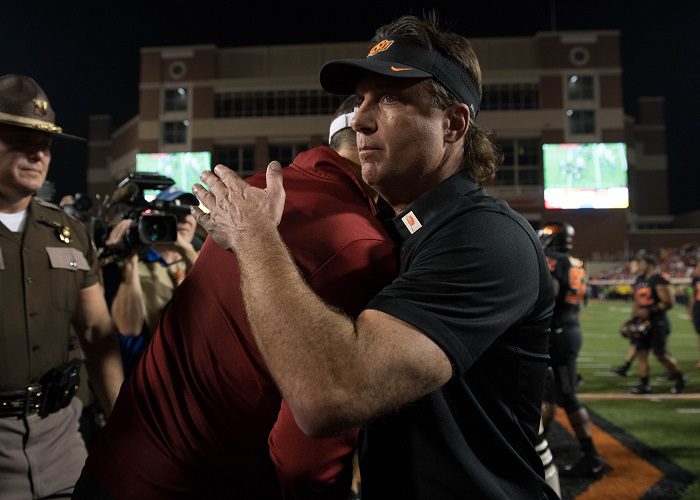 One day there will be a statue of Mike Gundy in Stillwater. On this planet, you will not find another person who is as committed to Oklahoma State football than Mike Gundy. From his time as a player in the 1980's to his 25 plus years of coaching the orange and black, he is Oklahoma State football as we know it.
Since taking over as head coach in 2005, Mike Gundy has turned Oklahoma State from a sub-par football program into a top 25 program in all of college football. In just his first three seasons as head coach, Mike Gundy won back to back bowl games which is something that did not happen in nearly 20 years prior. And since 2006, Oklahoma State has been to a bowl game every single season which is by far the best stretch of football in Oklahoma State history.
Along the way, his program won a conference championship back in 2011 for the first time since 1976. But what made this current stretch of Oklahoma State football special was not just getting to bowl games, it was winning games at an absurd level. From 2010 to 2019, Oklahoma State had the 13th-best record in all of college football and the second-best record in the Big 12 only behind Oklahoma.
Yet despite all the success, Mike Gundy has had a problem. And his problem is just a little over 80 miles away from him, the Oklahoma Sooners. In the annual game known as Bedlam, the two Oklahoma football powers meet on a glorious Saturday. Of course, only one team can leave happy, and in the last sixteen years, Mike Gundy has only been happy twice.
In the early and mid-2000's, the talent gap was much larger and back then, nobody expected Oklahoma State to beat Oklahoma. But since 2010, the teams have been more evenly matched than ever before. From 2010 to 2014, you could even make a case that the Cowboys had the better team and while Mike Gundy did win two games during that time period, it would be hard for one to forget the infamous 2013 match up. The game that Oklahoma State was clearly the better team yet found a way to not only lose, but let a possible second Big 12 title slip right through their fingers.
However, Oklahoma State would bounce back in 2014 known as the "Tyreek Hill game". That game was six years ago and for Oklahoma State fans, it probably feels closer to a decade. While some suggested that thing may get a little easier once longtime Oklahoma coach Bob Stoops retired, the exact opposite happened. Oklahoma upgraded while Mike Gundy grew more conservative by the minute.
In 2016, Mike Gundy coached scared. He did not let then quarterback Mason Rudolph throw the football. But that changed in 2017 as Mike let Mason and the Oklahoma State offense loose. Heck, he even did it in 2018 with Taylor Cornelius at quarterback. And while the outcomes of those two games were not in his favor, he at least went down swinging.
2019 turned out to be a dud, but 2020 was supposed to be the year. It was the best Oklahoma State team on paper since that 2011 team that won a Big 12 title. With an outstanding defense and All-American players such as receiver Tylan Wallace and running back Chuba Hubbard, this team was supposed to be a Big 12 championship team.
But things do not always work out the way you want it to. With a young quarterback in Spencer Sanders and a revolving door on the offensive line, the offense struggled while the defense carried the team. Of course, losing to an inferior Texas team was not planned but still, the Cowboys had everything they wanted right in front of them going into the Oklahoma game.
And what did we see? A team that was not only outmanned but out coached as well. Oklahoma was the better team. There is no question about it. However, the decision to punt the football from your opponents 39-yard line down by 21 points with 12 minutes to play is questionable. Yes, they made Oklahoma take over at their own one-yard line, but in that situation, why punt? What do you have to lose? That showed me that you are done at that point. Waive the white flag, pack up your stuff and head for the bus. And that is exactly what happened. Of course, just a few minutes later on their next possession, Mike opted to go for it on a fourth and long back up deep in his own territory.
It just did not make sense. And while I can go on and on about his decision making, believe it or not it was not Mike Gundy whose answer shocked me after the game. It was Oklahoma head coach Lincoln Riley. "We wanted to play tonight like we were the hunter, not the hunted", Riley said. "That's kind of our mindset all week, both the way we played and coached. You can't come into big games like this against a great opponent and play conservative, and not that we have, but we really want to emphasize that with our players that we had to play aggressive. We had to go take it if you're going to beat a good team like this, and we certainly did that."
Lincoln Riley has been coaching football since his days at Texas Tech in the 2000's, and at just 37 years old, he understands the mentality it takes to win rivalry games. For some reason or another, Mike Gundy has not quite figured that part out. Mike Gundy will still get his statue even if he loses every Bedlam game for the next decade. However, it would not hurt to take a bit of advice from your rival before you decide to walk away from the headset.
**Want to win a $20 gift card?  Go sign up here and join our conversation! The best poster each week wins a gift card to your favorite establishment!**