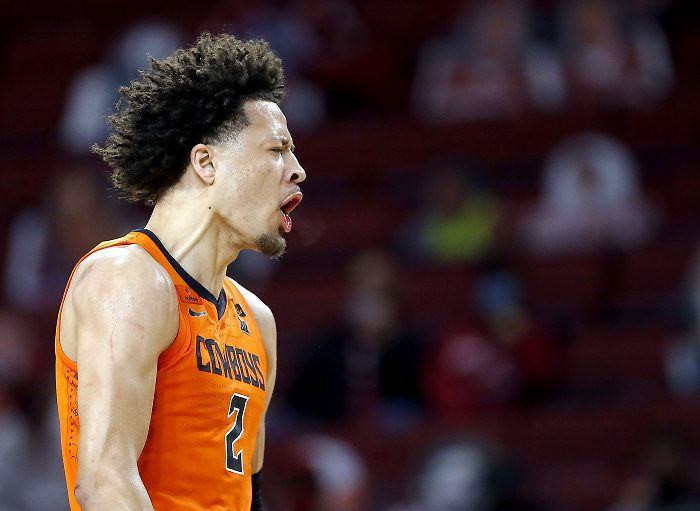 On Tuesday morning, Oklahoma State star Cade Cunningham was awarded the Wayman Tisdale Award by the United States Basketball Writers Association for the nation's best freshman.
The projected No. 1 pick in the 2021 NBA Draft cemented his legacy on Oklahoma State and college basketball as a whole in just one season with the Cowboys. He beat out finalists such as Gonzaga's Jalen Suggs, Michigan's Hunter Dickinson and USC's Evan Mobley.
It's easy to get lost in all the awards Cunningham has acquired in his lone collegiate season, but this one in particular is nothing to scoff at. The Wayman Tisdale Award, named after the late University of Oklahoma freshman superstar Wayman Tisdale, has an impressively rich history among its recipients. From All-Stars to vital role players, nearly every player who has received the award has gone on to have some sort of success in the NBA.
I was curious to see just how impressive the history of the award was, and let me tell you, I'm super excited for Cade's NBA future based on the sheer amount of household names featured below.
The following list includes every Wayman Tisdale Award winner since its inception in 1989. The names in bold denote players who would go on to average 10-plus points per game in the NBA.
Wayman Tisdale Award Winners
2021: Cade Cunningham, Oklahoma State
2020: Vernon Carey Jr., Duke
2019: Zion Williamson, Duke*
2018: Trae Young, Oklahoma*
2017: Lonzo Ball, UCLA
2016: Ben Simmons, LSU*
2015: Jahlil Okafor, Duke
2014: Jabari Parker, Duke
2013: Marcus Smart, Oklahoma State
2012: Anthony Davis, Kentucky*
2011: Jared Sullinger, Ohio State
2010: John Wall, Kentucky*
2009: Tyreke Evans, Memphis
2008: Michael Beasley, Kansas State
2007: Kevin Durant, Texas*
2006: Tyler Hansbrough, North Carolina
2005: Marvin Williams, North Carolina
2004: Luol Deng, Duke*
2003: Carmelo Anthony, Syracuse*
2002: T.J. Ford, Texas
2001: Eddie Griffin, Seton Hall
2000: Jason Gardner, Arizona
1999: Quentin Richardson, DePaul
1998: Larry Hughes, Saint Louis
1997: None
1996: None
1995: None
1994: Joe Smith, Maryland
1993: Jason Kidd, Cal*
1992: Chris Webber, Michigan*
1991: Rodney Rogers, Wake Forest
1990: Kenny Anderson, Georgia Tech*
1989: Chris Jackson, LSU
That's a lot of bolded names, and it isn't just players who played two or three seasons then fell into obscurity. 25 of the 29 overall winners went on to have solid to superstar level NBA careers. Ten players (denoted by asterisk) all made at least one All-Star team. Needless to say, Cunningham is in pretty good company.
Even if he doesn't reach the levels of a Kevin Durant or an Anthony Davis, it is still very reputable serving as a viable role player like a Marcus Smart or a Michael Beasley. Those guys help win championships, even if they're not All-Stars.
If the history of the award says anything about Cunningham's future as a pro, especially in the last decade, I have a feeling we'll be hearing his name for many years to come. Congrats to Cade on a remarkable freshman season and best of luck in the next chapter of your career. Go get that bag!