Big 12 News
Lincoln Riley on Oklahoma Hiring Brent Venables: 'I Think it's Awesome'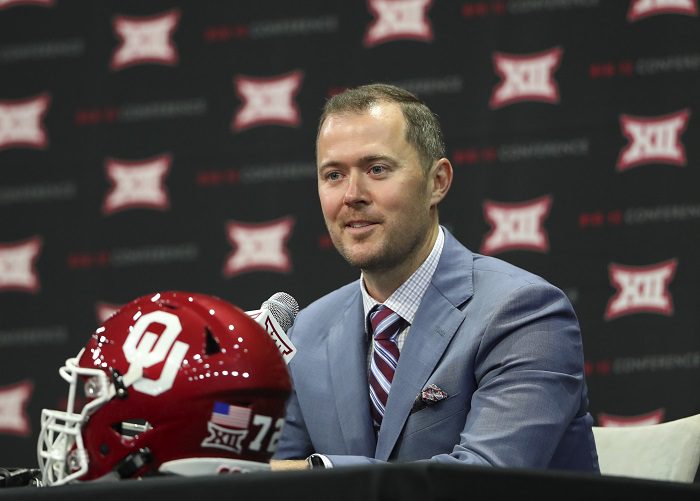 Lincoln Riley is Public Enemy No. 1 in Norman these days, at least to the fan base. After his exit to USC, the Oklahoma program is as unstable as it's been since 1998. Not a single member of the defensive staff remains, nine recruits, all four or five-star talents, have decommitted from the Sooners and Bob Stoops had to come out of retirement to help clean up the mess.
On Sunday, to the elation of former players and Sooner fans, Oklahoma announced that it would hire former Clemson defensive coordinator Brent Venables to be Riley's successor. Venables brings an edge to OU that it has lacked for years and he will certainly get things headed in the right direction, given the time to do so.
This week, on The Jim Rome Show, Riley shared his thoughts about his replacement at Oklahoma:
"I think it's awesome," Riley said. "I've known Brent for a long time, he's a good friend. To see him get that opportunity, I know he's been waiting for the right opportunity for a long time. He's certainly earned it and I know he'll do a great job. We got the chance to visit a little bit, which was great, before he accepted the job. I'm really happy for him and his family. I know him well and he'll do a great job there. They couldn't have found a better choice."
Venables certainly has the experience for the job, despite never being a head coach. He has spent 29 years as an assistant under three coaches, all of whom will be Hall of Famer's: Bill Snyder, Bob Stoops, and Dabo Swinney. He has coached in eight national championships and won three titles as a defensive coordinator at Oklahoma and Clemson. His defenses have always been formidable and have been annually ranked in the top 10, which is why he was the highest-paid assistant coach in the country at $2.5 million a year. Now, he will try to take what he knows and apply it as a head coach at Oklahoma, and the learning curve will be steep. It may not happen this year, but his team will enter the SEC very soon and he will need to have Oklahoma playing stout defense again to compete there. Venables is a fierce competitor though, and looks forward to the challenge ahead of him.
"Our memories from Norman, where all four of our children were born, have been nothing but great," Venables said in his opening statement as Oklahoma's head coach. "We're looking forward to making another decade-plus of incredible memories as we transition to a new era of Oklahoma football, especially with the opportunity and the challenge to join the SEC, the premier conference in all of college football. Joe Castiglione, President Harroz, and the Board of Regents have given us incredible support that equals the best of the best in our sport. There's no question we are equipped to compete at the very highest level and attract the best players from across the country. The OU logo has never been stronger."
Oklahoma will face Oregon in the Alamo Bowl this month, after going 10-2 this season. Bob Stoops will serve as the interim coach in that game, his first time on the sideline since the 2017 Sugar Bowl.