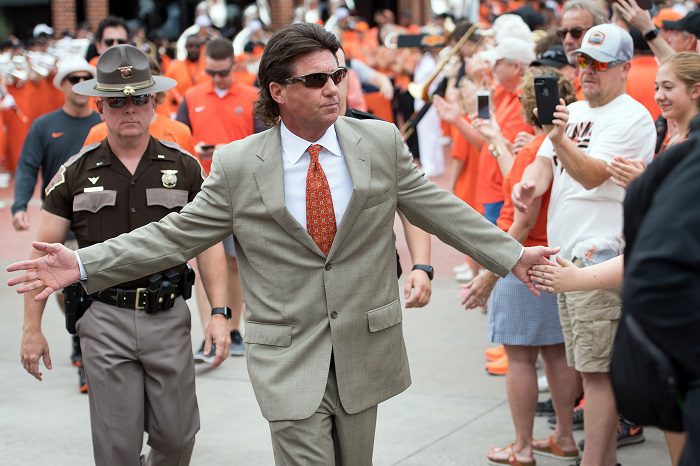 In 2021, Mike Gundy led his team to its first-ever Big 12 Championship Game and will face Notre Dame in the PlayStation Fiesta Bowl after an 11-2 season. By all accounts Gundy was pretty good this year, so what should he hope to find under his tree on Christmas morning?
As he lays nestled in his bed, while visions of hair products dance in his head, he can hope for three things he needs to take that next step to show up under the tree on Saturday.
1. Jim Knowles 2.0
First a defensive coordinator. What Jim Knowles did in Stillwater over his four years was pretty impressive. He took a program known for offensive fireworks and got them six inches from the playoffs on the back of an elite defense. Santa gave Knowles his Christmas present early, a giant contract at maybe the best place to work in college football, so Gundy needs to replace his star coordinators. It will be the most important hire of Gundy's tenure because keeping the defense going at a championship level with a slew of starters returning is expected.
2. Offensive Consistency
Second, on Gundy's wishlist should be some consistency on offense. Usually, a staple on his teams the offense was underwhelming this last season. Injuries didn't help the matter but even when the unit was healthy they would have long stretches where they looked lost. If they were even average against Baylor in the Big 12 Championship OSU is likely getting ready for the playoffs right now. With Spencer Sanders going into his fourth year as a starter and a loaded receiver group for next year points will be a requirement, not a suggestion. Offensive coordinator Kasey Dunn may be coaching for his job.
3. Another 10-Win Season in 2022
Number three probably requires the first two on the list working out but another 10-win season next year would be huge for Oklahoma State football for a lot of reasons. For one it's going to be expected. As I mentioned the defense will be loaded again next year and the offense will be stacked with playmakers. Most of the biggest competitors in the conference may be having down years, as well. The Sooners are going through an odd offseason with a coaching change that will completely change the philosophy in Norman. Iowa State is losing a lot of star power in Brock Purdy, Breece Hall, Charlie Kolar, and Mike Rose. Texas is still being the Texas we've grown accustomed to the last decade.
With conference realignment being an issue and the New Big 12 needing a new TV contract in a few years, there need to be teams that draw some eyes. OSU can be one of those teams because they are flashy and a little weird plus they already average the most viewership after the Sooners and Longhorns, but only if they keep winning. The Championship game between Oklahoma State and Baylor was one of the most-watched games of the year so there's hope but the New Big 12 needs to prove it doesn't need OU and Texas to be relevant. The Pokes winning double-digit games and making it back to the conference championship game (maybe winning this time?) would help that case.
4. Increased Funds Pool For Assistants
Lastly, he should hope his stocking is full of money, not for him but for the team as a whole. He needs more support. Jim Knowles left for Ohio State because they are paying him $1.9 million a year. OSU had offered him $1.3 million, the most Oklahoma State has ever offered to pay a coordinator. Knowles probably leaves for the Buckeyes even if you match the money but you have to get closer than $600k if you want him to think about staying. The Cowboys just pulled in their best recruiting class ever after doing the same last season. Did I mention they have one of, if not, the smallest recruiting budget in the Big 12? Oklahoma State needs more money if Gundy is going to repeat this year's success more than every 10 years. They need a bigger pool to pay coordinators like Knowles. They need more money for recruiting so Gundy can go from getting classes in the 25-30 range and get up into the 10-20 range. They need NIL deals for players and Boone Pickens isn't around anymore to do the heavy lifting for the Pokes fundraising. The stadium doesn't even seat 60k and they already have some of the highest ticket prices in the conference so there's not much milk left in that cow. The reality of the situation is the donors need to step up their game if they want Oklahoma State to succeed at a higher level.
So Friday night while he dons his cap and sets out his milk and cookies Mike needs to think about what he said a press conference recently:
"…we have a chance right now at Oklahoma State if it's handled correctly, to move to the top. If we do it right. Now, I can't control that. I'm not in charge of the overall concept of what we're doing here, but we have a real chance if we're willing to move forward, and take that step right now."