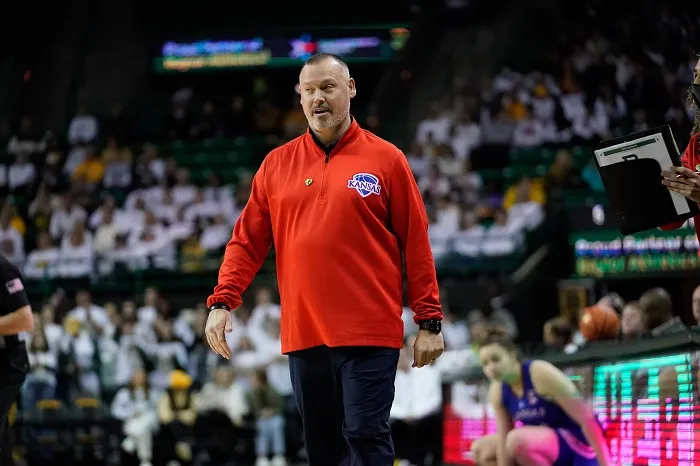 Brandon Schneider has finally built an NCAA Tournament team at Kansas. And he's managed to keep the core of that team together for another season.
The 2021-22 season was a watershed one for the Jayhawks, who hadn't been to the NCAA Tournament under Schneider, formerly of Stephen F. Austin, and hadn't been to March Madness in nearly a decade.
That all changed last season, as Kansas signaled this was a different program with an early road win at Texas, which reached the Elite Eight of the NCAAs.
By the end of the season, Kansas crossed the 20-win threshold, finished fifth in the Big 12 overall, reached the NCAA Tournament as an at-large team and won a tournament game, beating Georgia Tech, 77-58, before falling to Stanford in the second round.
That was more than enough for Kansas brass to hand Schneider a new contract extension, as he was named Big 12 Coach of the Year.
Now, the goal is to build on that success. Fortunately, Schneider has an abundance of talent and experience returning.
Each of Kansas' Top 4 scorers should be back — guard Holly Kersgieter (13.4 points), guard Zakiyah Franklin (12.0), forward Ioanna Chatzileonti (9.9) and center Taiyanna Jackson (8.9). Kersgieter was All-Big 12 First Team, while Franklin and Jackson were honorable mention. Jackson was more than just an honorable mention, though. She was on the All-Big 12 Defensive Team and set a Kansas single-season record with 95 blocked shots.
That quartet, along with guard Chandler Prater, who averaged 7.1 points, gives the Jayhawks a firm foundation to work with.
Kansas does lose one key piece in Aniya Thomas, who averaged 8.5 points last season. She transferred to Missouri State. Guard Julie Brousseau will also be missed, too. She ran out of eligibility after connecting on 41 3-pointers last season. But, between talent development and one key transfer, the Jayhawks have the potential to fill that gap.
The transfer is Tulsa's Wyvette Mayberry and she may push to start right away. She led Tulsa in scoring at 14.1 points per game, while shooting 44.3 percent from the field and 43 percent from 3-point range. Only guard Mia Vuksic (47.7 percent) shot better from the arc last season for Kansas.
Vuksic is one of those players the Jayhawks hope to provide more opportunity. She played in just 16 games and averaged 4.4 points and 8.5 minutes per game. She missed some games due to injury.
With a set starting lineup, a key transfer and plenty of talent to develop, the Jayhawks are keen to take the next step in 2022-23.
Kansas Women's Basketball Roster Update for 2022-23
Returning for 2022-23 (12): C Taiyanna Jackson, F Matea Nikolic, G Mia Vuksic, F Ioanna Chatzileonti, G Sanna Storm, F Katrine Jessen, G Holly Kersgieter, C Danai Papadopoulu, G Zakiyah Franklin, G Chandler Prater, C Nadira Eltayeb, C Chisom Ajekwu.
Jayhawks leaving (1): G Julie Brousseau (eligibility).
Jayhawks in transfer portal (2): G Erica Haynes-Overton (Tennessee State), G Aniya Thomas (Missouri State).
Transfers entering program (1): G Wyvette Mayberry (Tulsa).
Class of 2022 Signees (2): G Bella Swedlund (5-foot-8, Winner HS/Winner, S.D.), F Zsofia Telegdy (6-foot-3, Trinity Christian (GA)/Budapest, Hungary).
Projected starting lineup: C Taiyanna Jackson, F Ioanna Chatzileonti, G Holly Kersgieter, G Zakiyah Franklin, G Wyvette Mayberry.
Projected primary bench: G Chandler Prater, G Mia Vuksic, G Sanna Storm, F Katrine Jessen, C Nadira Eltayeb.
(Roster as of May 17. Subject to change).
You can find Matthew Postins on Twitter @PostinsPostcard