featured
Three Thoughts on Oklahoma's 8-0 Win Over UCF in NCAA Softball Super Regionals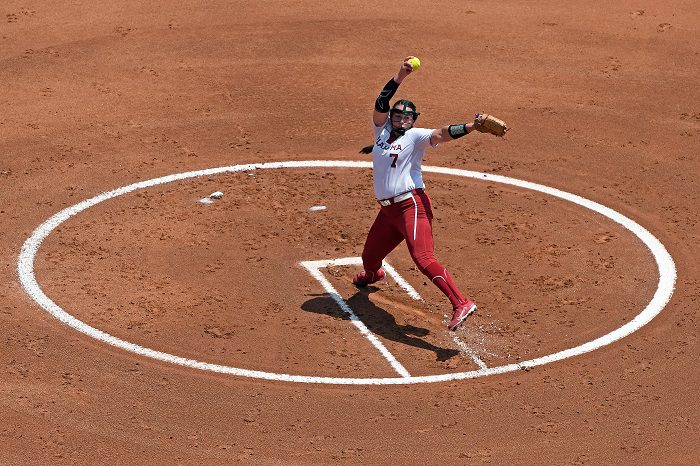 Oklahoma took care of business against No. 16 seed UCF in Game 1 of the Norman Super Regional, winning 8-0 in five innings.
The win makes tomorrow's 1:00 p.m. matchup a WCWS play-in game for the Sooners, and a win or go home for the Knights of UCF.
Here are three thoughts I was left with after the Sooners' Game 1 victory.
Oklahoma's Offensive Assault Continues
The Sooners have put up runs at will throughout the 2022 season and that continued in Game 1 of the Norman Super Regional. The Sooners forced the Knights to go through three pitchers in the first three innings of the game after scoring at least one run in each of those. In the second inning, Jayda Coleman brought in two runs on a two-RBI double, leaving two on for the Homerun Queen, Jocelyn Alo. Alo then belted an absolute rocket over the left-center field wall, making the score 6-0. From there, the Sooners added two more
UCF Was Feeling the Pressure
Playing Oklahoma comes with its own challenges and not just with the amount of talent that they possess. Sure, that part of it makes it tough, but the pressure of facing OU tends to crumble some teams, and unfortunately for UCF, they were the latest victim of said pressure. Opponents cannot afford to make mistakes or commit errors against the Sooners if they hope to compete and UCf both today. The Sooner's first run was made possible by a UCF error and several throwing mistakes were made by the Knights, though they weren't all logged as errors. If they hope to make this a series, they will need to be much cleaner tomorrow.
Hope Trautwein Throws No-Hitter
With a rock-solid offense and a reliable defense behind her, Hope Trautwein threw an absolute gem in Game 1 for Oklahoma. Trautwein threw Oklahoma's eighth no-hitter of the season, the second solo no-hitter of her season, while walking three batters and striking out two more. Her scoreless effort allowed the Sooners to end the first game of their Super Regional in just five innings. The Sooners were clicking on offense, defense, and in the circle, and Hope Trautwein was a major part of that success.