Big 12 News
2022 All-Big 12 Baseball Team: Heartland College Sports Edition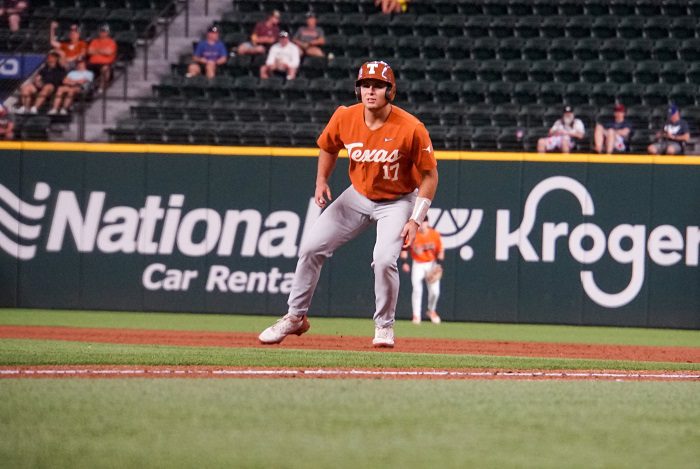 As we wrap up conference tournaments, we now are looking forward to the postseason. We had plenty of action this season in the Big 12 baseball scene as we look back at some of the best players this season. Here is our 2022 All-Big 12 baseball team.
Big 12 Awards
Player of the Year: Texas IF Ivan Melendez
Pitcher of the Year: Texas Tech RHP Brandon Birdsell
Freshman of the Year: Texas Tech OF Owen Washburn
Newcomer of the Year: Oklahoma IF Blake Robertson
Coach of the Year: Oklahoma HC Skip Johnson
All Big 12 Team
C: Silas Ardoin (Texas)
IF: Ivan Melendez (Texas)
IF: Maui Ahuna (Kansas)
IF: Tommy Sacco (TCU)
IF: Peyton Graham (Oklahoma)
IF: Jace Jung (Texas Tech)
OF: Jake Thompson (Oklahoma State)
OF: Murphy Stehly (Texas)
OF: Tanner Tredaway (Oklahoma)
DH: Griffin Doersching (Oklahoma State)
UT: Nolan McLean (Oklahoma State)
SP: Brandon Birdsell (Texas Tech)
SP: Pete Hansen (Texas)
SP: Justin Campbell (Oklahoma State)
SP: Jake Bennett (Oklahoma)
RP: Trey Braithwaite (West Virginia)
RP: Luke Savage (TCU)
RP: Roman Phansalkar (Oklahoma State)
Texas and Oklahoma State led the way with four selections to the All-Big 12 team, while the Oklahoma Sooners had three selections.
Melendez led the Big 12 in batting average (.421), home runs (28), runs batted in (85), on-base percentage (.531), slugging percentage (.941) and OPS (1.472) during the regular season. He is the Division I leader in home runs, and ranks second in batting average and runs batted in while setting a Big 12 record with five Player of the Week selections in 2022.
Birdsell went 8-3 while maintaining a 2.55 earned run average over 72.0 innings pitched in 2022, striking out 12.00 batters per nine innings. He held batters to a league-best .204 batting average, while ranking second in strikeouts (96), ERA and wins. He went 5-2 in Big 12 play.