Trending Now
Reporter Goes Viral for Trolling Brian Kelly at Press Conference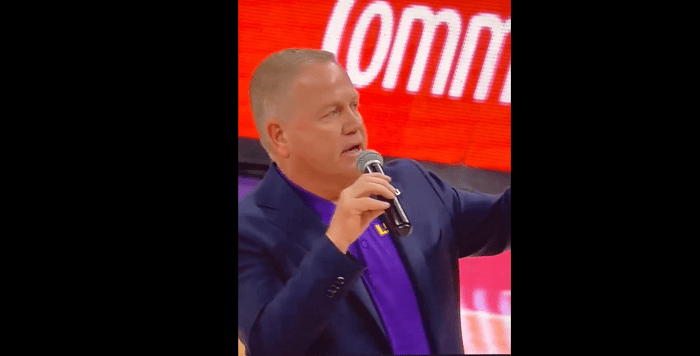 The Brian Kelly era got off to a rough start on Sunday evening as the LSU Tigers dropped a game to Florida State in the Caesar's Superdome in one of the most insane finishes you will ever see.
With 2:15 left in the fourth quarter, LSU wide receiver Malik Nabers muffed his second punt of the day deep in LSU territory, with Florida State recovering inside the LSU 10 yard line. On a third-and-goal opportunity from the LSU 1, Florida State elected to run a toss play, which 'Noles running back Treshaun Ward fumbled and the LSU defense recovered.
With 1:20 on the clock and down 24-17, LSU needed to drive 99 yards to score and tie the game. Jayden Daniels led the Tigers down the field and threw a touchdown pass to Jaray Jenkins with no time remaining, and all LSU needed to do was tack on the extra point to send the game to overtime. Instead, Florida State DB Shyheim Brown came through unblocked on the try and blocked the PAT, sending LSU into the loss column with shock and awe.
The loss, of course, quickly ended the honeymoon between Brian Kelly and the Tigers and he was visibly irritated when some media members arrived late to his Tuesday press conference.
When it was time to open the floor to questions, this is what happened.
Clearly the reporter, now identified as Leah Vann of The Baton Rouge Advocate, was not taking anything off of Kelly for being a bit late.
She later addressed the comment, saying it wasn't "her finest hour."