Oklahoma Sooners
New Oklahoma Football Video Sparks Fan Conspiracies Around Dillon Gabriel Availability vs. Texas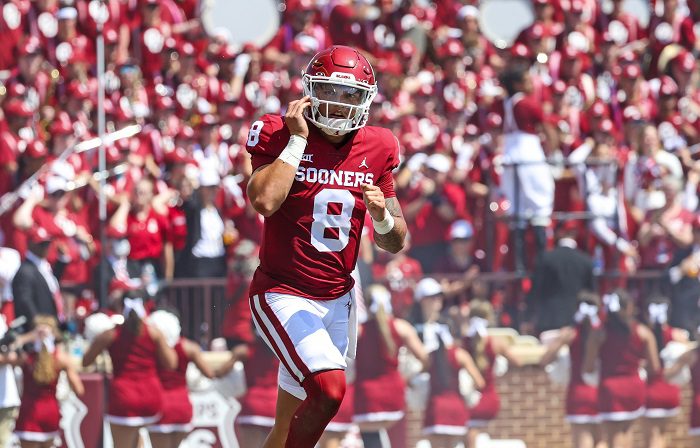 Last week against TCU, Oklahoma quarterback Dillon Gabriel took a vicious hit while sliding, seeming to render him unconscious on the turf for a moment.
Oklahoma went on to lose the game 55-24, and it's likely the game would have been ugly whether or not Gabriel could re-enter it.
If you missed the hit, here is a video of the play during which it occurred.
Shortly after that, Gabriel was removed from the field of play, while still donning his helmet, and headed to the locker room for further evaluation. It appeared that Gabriel had likely suffered a concussion, but that might not actually be the case if you are following the Oklahoma program closely.
First of all, on Monday, a crudely shot video surfaced showing Gabriel on the sidelines of the Oklahoma practice field, in a blue (non-contact) jersey but was not wearing any equipment.
That, by concussion protocol standards, is unlikely to happen 48 hours after suffering a concussion. Rumors began to run wild after that video surfaced, and I have it on good authority that Oklahoma proceeded to move practice indoors for the rest of the week after the video.
Then, on Wednesday, Oklahoma's official Twitter page released this video, which subtly shows Gabriel throwing right around the eight-second mark.
In this video, Gabriel is wearing pads, which would mean that he has reached the next phase of concussion protocol and is progressing towards potentially playing. That, in and of itself, has Sooner Nation hopeful that their starting quarterback might be back on the field against their bitter rival this weekend.
Now, although I am leaning towards there being a good chance that we see Gabriel at this point, there are a couple of concerns that need to be weighed in this saga. First, the most recent video could be film taken from earlier in the year, and while that is unlikely as the Sooners haven't spent much time practicing indoors outside of this week, it is still a possibility. Another potential issue is that while Gabriel might be practicing or progressing quickly, there is still a chance that he is held out to air on the side of caution. This wouldn't be at all surprising, considering the recent issues that we've seen with Miami Dolphins QB Tua Tagovialoa.
Nonetheless, there seems to be some cautious optimism that Gabriel could trot out of the tunnel for Oklahoma this Saturday, and that isn't bad news anyway that you slice it.