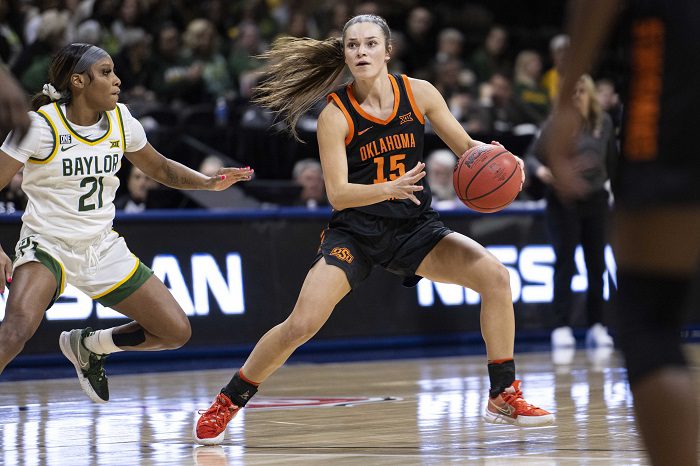 Leading up to the opening of the 2022-23 Big 12 Women's basketball season Heartland College Sports will analyze each of the Big 12 women's basketball rosters. Today it's the Oklahoma State Cowgirls.
2021-22 Season-Ending Roster: F Tracey Bershers, C Kassidy De Lapp, G Neferatali Notoa, G Micah Dennis, G Chloe Mayer, G N'yah Boyd, F Taylen Collins, G Lexy Keys, F Macie James, F Ruthie Udoumoh, G Lauren Fields, F Kennedi Jackson, F Abbie Winchester, G Sara Rodrigues, F Tori Garza, F Brittany Reeves.
No longer at Oklahoma State: Bershers (transferred to UAB), Notoa (not on roster), Dennis (transferred to East Carolina), Mayer (entered transfer portal), Boyd (transferred to UTEP), Udoumoh (transferred to Oral Roberts), Fields (transferred to Arizona), F Kennedi Jackson (transferred to Charleston Southern), Winchester (out of eligibility), Rodrigues (transferred to Oral Roberts), Garza (transferred to Tulane), Reeves (transferred to Mercer).
2022-23 Season-Opening Roster: C Kassidy De Lapp (6-3, Sr.), G Naomie Alnatas (5-7, Sr.), G Anna Gret Asi (5-8, So.), F Lior Garzon (6-1, Jr.), G Claire Chastain (6-0, Sr.), F Taylen Collins (6-1, Jr.), G Lexy Keys (5-7, Jr.), F Macie James (5-11, So.), G Terryn Milton (5-9, Sr.), F Trinitee Jackson (6-3, Sr.), F Praise Egharevba (6-3, Fr.), G Landry Williams (5-9, So.), F Makyra Tramble (5-10, Sr.)
How The Cowgirls Are Built
Returning Players (4): De Lapp, Collins, Keys, James.
Transfers (8): Alnatas (transferred from Kansas City), Gret Asi (transferred from Arizona), Garzon (transferred from Villanova), Chastain (transferred from UT Arlington), Milton (transferred from UT Arlington), Jackson (transferred from Arkansas State), Williams (transferred from Kansas City), Tramble (transferred from Southwestern Oklahoma State)
Freshman/Recruiting Class (1): Egharevba.
Potential starting lineup: Alnatas, Collins, Garzon, Keys, Milton
Why?: Collins and Keys represent the top two returning scorers from last season. Keys was one of two players that averaged 10 or more points last season. She scored 10.1 points. Fields, who transferred, averaged more than 15 points last season. Collins averaged 8.7 points and 6.0 rebounds. So those two should be the foundation for new coach Jacie Hoyt. From there? It's open competition. But the nod right now goes to Alnatas, Garzon and Milton, all of whom averaged double figures in points last season at their respective schools. Alnatas played for Hoyt at Kansas City and knows her system. She'll be helpful in helping to on-board the rest of the team during preseason and non-conference. With a first-year coach, targeting a potential starting lineup is difficult, especially with the turnover OSU experienced after her hire. But the Cowgirls are looking for points and this group can fill the basket.
The bench: Chastain, De Lapp, Jackson, James.
Why? De Lapp is a holdover from last season who was primarily a backup inside. She and Jackson could come off the bench, though Jackson has performed at a higher level statistically speaking. Chastain was productive at UT Arlington and James was an under-utilized guard last season for the Cowgirls who could take on a larger role this season.
The Wild Card? Tramble. Last season she averaged 20.1 points, 5.2 assists, 7.1 rebounds and 2.8 steals per game as she was named the National Player of the Year … in Division II with Southwestern Oklahoma State. Can that translate at the Division I level? If so, the 5-10 forward becomes a part of the rotation.
You can find Matthew Postins on Twitter @PostinsPostcard.