Baylor Bears
Which Big 12 Women's Basketball Teams Will Make NCAA Tournament?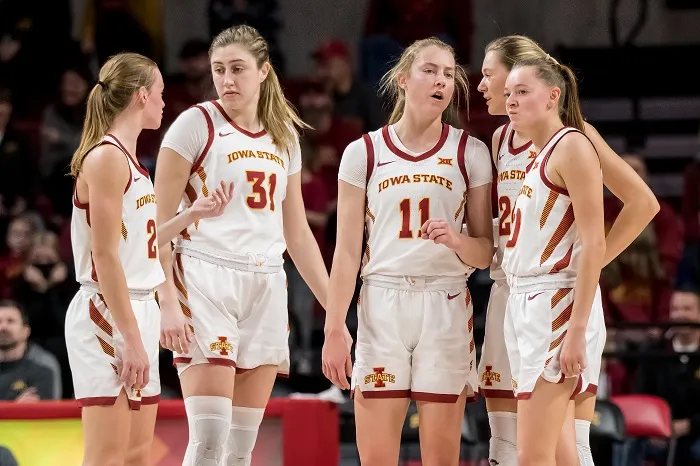 Right now, the Big 12 Conference has nine of its 10 women's basketball teams among the Top 80 teams in NCAA NET Rating, the tool used to select the NCAA Tournament field.
Last year the Big 12 sent six women's teams to the field and all six won their first-round game, with Texas making it as far as the Elite Eight. Can the Big 12 do better this season?
I took time diving into data for the past five 'normal seasons.' That's last season (2021-22) and the four before COVID-19 forced the cancellation of the 2020 NCAA Tournament (2015-16 through 2018-19).
I wanted to test the same theory that I did for the men's teams earlier this week — whether a team's non-conference record has a correlation to its ability to make the postseason. In a league as difficult as the Big 12, a double-digit non-conference start before league play gives you a good head start.
Based on the data, I'm projecting each Big 12 team's chances of making the postseason. The projections are based on the following criteria:
Teams that win 10 or more games in non-conference make it to the NCAA Tournament 85 percent of the time if they win at least 20 games by the Big 12 Tournament;
Teams that win 10 or more games in non-conference, but don't have 20 or more wins by the Big 12 Tournament make it to the postseason (NCAA or NIT);
Teams that win nine or fewer games in non-conference make the postseason less than 50 percent of the time (and you'd better believe there's a clear line of demarcation).
Ready? Here we go. Below is each team, their history, how many wins they need before the Big 12 Tournament to get to 20 wins, and my prediction based on all the data.
BAYLOR (11)
Baylor went 9-3 in Big 12 play. Remember that 'line of demarcation' that I mentioned? Well, this is it. Teams that win nine non-conference games and finish the season better than .500 go to the postseason. The ones that fail to do that, don't. Baylor has reached the postseason every year in the five-year sample and won at least 15 Big 12 games. The Bears only need 11 to lock it up. History, both Big 12 and Baylor, says they're in. NCAA, WNIT or Nothing — NCAA
IOWA STATE (12)
Like Baylor, Iowa State is below the 10-win mark. But the Cyclones only have eight wins, the result of seeing its last game canceled due to weather. The history of teams that win eight or fewer games in non-conference isn't super. There are 13 of them. One reached the NCAA Tournament (that was Oklahoma in 2017-18, which went 5-6 in non-con, 11-7 in Big 12, and squeezed into the Dance) and one reached the WNIT (Kansas State in 2017-18 with an 8-3 non-league mark). ISU's history here is interesting, too. The Cyclones have fallen short of 10 wins in non-con three times. Twice they missed the postseason and once they reached the NCAAs, starting 9-2 in 2016-17. There's data and then there's the eye test. Iowa State will be the second team with eight or fewer non-conference wins to reach the NCAA Tournament. Sometimes, there are outliers. NCAA, WNIT or Nothing — NCAA
KANSAS – (10)
Kansas (10-1) needs to win 10 league games to be assured of a postseason berth. The only time the Jayhawks made the postseason in the five-year sample was last season, and they didn't even reach 10 wins in non-conference. They were 9-1. But, the Jayhawks adhered to the rules — they won 20 games before Kansas City and went to the NCAAs. NCAA, WNIT or Nothing — NCAA
KANSAS STATE – (9)
Kansas State (11-1) has a significant head start on the field. The data suggest the Wildcats only need nine league wins for a postseason invite. For the record, eight teams in the sample had at least 11 wins before Big 12 action. All went to the Big Dance. NCAA, WNIT or Nothing — NCAA
OKLAHOMA – (10)
Oklahoma (10-1) was one of those previous 11-win teams that reached the Tournament, which was last season. Aside from the one season they didn't make postseason play at all, they reached the NCAAs with five, nine, and nine wins in non-conference. In the four seasons that the Sooners went to the postseason, they won at least 11 league games. Book it. NCAA, WNIT or Nothing — NCAA
OKLAHOMA STATE – (10)
Oklahoma State (10-2) is the first team on the list that didn't go to any postseason action last season. But with 10 league wins, the Cowgirls fit the profile of a postseason team. The question is NCAA or NIT? So let's look at the three teams that won 10 or more and got dissed, so to speak, by the NCAA. That would be TCU in 2018-19 (10 wins in non-con, 10-8 in Big 12), West Virginia in 2017-18 (12 wins in non-con, 8-10 in Big 12), and Oklahoma State in 2016-17 (10 wins in non-con, 6-10 in Big 12). Between the three that's an average of eight wins in league action. That likely won't cut it for the Cowgirls. They'll need to count to 10, and even then that isn't quite a guarantee. NCAA, WNIT or Nothing — WNIT
TCU — (14)
TCU (6-5) has a steep climb to get into any sort of postseason. The Horned Frogs need 14 wins to get to 20 wins before Kansas City, and that seems out of reach. So, what are the fewest wins a team has had before Kansas City to reach postseason play? Say hello to Kansas State, which in 2017-18 was just 15-14 going into Kansas City and made the WNIT. The Wildcats won a game in KC and went three games deep into the WNIT. By that math, the Horned Frogs need nine league wins. The Horned Frogs won two league games last season. As I said, steep climb. NCAA, WNIT or Nothing — Nothing
TEXAS — (11)
Texas (9-4) is on a six-game winning streak after a rough start to the season. The Longhorns made the NCAA Tournament in each of the five sample seasons. Historically, it doesn't matter if the Longhorns win nine games (as they did a year ago) or six games (as they did in 2016-17) before league action, they find a way to get in. Why? Texas has won no fewer than 12 league games in those five sampled seasons. If Texas reaches its historical minimum in Big 12 play, it will be just fine. NCAA, WNIT or Nothing — NCAA
TEXAS TECH — (8)
The Lady Raiders (12-1) are the most intriguing team to project. On paper, they're a historical lock for the NCAAs. Three sampled teams had 12 or more wins before league play and all reached the NCAA Tournament. Here's the 'but.' The Lady Raiders are the only team that hasn't been to any postseason play in the five-year sample. In the sampled seasons, Tech has averaged 7.8 non-league wins and 3.4 Big 12 wins. Tech's high win total in the sample before KC is 13. The Lady Raiders are one win AWAY from that right now. All the data suggests that Tech will surpass the five-year sample and reach the postseason. Two of the three WNIT teams that won at least 10 games in non-con reached 20 by the Big 12 Tournament. I think for Tech to guarantee an NCAA berth it needs one MORE win than that. Can the Lady Raiders get nine? We explored those factors earlier. It'll be close. NCAA, WNIT or Nothing — NCAA
WEST VIRGINIA – (11)
The Mountaineers (9-2) would have benefited from a 12th non-conference game, but they just weren't able to schedule one. We've explored what happens to teams that win nine or more games in the non-conference season. Those teams get to some kind of postseason. The Mountaineers are pointed in the right direction. I'm just not certain they can collect 11 Big 12 wins. NCAA, WNIT or Nothing — WNIT
You can find Matthew Postins on Twitter @PostinsPostcard