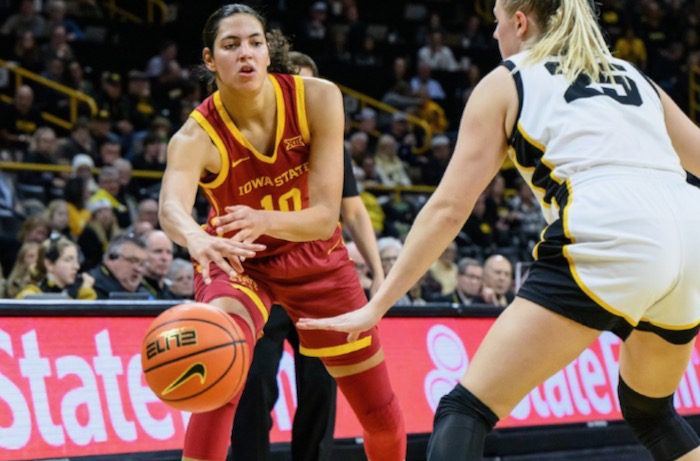 Iowa State center Stephanie Soares was taken by the Washington Mystics with the fourth overall pick of the 2023 WNBA Draft, but then promptly traded to the Dallas Wings on Monday night. And so her journey will now continue in Big 12 country.
Just prior to the news that she's headed to Dallas, she stopped by with ESPN reporter Holly Rowe to give her overall thoughts on making it to this point.
"I think a lot of it was the people surrounding me," Soares said. "The helped me grow as an individual and as a player, and they just helped me every step of the way and in every journey and in every venture I had."
Soares was one of two Cyclones invited to attend the WNBA Draft. The other was guard/forward Ashley Joens, who just wrapped up five seasons and became Iowa State's all-time leading scorer and rebounder.
A senior from Sao Paulo, Brazil, Soares joined the Cyclones last summer after four years at The Master's University at the NAIA level. In 13 games for Iowa State prior to tearing her ACL in early January at Oklahoma, she averaged 14.4 points, 9.9 rebounds and 3.0 blocks per game. Soares recorded eight double-doubles and was shooting it at a 54.4% clip from the field.
She opened the season with a bang, notching an electric one of those double-doubles of 15 points and 14 rebounds against Cleveland State on Nov. 7. A couple of her other highlights featured 23 points, 11 rebounds and a career-best six blocks against Michigan State at the Phil Knight Invitational on Nov. 24 and the sixth 20-rebound game in Iowa State history on Jan. 4 against West Virginia.
Soares appealed for an extra year of eligibility, but the NCAA has denied her waiver. So, she promptly entered the 2023 WNBA Draft, where she was set to be a very high pick.
"It is disappointing that my time with Iowa State women's basketball has come to an end," Soares started in a statement via the team's Twitter account. "Thank you to the Iowa State coaching staff and the Iowa State compliance staff on their effort during the waiver process. I want to again thank my teammates, coaches, doctors, athletic training staff and Iowa State fans for all their support and encouraging words throughout the past few months. Though I was unable to be on the court with you, we will always be Big 12 Champions! My time in Ames was brief, but I will always be a Cyclone!
"I have always had my family and God at my side during challenging times, and that is not changing. With the strength God gives me, I look forward to continuing the rehab process, going through the WNBA Draft process and returning to the basketball court when the time is right."
Soares joins a group of more than a dozen Cyclones taken in the WNBA Draft, dating back to 2000. But, for the time being, there's only two Cyclones to be taken in the first round and she's the second, joining Alison Lacey, who was taken No. 10 overall in 2010 by the Seattle Storm. At the time, Lacey was the only player in ISU history and the seventh player in Big 12 history to record 1,500 points, 500 rebounds and 500 assists in a career.
Other Cyclones drafted include Desirée Francis (2000, 2nd Round, 29th Overall, New York Liberty), Stacy Frese (2000, 3rd Round, 35th Overall, Utah Starzz), Megan Taylor (2001, 4th Round, 55th Overall, Minnesota Lynx), Angie Welle, (2002, 2nd Round, 31st Overall, Cleveland Rockers), Tracy Gahan (2002, 3rd Round, 46th Overall, Cleveland Rockers), Lindsey Wilson (2003, 3rd Round, 34th Overall, Connecticut Sun), Anne O'Neil (2005, 3rd Round, 30th Overall, Sacramento Monarchs), Lyndsey Medders (2007, 2nd Round, 22nd Overall, Indiana Fever), Kelsey Bolte (2011, 3rd Round, 32nd Overall – Atlanta Dream), Chelsea Poppens (2013, 2nd Round, 18th Overall, Seattle Storm), Anne Prins (2013, 2nd Round, 23rd Overall, Connecticut Sun), Nikki Moody (2015, 3rd Round, 33rd Overall, San Antonio Stars) and Bridget Carleton (2019, 2nd Round, 21st Overall, Connecticut Sun).