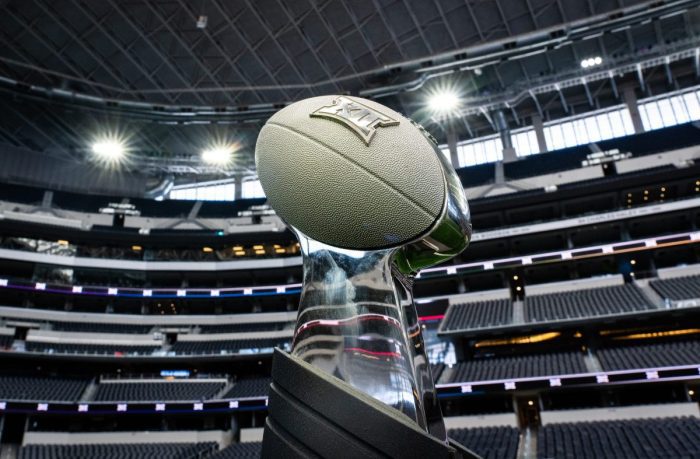 "You know I'm a dreamer, but my heart's of gold."
The words from Motley Crue ring true for many of us heading into the 2023 college football season, as fans across the country feel that this could be their year. Yes, at 0-0, almost everyone in the country is looking at the potential of their team and feels really good about it.
Today, we will help feed those dreams for Big 12 fans, as we talk about the best-case scenario for each team in the conference in 2023. When we say "best case," we mean everything goes perfectly. Everyone stays healthy, new coordinators come in and transition seamlessly, and the quarterback lives up to the hype.
Here's the best-case record for every Big 12 team in 2023.
Texas Longhorns
Best-Case Record: 12-0
If Quinn Ewers lives up to the hype and the Longhorns are elite at the line of scrimmage, this team is capable of making a run to the College Football Playoff. With one of the best rosters in all of college football, Texas has as high a ceiling as anyone in the Big 12 heading into 2023. The best-case scenario for Texas in 2023 is to end the year as the Big 12 champion and play themselves into a national title game.
Oklahoma Sooners
Best-Case Record: 11-1
If Brent Venables hits on all the transfer portal additions and the OU defense takes big strides, Oklahoma is capable of going 11-1 in 2023. The schedule is arguably the easiest in the Big 12, and aside from the game against Texas, the Sooners should be favored against every opponent. A Big 12 Championship and CFP berth is the best case for OU, but getting a win there might be a different story. While 11-1 is in the picture, I'm not ready to crown this team capable of beating teams like Georgia and Alabama just yet.
Kansas State Wildcats
Best-Case Record: 11-1
K-State's offensive line returns as dominant as ever and Will Howard is the Big 12 Offensive Player of the Year with a well-balanced attack from Collin Klein. The defense proves to be schematically strong as the Wildcats replace their stars without losing any production, and helps lead them to a second consecutive Big 12 Championship. With that, K-State also gets into its first-ever College Football Playoff but could find itself a major underdog against teams like Georgia or Ohio State.
TCU Horned Frogs
Best-Case Record: 10-2
TCU quickly forgets that it needed to replace several NFL draft picks, as the transfer portal fill-ins fit perfectly. Kendall Briles spread/zone fits seamlessly into what Sonny Dykes wants to do offensively, and Chandler Morris is exactly what Horned Frogs' fans had hoped. An experienced back-seven leads yet another stingy defense and TCU finds itself back in the Big 12 Championship game, with Sonny Dykes solidified as one of the top coaches in the sport.
Oklahoma State Cowboys
Best-Case Record: 10-2
Mike Gundy's track record of exceeding expectations in perceived down years continues as Oklahoma State's offense rediscovers itself under a true gunslinger in Alan Bowman. While staying fully healthy, a return to the Big 12 turns Bowman into the story of the year in the conference as the Cowboys run through a favorable schedule mostly unscathed. After being picked in the middle of the pack following a portal exodus, Oklahoma State finds itself in the Big 12 championship for the second time in three years.
Texas Tech Red Raiders
Best-Case Record: 10-2
Perhaps the biggest reason for Tech's best-case scenario is Tyler Shough's health. Finally staying healthy for a full season, Shough runs a high-powered Zach Kittley offense to perfection, becoming one of the top passers in the country. On the other side of the ball, the Red Raiders' D-Line leads a better-than-expected unit that gives opponents issues all season. At 10-2, Tech finds itself in the Big 12 Championship for the first time, and walks out of Arlington with its first conference crown and a New Year's Six Bowl bid as a top eight team in the country.
Baylor Bears
Best-Case Record: 10-2
Dave Aranda returning to the scheme he ran at LSU pays immediate dividends as the Bears become a defensive juggernaut in the Big 12 once again. Additionally, Blake Shapen develops into a more consistent signal-caller and looks more like the player we saw in the first half of the 2021 Big 12 Championship game. Despite a tough schedule, the Bears find themselves with double-digit wins and in the Big 12 Championship for the second time in three years.
UCF Knights
Best-Case Record: 9-3
A step-up to the Big 12 proves nothing more than a speedbump as UCF quickly establishes itself as a contender in their new conference. Despite taking a couple of losses from the conference's top teams, UCF finds itself right in the thick of the Big 12 race at season's end. John Rhys Plumlee has the best statistical season of his career, and the Knights get even hotter on the recruiting trail as they start to look like one of, if not the premiere team in the league going forward.
BYU Cougars
Best-Case Record: 9-3
While it's not what folks in Provo were hoping for in Year 1 of the Big 12, BYU's step up in competition doesn't knock Kalani Sitake's team off their path. Kedon Slovis recaptures the success he found early in his career at USC, and the Cougars offense gives the defense time to work things out under new leadership. With grit and toughness at the center of its success, BYU out-physicals the majority of the teams on its schedule and finishes inside the top three of the conference standings.
Kansas Jayhawks
Best-Case Record: 8-4
KU quarterback Jalon Daniels stays healthy and proves so lethal that a subpar defense doesn't cost the Jayhawks in most cases. With one of the best offenses in the country, KU regularly lights up the scoreboard and posts its best record in 15 years, with an 8-4 mark. Although they aren't in the Big 12 Championship game, the Jayhawks program has as much momentum as its had in years, and the Lance Leipold fan base grows even bigger.
West Virginia Mountaineers
Best-Case Record: 8-4
Despite an absolutely brutal slate to begin the season, West Virginia reaches its bye week with a 3-2 mark, and has a more manageable schedule on the back end. Garrett Greene leads the Mountaineers to wins in five of their last seven games and West Virginia goes bowling after being picked to finish dead last in the league. After navigating one of the nation's toughest schedules, Neal Brown reinforces the support from his athletic department and saves his job, which seemed all but lost.
Houston Cougars
Best-Case Record: 7-5
Although they were expected to finish as one of the bottom two teams in the league, Houston's defense returns to its 2021 form with strong play from the defensive line and improved play in the back seven. Donovan Smith realizes his potential and has flashes of great play under Dana Holgorsen, leading them to a nearly unscathed record at home. Houston goes bowling in its first year in the Big 12, and proves to be an up-and-coming contender in the Big 12 going forward.
Cincinnati Bearcats
Best-Case Record: 7-5
Despite a crazy amount of roster turnover, Cincinnati puts things together in its first and can lean on two things for consistent success: elite defensive line play and an a do-it-all quarterback. With Emory Jones making plays with both his arm and his legs, the Bearcats are able to score enough points to let their defense win games. Vastly over-exceeding expectations in Year 1, Scott Satterfield proves that he was the right hire to replace one of the best coaches in Cincinnati history.
Iowa State Cyclones
Best-Case Record: 6-6
Despite losing their top passing, rushing, and receiving option from a season ago, Iowa State's offense finds a way to score some points with JJ Kohl emerging as a future difference-maker at quarterback. The Cyclones' defense continues to be at or near the top of the Big 12, thanks to another incredible job by Jon Heacock, and Iowa State holds opposing offenses to season-lows regularly. With a few upsets, Matt Campbell is able to get ISU to a bowl game and avoids a complete meltdown despite all the distractions around the program.