Baylor Bears
Baylor Women's Basketball 2023-24 Basketball Schedule Analysis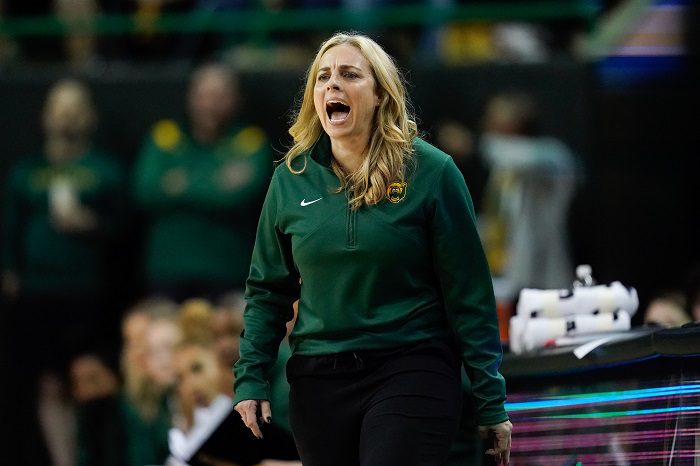 The 2023-24 Baylor women's basketball schedule is complete and here is an analysis of the entire schedule as basketball season nears.
Season Opener
The Bears will host Hardin-Simmons in an exhibition game on Nov. 3. But the season opener is set for Nov. 6 against Southern at the Ferrell Center.
West Palm Vacation
The Bears save their multi-team event for late in non-conference, as they'll head to the West Palm Beach Classic in Florida Dec. 20-21. Their opponents will be Providence and South Florida.
Best Non-Con Game
It has to be their second game of the year. The Bears host Utah on Nov. 14. The Utes shared the Pac-12 title last year and made a solid NCAA Tournament run. Oh, and the Ute join the Big 12 next year.
Mid-Major Danger Game
The Harvard game seems like the most dangerous for the Bears, as they host the Crimson on Nov. 19. Harvard won 20 games last season.
Big 12 Opener
Naturally, it's the two standard-bearers for the conference, as Texas hosts Baylor on Dec. 30 at the Moody Center.
Big 12 Home Opener
The Bears host TCU on Jan. 3. It will also serve as the first women's game at the new Foster Pavilion.
Brutal Big 12 Stretch
The Bears' five-game stretch that starts on Feb. 10 is interesting. They start with a home game against West Virginia. Following that is a road trip to Oklahoma, a home game with Texas Tech, a home game with Kansas and a road trip to West Virginia on Feb. 24. This is a stretch that could define Baylor's Big 12 Tournament seeding.
What Should Happen?
The Bears should continue to be a NCAA Tournament team and should have a bounce-back season with the returns of forwards Aijha Blackwell and Dre'Una Edwards, along with a talented transfer class that includes forward Madison Bartley. Guard Sarah Andrews also returns. The Bears haven't missed an NCAA Tournament in a non-COVID season since 2003. But, the standard is higher than that, and the Bears have lost in the second round in each of Nicki Collen's first two seasons as coach.
2023-24 Baylor Women's Basketball Schedule
Nov. 6 vs. Southern, 7 p.m.
Nov. 14 vs. Utah, 6:30 p.m.
Nov. 19 vs. Harvard, 1 p.m.
Nov. 24 vs. McNeese, 2 p.m.
Nov. 26 vs. Alcorn, 2 p.m.
Nov. 30 at SMU, 7 p.m.
Dec. 3 vs. Oregon, 1 p.m.
Dec. 14 vs. Delaware State, 11 a.m.
Dec. 16 vs. Miami (FL)@, 4 p.m.
Dec. 20 vs. Providence#, 2:30 p.m.
Dec. 21 vs. South Florida#, 2:30 p.m.
Dec. 30 at Texas*, 1 p.m.
Jan. 3 vs. TCU*, 7 p.m.
Jan. 6 vs. Houston*, 2 p.m.
Jan. 10 at Kansas*, 6:30 p.m.
Jan. 13 at Iowa State*, noon
Jan. 20 vs. UCF*, 2 p.m.
Jan. 22 vs. Kansas State*, 7:30 p.m.
Jan. 28 at Oklahoma State*, 1 p.m.
Feb. 1 vs. Texas*, 7:30 p.m.
Feb. 4 at Houston*, 2 p.m.
Feb. 7 at BYU*, TBA
Feb. 10 vs. West Virginia*, 2 p.m.
Feb. 14 at Oklahoma*, 6 p.m.
Feb. 18 vs. Texas Tech*, 3 p.m.
Feb. 21 vs. Kansas*, 7 p.m.
Feb. 24 at West Virginia*, 1 p.m.
Feb. 27 at Cincinnati*, 5 p.m.
March 3 vs. Oklahoma State*, 11 a.m.
Bold denotes home games; @-at AT&T Center, San Antonio, Texas (Hall of Fame Series); #-West Palm Beach Classic, West Palm Beach, Fla.; *-Big 12 games; Note: Home games in November and December at the Ferrell Center; Home games in 2024 expected to be played at Foster Pavilion. All times central. Big 12 Women's Tournament begins on March 7 in Kansas City.