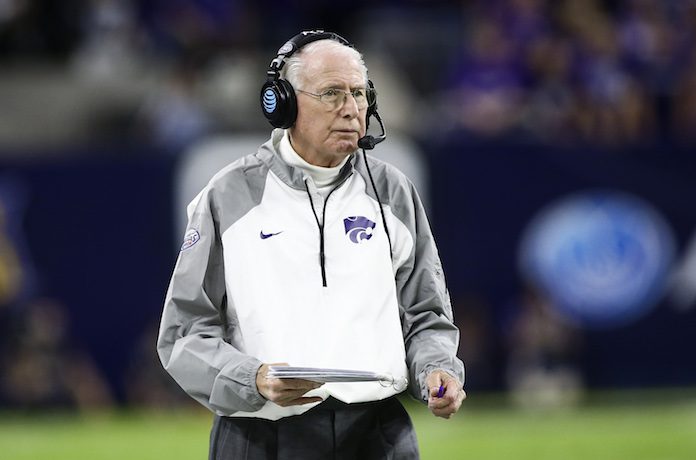 It was another Saturday where all those qualities that Bill Snyder had built his program on did not go as planned for the Kansas State Wildcats.

The drive that could epitomize this Kansas State season came in the second quarter. Kansas State's defense forced TCU into a three and out deep in their own territory, which led the Wildcats to begin their drive at the TCU 40-yard line. Two plays later, Alex Delton hooked up with Byron Pringle for a 33-yard strike and the Wildcats, who were trailing 10-0, were knocking on the door of getting on the scoreboard.
But then it all fell apart. A false start on Byron Pringle pushed Kansas State back to the TCU 10-yard line. That play was followed by a Delton fumble, which was luckily recovered by teammate Winston Dimel. On the next play, Kansas State appeared to score a touchdown on a pass from Delton to Pringle, but the score was taken off the board due to a pass interference call against the Wildcats. And on a third and goal from TCU's 26-yard line, Delton fumbled and this time it was recovered by TCU.
That's the kind of season it's been for Bill Snyder's Wildcats.

After the game the legendary head coach admitted it's been a tough go of it, saying, "There are some things that I need to get straightened out. I appreciate the fact that they wanted to win, they gave a good effort, there are just some things that are not taking place, that falls in my lap."
These issues date back to the Wildcats' trip to Nashville where they were hampered by penalties and turnovers against Vanderbilt. On Saturday, the box score doesn't tell the whole story, as the Wildcats had fewer penalties than TCU, five for 38 yards, but the ones they had were costly (see above).
Also, the Wildcats were 0 for 8 on third downs in the first half, while finishing 2 of 15 for the game. For the season, Kansas State is last in the Big 12 conference completing just 29.6% of their third-down attempts.
Against TCU, some of that was the fault of having a back up quarterback, Delton, in the game, but not all of it. There was Byron Pringle who mistimed one of Delton's deep balls in the first half, which was well thrown and would have resulted in six points. There was a drop from Dalton Schoen that would have moved the chains.
No, Delton wasn't perfect, but the sophomore certainly didn't get the help he needed to have success against a great TCU defense.

Senior offensive lineman Dalton Risner is trying to figure out what's wrong with his offense, saying, "I cannot put a finger on it. As an offensive linemen, I will say it starts up front. We have to do things better as an offensive line. There are mistakes all across the board. It is about getting the offense moving forward. I wish I could tell you everything that went wrong but every play there is something we have to fix."
He's certainly right about the offensive line needed to step up. The Kansas State offensive line was consistently getting beaten by three or four TCU defenders, which allowed their back seven to drop back in coverage and give Delton and the Kansas State receivers an even tougher time.
Fellow K-State lineman Abdul Beecham was a little more blunt, adding, "It is very disappointing, no matter who we are playing, to not find the endzone in the game. We obviously came out flat and with no life. We have to keep pushing along and get better next week."
Unfortunately, there have been too many times when Kansas State has been flat this season. And with the Oklahoma Sooners coming to town this week, the Wildcats better "get better next week."