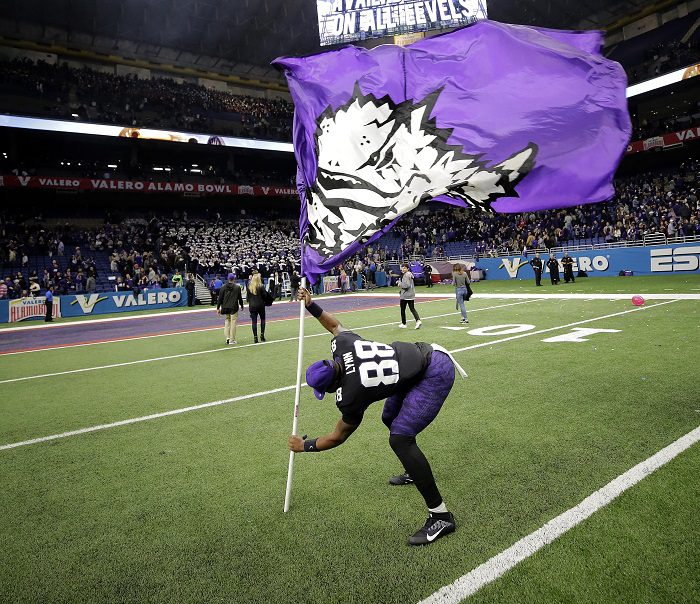 I hear it all the time, "Who has the best conference in college football?" SEC? Big 10? ACC? What about the Pac-12? Very rarely are you going to hear the words "Big 12" coming out of someone's mouth in that conversation. Whether you do it or not, there are plenty of folks out there who love to bash the Big 12 conference (cough, Paul Finebaum, cough). My, how the tables have turned in the Big 12. After an 0-2 start to bowl season, the Big 12 has now found itself with a 4-2 record after 6 games. While there still are 2 more games left, let's give TCU some credit here for the 39-37 win over Stanford in the Alamo Bowl. It was a hard-fought game and a "slobber knocker" (old school wrestling fans will understand that phrase) type finish. It wasn't always pretty, but in the end TCU finished the game exactly how they wanted to, with a victory. Now, everything isn't exactly sunshine and rainbows in this article, so I present to you, the good, bad and the ugly. As a common courtesy, if you don't like this article, please have a few of your favorite alcoholic beverages and get back with me.
The Good
Sweet Victory
As Herm Edwards once said, "You play to win the game." Just because he is coaching at Arizona State now (No way that will fail right?), that doesn't devalue what he said years ago. It is absolutely 110% the truth. Were there bumps and bruises in this game for TCU? Absolutely, but at the end of the day, this team found a way to win. Speaking of winning, this TCU program has won at least 11 games in 3 of its last 4 seasons. It is remarkable to think about because the Horned Frogs made the jump from the Mountain West Conference to the Big 12 back in the 2012 season. I can't brag about this program without mentioning head coach Gary Patterson, who has been without a doubt one of the best coaches in the country. When you have a man like Gary Patterson leading your program, success is easy to come by. Now in the grand scheme of things, this puts the Big 12 at a 4-2 bowl record so far and I can already hear the Big 12 haters start to whine. This game was a great launching pad for the next two Big 12 games coming up. If Iowa State and Oklahoma win, somebody will need to check Paul Finebaum's pulse.
The Bad
Losing a Great Group of Seniors
It happens every year at the end of a college football season. Players come and go and when you're a senior, the bowl game is the last time your going to put on your uniform. On offense they will lose key players such as C Patrick Morris, OG Matt Schlottmann, OG Matt Pryor, OT Joseph Noteboom, QB Kenny Hill, RB Kyle Hicks, WRs John Diarse and Desmon White. On defense they will lose players like S Nick Orr, DE Matt Boesen, LB Travin Howard and CB Ranthony Texada. Those are some quality pieces that won't be coming back next season, but man, this class will finish with a record of 40-13 (2014-2017). I am sure that many TCU fans won't forget just how special this class was and what they accomplished during their time at TCU.
The Ugly
The First 23 Minutes
I'll be the first to admit, I had my doubts about TCU at times during this game. Especially about midway in the second quarter when Stanford went up 21-3. In Stanford's first six drives, they were able to score three touchdowns. Now one of those touchdowns was aided by a poorly thrown ball by Kenny Hill where he tried to throw across his body while rolling out to the right. Instead of finding his receiver, he found a Stanford DB who took it back the TCU 23-yard line. On offense, TCU did nothing to make me think that they were even remotely capable of making a comeback in this game. But, of course as soon as I though that, TCU made me feel stupid as they clawed their way right back into the game. Why did I think this? Because the Horned Frogs first five drives went like this, turnover on downs, interception, made FG and two punts. But seriously, can you blame me after seeing that?