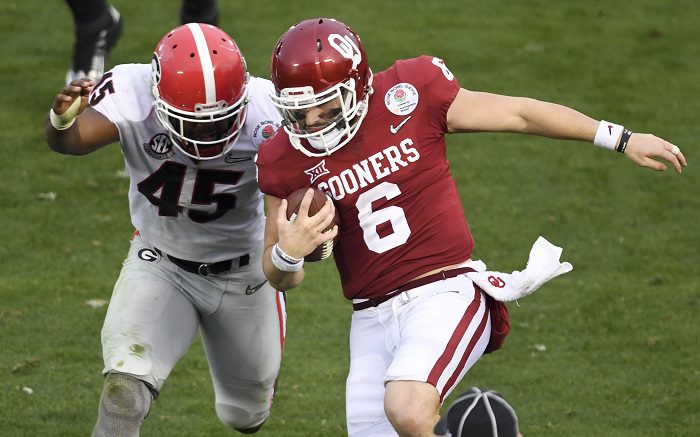 I hear it all the time, "Who has the best conference in college football?" SEC? Big 10? ACC? What about the Pac-12? Very rarely are you going to hear the words "Big 12" coming out of someone's mouth in that conversation. Whether you do it or not, there are plenty of folks out there who love to bash the Big 12 conference (cough, Paul Finebaum, cough). Welp, the haters got more ammunition on Monday night. The Big 12 season comes to a disappointing end as Oklahoma blew a 17-point first half lead to lose to the Georgia Bulldogs 54-48 in the College Football Playoff semifinal in the Rose Bowl. It was the kind of game that will give the most diehard Oklahoma fan a heart attack. That one will sting. But it's a game that fans will remember for years to come, for better or for worse. So without further ado, grab a beer and enjoy our good, bad and ugly of the Sooners' Rose Bowl loss.
The Good
The first half
I'm not going to say I thought it was over. I never thought that because of what Georgia presented in the running game. But how could you not see how red hot Oklahoma was in the opening two quarters and not wonder, "can Georgia really stop this?" At halftime, the Sooners had 360 total yards, 202 passing and 158 through the air. They were averaging 10.6 yards per pass and over seven yards per carry. Their first four drives went: Touchdown, touchdown, touchdown, field goal. It was a thing of beauty watching this offense operate and it made Big 12 fans proud across the country. Unfortunately, the second half was a completely different story. There's much more on that coming up below.
ESPN Film Room
I flipped back and forth between the main ESPN broadcast with Chris Fowler (who is no Brent Musburger) and Kirk Herbstreit and the ESPN Film Room on ESPN News that had two Big 12 coaches involved with TCU's Gary Patterson and West Virginia's Dana Holgorsen. Patterson is a freakin' genius and a star. If he was at a blue blood program, he'd be one of the most popular head coaches in the country and would be far more appreciated by the national media. We are glad he is at TCU and in the Big 12, because we know how good he is. But getting to see his wheels turn and watch this game with him was fun. I'd pay a pretty penny to sit in a bar and share a few beers while talking pigskin with Gary Patterson. Dana Holgorsen was solid, but maybe he was just overshadowed by Patterson. Frankly, Patterson overshadowed the entire room, which also included Larry Fedora (North Carolina), Dino Babers (Syracuse), Major Applewhite (Houston) and Bret Beilema (unemployed). It's also easy to appreciate these guys even more when you watch them in their element. It's also no wonder a guy like Beilema couldn't hack it at Arkansas.
The Bad
Lincoln Riley
Before halftime there was the squib kick which resulted in three huge points in favor of Georgia. I didn't think it was an awful call, but it seems like Lincoln Riley outsmarted himself there. It just didn't seem necessary. Then let's go to the second to last drive of regulation on a 3rd and short there was the messed up pitch play to Rodney Anderson which didn't work. Then, the play call on 3rd and 2 in the final minute of regulation by Riley was odd. A tough wheel route throw to Rodney Anderson? Just try to run and get the first down, clock stops, and keep it humming. That's a low percentage throw in that spot. Also, the first overtime 3rd and short play call and pitch to Jordan Smallwood, who hadn't touched the ball all game long? Why? And you're trying to out-physical the Bulldogs with a guy who hasn't been involved all night long. I didn't get it.
The fact that this Sooners offense can score 31 points in the first half and a total of seven in the second half means Kirby Smart made the proper adjustments and Riley couldn't re-adjust. Georgia played mostly man defense in the second half and Riley was trying trick plays to get around it. Lincoln Riley had a helluva first season as a head coach and this is no indictment on what he did this season, but the reality of what happened in the second half: Lincoln Riley got outcoached.
Oklahoma defensive line
The blown sack by D.J. Ward, who had a free shot at Georgia QB Jake Fromm in the final two minutes, but missed the QB, led to a big gain to Sony Michel. That drive obviously resulted in the game-tying touchdown. OU didn't get much pressure at all in the backfield, which helped its running game (9.3 YPC, more on that below), and gave a true freshman quarterback, Jake Fromm, plenty of time to operate and make a lot of solid throws. Oklahoma ended up having to bring pressure, which then made OU's secondary somewhat vulnerable against the bigger Georgia wide receivers. We knew OU didn't have the big horses up front on the defensive line like Georgia has, or even like OU had a decade ago, but these guys were generally pushed around all night long.
No more Baker Mayfield
Love him or hate him, you cared about him. He was cocky, he was brash and he was a helluva football player that will go down in Oklahoma and Big 12 lore. What his NFL future is can be debated, but he was good for the Big 12. Why? Because he was talked about. And it wasn't usually for off-field nonsense (outside of that little issue in Arkansas). He was exciting and the kind of player that comes around once a decade, if that. The fact that he's no longer a part of college football gives us all one less thing to talk about and debate. That sucks.
The Ugly
Run Defense
By no means did I expect Oklahoma to shut down the Georgia running game but my goodness, this was hard to watch. The Sooners gave up 317 rushing yards to the Bulldogs (Mostly Nick Chubb & Sony Michel) as Georgia averaged 9.3 yards per carry. At times it was baffling to see how out of position and the holes in the defense the Georgia backs were able to run through. Don't get me wrong Georgia has an excellent trio of running backs, but Oklahoma didn't do anything to stop them for nearly the entire game. There is no doubt that this needs to be an area of focus heading into next season.
The Third Quarter
Talk about a swing of momentum, Georgia dominated that third quarter. The Bulldogs outscored the Sooners 14-0 in the third quarter before eventually taking the lead in the fourth. Oklahoma had a total of four drives in the fourth quarter and they went like this: three punts and an interception. To break it down even more, three of the four drives lasted a total of three plays. The bottom line in the third quarter is that Oklahoma had a total of 29 yards and gave up two touchdowns. We are not used to seeing that from this high-powered offense, but give the Georgia defense credit for really buckling down.
*"The Ugly" written by HCS reporter/columnist Derek Duke