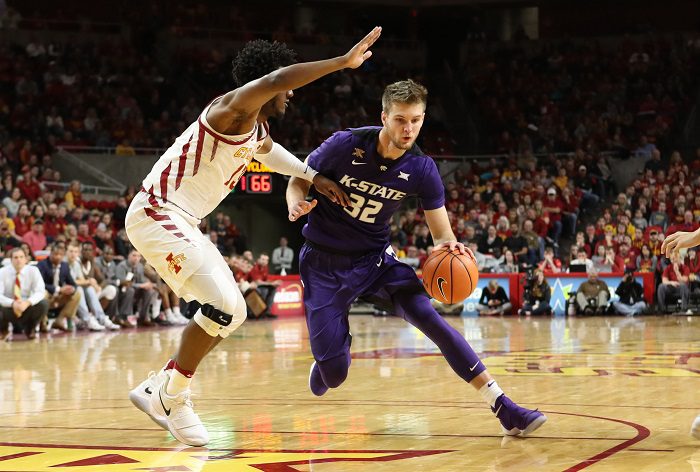 With eighteen games on the Big 12 men's basketball slate we'll break down each set of games upon completion. Today it's a review of the first set of games in the Big 12 Conference, played on Dec. 29-30 (rankings in parenthesis in standings are AP/USA Today Coaches Poll).
| | | |
| --- | --- | --- |
| BIG 12 STANDINGS | Conf. | All |
| Texas Tech (22/21) | 1-0 | 12-1 |
| West Virginia (7/7) | 1-0 | 12-1 |
| Oklahoma (12/12) | 1-0 | 11-1 |
| Kansas (11/11) | 1-0 | 11-2 |
| Kansas State | 1-0 | 11-2 |
| TCU (10/8) | 0-1 | 12-1 |
| Baylor (18/17) | 0-1 | 10-3 |
| Oklahoma State | 0-1 | 10-3 |
| Iowa State | 0-1 | 9-3 |
| Texas | 0-1 | 9-4 |
Results
Friday, Dec. 29
West Virginia 85, Oklahoma State 79
Texas Tech 77, Baylor 53
Kansas 92, Texas 86
Kansas State 91, Iowa State 75
Saturday, Dec. 30
Oklahoma 90, TCU 89
NEXT GAMES (all times CST)
Monday, Jan. 1
West Virginia at Kansas State, 4 p.m. (ESPNU)
Texas at Iowa State, 6 p.m. (ESPNU)
Tuesday, Jan. 2
TCU at Baylor, 6 p.m. (ESPNNews)
Texas Tech at Kansas, 8 p.m. (ESPN)
Wednesday, Jan. 3
Oklahoma State at Oklahoma, 8 p.m. (ESPNU)
Superlatives
20-point games: 39 — Trae Young (Oklahoma); 34 — Dean Wade (Kansas State); 23 — Lindell Wigginton (Iowa State), Devonte' Graham (Kansas), Kamau Stokes (KSU); 22 — Mo Bamba (Texas), Kameron McGusty (OU), Kenrich Williams (TCU); 21 — LaGerald Vick (KU), Barry Brown (KSU); 20 — Sviatoslav Mykhailiuk (KU).
10-rebound games: 15 — Mo Bamba (Texas), 13 — Udoka Azubuike (KU), Brady Manek (OU).
5-assist games: 14 — Trae Young (OU); 8 — Devonte' Graham (KU); 7 — Kamau Stokes (KSU), Alex Robinson (TCU), Jevon Carter (West Virginia); 6 — Kenrich Williams (TCU); 5 — Matt Coleman (Texas), Niem Stevenson (Texas Tech) Daxter Miles Jr. (WV)
4-block games: 8 — Mo Bamba (Texas); 5 — Khadeem Lattin (OU); 4 — Jamuni McNeace (OU)
4-steal games: 5 — Jevon Carter (WV); 4 — Jeffrey Carroll (Oklahoma State), Lindy Waters III (OSU), Kenrich Williams (TCU)
Double-doubles: Udoka Azubuike (KU), 13 points, 13 rebounds; Trae Young (OU), 39 points, 14 assists; Mo Bamba (Texas), 22 points, 15 rebounds
The Starting Five
Mo Bamba (Texas): 22 points, 15 rebounds and 8 blocks represents the best line for any inside player in the Big 12 on opening weekend.
Devonte' Graham (Kansas): Kansas needed 3-pointers to win this one, and Graham hit six of them en route to 23 points, 8 assists and 5 rebounds.
Dean Wade (Kansas State): Wade scored nearly as many points in the second half (16) as he did in the first half (18) on his way to 34 points on 81 percent shooting from the floor.
Kenrich Williams (TCU): Williams had one of the most balanced lines in the Big 12 in the opener — 22 points, six assists and four steals.
Trae Young (Oklahoma): With 39 points and 14 assists, it's hard to argue with having him in any starting lineup.
The Sixth Man
Kameron McGusty (Oklahoma): The Sooners desperately needed an option off the bench against TCU and McGusty gave it to them with 22 points, including a late 3 that helped OU clinch the win.
The Games
West Virginia 85, Oklahoma State 79: A seven-minute field goal drought in the back half of the second half ultimately did the Cowboys in, but they kept pushing the Mountaineers throughout and at times looked like they might pull away with the upset. It was a sloppy game at times and the two teams combined for 39 turnovers. But the Mountaineers' balanced offense (six players in double figures) helped them overcome the Cowboys' 51 percent clip from the floor. Freshman Teddy Allen played hero for the Mountaineers, scoring 15 points in 16 minutes off the bench. Tavarius Shine and Jeffery Carroll each had 17 points for OSU.
Texas Tech 77, Baylor 53: The Red Raiders came out and made a big statement against Baylor, holding the Bears to 37.3 percent shooting from the floor, 53 total points and one assist (that's not a typo — Baylor had one assist). Tech was up 40-19 at the break and never looked back. Keenan Evans scored 18 points for the Red Raiders. The Bears were without their double-double machine, forward Jo Lual-Acuil, who was out with a sprained foot. Bears forward Terry Maston returned to the lineup from injury but didn't score a point in 21 minutes. Mark Vital led Baylor with 12 points.
Kansas 92, Texas 86: Kansas coach Bill Self told his players before the game they were going to shoot a bunch of 3-pointers, and his players didn't disappoint. Kansas launched 35 in the six-point win, partly due to the presence of Texas center Mo Bamba in the paint. Even with half of Kansas' shots coming from distance, the sophomore center blocked eight shots anyway. He also dumped in 22 points and managed a double-double with 15 rebounds. Kansas still won, though, as Devonte' Graham hit six 3-pointers to lead the Jayhawks. Kansas center Udoka Azubuike had a double-double (13 points, 13 rebounds) and did a good job slowing down Bamba in the second half. You also have to give some credit to Kansas' mix of man-to-man and zone in slowing down Bamba as well.
Kansas State 91, Iowa State 75: Iowa State shot 68 percent from the floor in the first half of this game, but by the game's end the Cyclones were shooting 45.1 percent. At halftime Kansas State was shooting 52 percent. By game's end the Wildcats were shooting 55 percent. That was perhaps the biggest reason the Wildcats pulled away in the second half. They were able to sustain their shooting. Dean Wade's 34 points (a career-high) in 38 minutes for K-State included six 3-pointers (and K-State hit 13 on the game). Wade, Kamau Stokes and Barry Brown scored all but 13 of Kansas State's 91 points. That isn't sustainable. ISU received a welcome season-high 16 points from Solomon Young as the Cyclones continue to look for inside production. But their leading scorer for the season, guard Donovan Jackson, had just two points in 32 minutes, leaving ISU without a key source of scoring.
Oklahoma 90, TCU 89: Trae Young dropped 39 points and 14 assists on TCU in a game the Sooners won in the final minute. TCU's Kenrich Williams scored 22 points, dished out six assists and had four steals. It was the perfect Big 12 opener, from a quality of play standpoint. And we were there to write about it (see below)
Our @PostinsPostcard caught the best Big 12 game of the weekend. It's already shaping up to be a helluva next three months in the conference https://t.co/9p9qqQ9oII

— Heartland College Sports (@Heartland_CS) December 30, 2017
Injuries of note
Texas Tech's Zach Smith twisted his ankle four minutes into the Red Raiders' game with the Bears. It's unclear if he will be ready for the Kansas game. Acuil has a left foot sprain that forced him to miss the Tech game and it's unclear if he'll be ready for the TCU game. OU was without Kristian Doolittle, who is in the concussion protocol after hitting his head in practice. The concussion was first reported by OU's play-by-play voice, Toby Rowland.
Leftovers
West Virginia entered Big 12 action sixth in NCAA in steals per game, third in NCAA in turnovers forced and first in NCAA in turnover margin. Naturally, the Mountaineers lead the Big 12 in all three categories. … Via the Lubbock Avalanche-Journal, Texas Tech is now 6-12 as a ranked team against ranked opponents. … TCU's loss to OU broke the Horned Frogs' 17-game winning streak, which dated back to the Horned Frogs' run to the NIT Championship last spring. … Baylor's loss was its most lopsided since a 102-72 loss to Kansas on Jan. 2, 2016 (h/t the Waco Tribune-Herald). … Young registered his seventh double-double and his fifth game of 30 or more points this season. … Kansas State's win over Iowa State was its first in Ames, Iowa, since Feb. 5, 2011. … Kansas has now won 27 straight conference openers (its last league-opening loss was to Oklahoma in 1991). The Jayhawks are also awaiting word on whether freshman Silvio De Sousa and freshman forward Billy Preston will be eligible soon. De Sousa just transferred to Kansas after graduating from IMG Academy in Bradenton, Fla. Preston is a five-star recruit whose use of a car during the fall semester is under scrutiny by the university and the NCAA. … Entering conference play the Big 12 had six ranked teams, the most of any men's conference. Texas and Oklahoma State were also receiving votes.
Looking ahead to Game 2 of conference play: Game 2 gets no easier for the Big 12. Texas Tech faces a key trip to Kansas, a chance to prove where it stands in the league. TCU and Texas have critical road tests as well, considering they're coming off losses. Expect Oklahoma State to push OU to the end and someone will come out of that West Virginia-Kansas State game at 2-0.